Top 5 Best Treadmills for Home of 2018 Reviewed
Why Treadmill?
When exercising and staying fit all year round, workout equipment does not get much better than treadmills.
If you are like me, you are living somewhere where winter and summer, where very cold and very hot weather alternate.
Neither is too good for exercising.
And what do you do when outside it is just too icy or too hot to train?
Do you leave your house and risk an injury if you slip on some ice?
Do you go outside in the heat and risk getting a heatstroke or dehydrating?
You definitely do not have to.
That is when you get on your trusty treadmill and crush that workout, no matter what!
Yes, sometimes we are feeling lazy or just a little under the weather, and we do not want to strain ourselves even more and do our workout.
That is our fault. However, it gets really frustrating when the reason is not under our control.
Thus, if you are committed to your exercise regime and to your healthy lifestyle, a treadmill is an absolute must.
It is something that anyone who is serious about working out should have as part of their home gym.
And, even if you are lucky enough to live in a place where the weather is good for running throughout the year, chances are you live in an urban area.
In this case, running outside can possibly do more harm than good.
The exhaust fumes and otherwise poor air quality in the city can quickly take a toll on your lungs, especially when you are breathing heavily for an extended period of time.
This is another reason to give treadmills a chance, and make your life easier!
Top 5 Best Treadmills Reviewed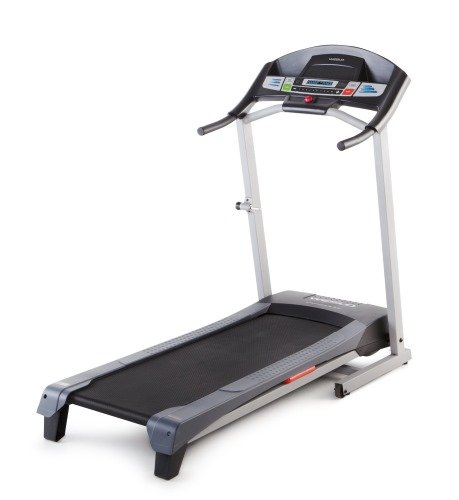 The Weslo Cadence 5.9 is a treadmill for beginners who are just entering the fitness world and do not have high expectations or exceptionally high goals.
It is a folding treadmill machine, so it is ideal for home use.
An important note is that this treadmill machine is intended only for walking, and is not suitable for running.
The reason for this is that it has certain limitations. The first one is the belt size.
The belt is 50 inches long and 16 inches wide, which is not enough to run safely.
The second problem is the motor power.
The motor only provides 2.25 HP, which is too weak to support running, as the max speed that it can generate is around 10 MPH.
And even some walkers who are too tall might feel limited by the length of the track.
Apart from the weak motor and short track, there are several other features that this machine offers in order to provide a solid workout.
For instance, it features a ramp that will help fitness enthusiasts to increase their calorie burn.
This ramp can be adjusted manually and can take two positions, which is not bad.
However, even though this is better than having no incline options at all, it may not be good enough.
Most similarly-priced treadmill machines offer a power-adjustable incline with as many as 10 levels.
With respect to electronics, Weslo Cadence 5.9 is equipped with a nice-looking blue-tinted LCD screen.
The stats that it will show you include speed, time, distance, and the total calories that you have burned during the session.
Additionally, there are six preset workouts that you can choose from.
There are several characteristics that might lure customers into buying the Weslo Cadence 5.9.
The first one is how affordable it is.
It is one of the cheapest machines on the market and considering what it offers for that price, it seems like a good bargain.
The average price at most online shops is around only $400.
Therefore, this machine might be a good choice if you are a beginner with a limited budget.
Furthermore, it has 6 workout presets, which will increase the quality of your workouts significantly.
All of these presets were developed by a fitness specialist in order to ensure maximum results.
Finally, the Weslo Cadence 5.9 is extremely compact.
It can also be folded and save even more space, so it is perfect if you lack usable room.
Pros
Very low price.
A wide range of available preset workouts.
Compact.
An option to increase the incline.
An LCD screen that shows a variety of stats.
Cons
Very small track length and width.
The belt creates a lot of noise.
Incline has to be manually adjusted.
Very short warranty period – 1 year for the motor, and 90 days for other parts.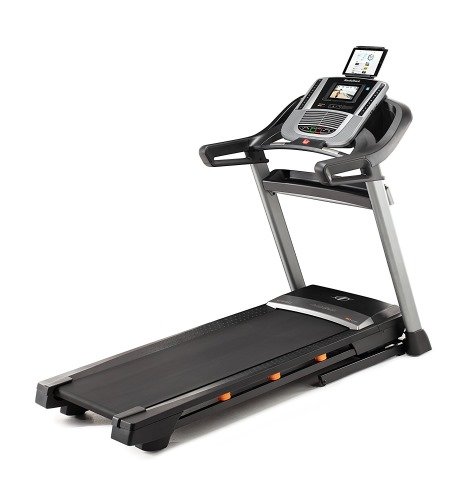 The NordicTrack 990 Treadmill is a versatile machine that can suit fitness enthusiasts with different needs.
It can be comfortably used for walking, jogging, or some serious running.
It is best suited for runners under 200 pounds and walkers below 250 pounds.
It uses a 3.0 CHP motor for power, and the surface is 60''x20''.
It is also a treadmill for people who want to put in a good workout, but who do not want to sacrifice comfort.
Therefore, it offers a shelf for a tablet computer, and it is compatible with an iPod.
Additionally, it comes equipped with 32 built-in apps that offer you lots of options for choosing the perfect workout to suit your needs.
The 32 programs that are built into the machine were all designed by a professional fitness trainer who had maximum efficiency in mind.
Depending on what your fitness goals are, they are split into four categories.
These are calorie burn, heart rate measure, speed training, and interval training.
While training, you can also tilt the track by as much as 12 percent.
Moreover, the NordicTrack 990 Treadmill is iFit equipped.
This means that your workout possibilities are basically endless!
You can just visit iFit's website and download a new workout regime every day.
The technology is definitely a feature that makes this product stand out in a sea of many similar ones.
The two most prominent features that we like the most are the automated incline adjustment and the digital entertainment.
With NordicTrack, you no longer have to be tangled in your earphone cables, as it features a set of speakers.
Simply connect your MP3 device and blast some motivational tracks.
And a 7" display is included, which, apart from tracking workout stats, can also be used for browsing the internet.
The comfort does not stop there; if your room is always hot and stuffy, you can use the included AutoBreeze fan to keep you comfortable.
And this treadmill will also save your joints and improve your health.
You can choose to turn cushioning on or off, depending on your preference, and the type of workout you want to do.
Pros
NordicTrack 990 has a long track.
Offers a 12% electronically adjusted incline.
Cushioning can be turned on or off.
Great entertainment system.
iFit-enabled.
7" touchscreen.
Cons
The treadmill is unusable if the screen breaks.
It takes up a lot of space when in use.
The holder for the tablet computer is awkwardly positioned.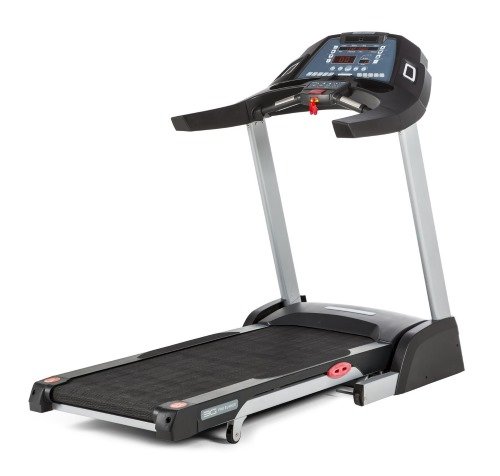 This is one of the rare products that can offer you great quality but can also conserve space.
The 3G Cardio Pro, even though it is a foldable treadmill machine, can still run at high speeds and at great efficiency.
It is good for those runners who want to challenge themselves continually, but also expect their machines to endure those challenges for a long time.
It comes equipped with a 3.0 continuous-duty horsepower motor that is strong enough to endure anything you put it through.
The machine has a max speed of 12 MPH and a maximum incline of 15%.
Moreover, the company is aware that they have created a good product, as the motor and frame have a lifetime warranty, while other parts have a 5-year warranty.
As mentioned before, the 3G Cardio Pro is powered by an impressive 3.0 CHP motor.
This motor moves large 2" rollers that rotate the belt and offer a smooth and quiet movement.
The incline and speed are adjusted electronically, via a One Touch key on the console.
This treadmill can work well both for light, fast runners, as well as for those who are a bit heavier, as it can withstand the weight of up to 350 pounds.
When it comes to the electronic parts, this machine does not fall short.
The display is split into three main screens that feature an HR monitor, and an LCD dot system to track your distance, speed, calories, and more.
On top of that, there are a total of 8 built-in programs, three fitness test programs, and two custom adjustable programs.
The machine will thus help you maximize your effort and your fitness gains.
What makes this product special is the compromise that the manufacturer has managed to achieve between size and sturdiness.
It is a foldable machine, so it won't take up much space in your home, but it will still be a heavy-duty companion.
Moreover, the 3G Cardio Pro features an Ortho Flex Shock Suspension system that will give your joints a rest and save them from potential injury.
And it is a great treadmill machine for anyone who is on the heavier side and is trying to lose weight, as it can withstand up to 350 pounds.
Pros
3G Cardio Pro features a folding design.
Comes equipped with 8 built-in programs.
Lifetime warranty on the motor and frame.
15% maximum incline.
One-Touch controls.
Ortho-Flex Shock absorption system.
Cons
The display area could be bigger.
Audio features could be better and offer more possibilities.
Running area might be short for very tall people.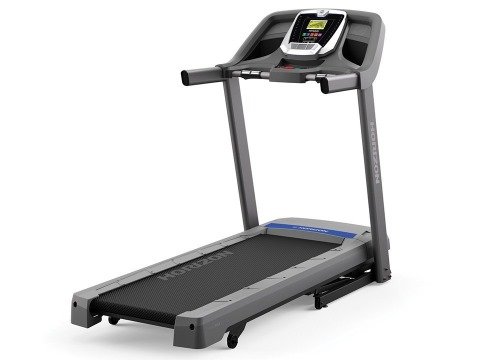 This treadmill machine is arguably one of the most popular of its kind on the market.
Whether you are planning to adopt a healthier lifestyle or become a fitness freak, this product will help you achieve those goals.
Even if you are a complete beginner, this machine is very easy to use, so you will have no problems incorporating it into your workout regime.
And it's not the cheapest one on the market, but it's not expensive, either, and it offers good value for the money you will invest in it.
Horizon Fitness T101 has proven to be very durable, and it will last you your whole life if you take care of and use it properly.
In addition, it's sophisticated and offers some advanced features.
Some of these include preset programs, an adjustable incline, and a good range of speeds.
The Horizon Fitness T101 uses a relatively powerful 2.25 CHP motor that will surely leave you out of breath at the end of each training session.
Even though the motor is powerful, it's not as loud as you might expect, so you will be able to enjoy watching a movie, listening to some music, or talking on the phone with someone.
When it comes to workout possibilities, this treadmill machine is equipped with more than 30 programs that you can choose from.
These programs are pretty varied and include interval workouts, fat-burning sessions, distance-oriented workouts, and step-goal workouts.
If preset workouts are not your thing, you can also choose a manual option and set your pace and your goals to suit your needs and capabilities.
Finally, you will definitely not get bored with this machine, as it features sonic surround speakers that provide a great sound for your favorite tracks.
There are many features that make this product better than other similar ones, but its entertainment system definitely ranks among the best.
Its great surround sound system will make most of your workouts just fly by.
Moreover, it is pretty cheap, so even those with a low budget can afford it and get a good workout.
This product also offers a pretty extensive warranty – lifetime on the frame and motor, and two years on the rest of the parts.
For all of these reasons, Horizon Fitness T101 is an exercise accessory worthy of your consideration.
Pros
Upper weight limit of 300 pounds.
Easily portable and foldable.
A good console with the clear LCD screen.
High-quality surround system.
Lifetime warranty on the motor and frame.
Relatively cheap price for its class.
Cons
The track could be longer, as it is 55".
The 2.25HP motor needs to be stronger for experienced runners.
The cushioning system is not impressive.


This is one of the cheapest treadmill machines produced by NordicTrack, ideal for those who are wary of spending too much money on workout equipment.
However, you will still get good value for your money.
It is also great for anyone who does not have too much room for a treadmill machine because it uses smart design solutions.
It's a folding frame treadmill that uses SpaceSaver design and EasyLift technology to make it fit easily in any house.
It runs on a 2.6 CHP motor that is not impressively strong, but you can still get a good kick out of it.
NordicTrack 6.5S Treadmill has an upper weight limit of 300 pounds, so if you are looking to lose some weight, it will be ideal for you.
As with many other treadmills developed by this company, this one is equipped with the FlexSelect cushioning technology that gives you an option to choose the amount of 'softness' you need.
Apart from a 2.6 HP motor that will be good enough for average fitness enthusiasts, this treadmill machine comes with other amenities.
The maximum speed that you can get out of this motor is 10 MPH, but with the 10% incline that you can also set, you can get a good workout.
You can track your workouts on a small 5" LED display that shows some basic stats.
Unfortunately, it does not come equipped with a fan, but there are two bottle holders, so you can cool down by staying well-hydrated.
If you like having your workout planned by others, this NordicTrack will offer you 20 preset workouts.
Or, if you have an iFit membership, you can use it here.
If you do, you will have access to a huge pool of workouts from which you can choose every day.
The price of this product makes it special.
Its cost is around $600, which is a great deal considering all of the extras that you get.
Its foldability also makes it practical and easy to use, as you can just fold it and put it aside when you need to.
As with many other NordicTrack treadmill machines, you will not get bored with this one, as it offers great entertainment solutions.
You can easily connect your iPod or an MP3 player and enjoy music via two built-in speakers.
The warranty is also extraordinary for such a cheap machine.
There is a lifetime warranty on the frame, 25 years on the motor, and 1 year on the other parts.
Pros
Easily foldable.
Great value for money.
Offers iFit compatibility.
FlexSelect cushioning that saves your joints.
Good entertainment system.
Cons
The speed and the incline are not very impressive.
The motor is noisy.
The console is minimal.
Very little storage space.


What is a Treadmill?
The best way to define a treadmill is that they are a man-made machine that people use to run or walk, while still remaining in one place.
The origin of the term 'treadmill' is symbolic and quite interesting.
It comes from the word 'mill,' which is a device used to grind grain to produce flour.
This piece of equipment was used by a human or an animal in a way that required a treading motion.
In more recent times, treadmills' main purpose is no longer to do work or harness power.
On the contrary, it is now an exercise machine.
It works by using a conveyor belt that moves in a reverse direction while a person runs or walks on it in a forward motion.
The first treadmill intended for home exercising was invented by William Staub.
He noticed a problem, which was that there were no affordable treadmills on the market at that time, and wanted to change that.
He developed his first device sometime in the late sixties and called it the PaceMaster 600.
Right now, according to the Sports and Fitness Industry Association, treadmills are the most basic and the most frequently-sold pieces of exercise equipment.
Benefits of Treadmills
The benefits of treadmills extend as far as your imagination.
They are versatile machines that can make your life and your workouts so much easier and more convenient.
However, convenience is far from the only benefit, so let's address some of the most important ones.
Ease of Use
Some pieces of equipment can be daunting because of their complexity.
However, exercise equipment does not get much simpler than a treadmill.
All you have to do is turn it on, choose your desired pace, and start moving your body.
Moreover, if you are intimidated by rocky or steep terrain and do not want to risk an injury, a treadmill is perfect for you.
Anyone can use it and benefit from it.
It's so easy to use that even your pets can put in a good workout.
Tracking the Progress
When you are running outside, if you are not using some sort of gadget, you will not know your pace, time, or distance.
However, a treadmill does all of this for you.
The moment you turn it on, it starts tracking the amount of effort you put in.
Many of them come with LCD screens that tell you your time, distance, speed, average speed, incline, and more.
Some can even tell you via special grips your heart rate.
All of this is extremely important if you want to improve and plan your workouts long-term.
Workout Programs
If you are not inspired, or you believe you are still not experienced enough, to plan your own workouts, no worries.
A treadmill can do it for you.
By choosing a predetermined program, your treadmill will change your incline and speed to challenge you and give you an interesting training every time.
Weight Loss
One of the benefits that appeal to most people is that treadmills help you lose weight.
If you jog for just half an hour, you can burn almost 400 calories.
If you combine this with a good diet, you will reach your weight goals much faster than you planned or thought possible.
Health Benefits
Treadmill workouts are great for your heart!
Your heart gets stronger with every workout, and your blood pressure decreases.
Running and jogging also reduce your levels of cholesterol, and the risk of a heart attack drops precipitously.
In addition to helping your heart, running moderately can improve your joint flexibility and strength.
The surface of a treadmill is soft and does not put too much strain on your joints, as opposed to pavement.
If you have arthritis, a treadmill will do wonders for you.
Workouts Can be Fun
One of the main reasons that people are inactive and lead an unhealthy lifestyle is laziness.
Doing the same thing over and over again can soon cause you to lose all motivation.
By using a treadmill, you will still be able to watch a movie or your favorite TV show, and the minutes will go by much more quickly than usual.
It's Convenient
If you are not lucky, there is a chance you do not have a park or another place where you can run outside that is close to your home.
In that case, finding a place that works can quickly turn into a chore.
With a treadmill in your living room, you do not have to abandon the comfort or your home.
Consequently, you will have fewer excuses not to exercise, and it will be much easier to stay motivated and on track with your weight loss journey.
How do Treadmills Work?
Treadmills use a motor, which is referred to as the heart of the machine, to turn a conveyor belt that you run or walk on.
This motor usually has 1.5 to 3 horsepower.
However, the motor is not the only important part.
Other parts that play an equally important role are the deck, the rollers, the belt, and the electronics.
The Motor
The motor is considered the most important part of a treadmill.
Without it, all other parts would not be able to move.
It is important that the motor is built reliably and of good quality, because it is the part that can easily break down due to prolonged use.
The Deck
The deck of a treadmill is very important for two reasons: the design, and the machine's performance.
The frame of a treadmill should be solid and sturdy, and steel is the best choice.
When you are running, the treadmill's construction receives an impact equal to five times your weight with each step.
That is why it has to be strong enough to provide good support.
The Rollers
This part of a treadmill provides support to the belt and allows you to move on it.
In their case, bigger is better.
To put it simply, the bigger and better-quality they are, the longer the motor and the conveyor belt will last.
The Belt
Again, as with the rollers, the stronger the belt, the better.
This is essentially the only part of the machine that will come into contact with your body and will, therefore, suffer the most.
That is why most treadmills have 2 ply belts to ensure durability.
The length varies anywhere from 45-63 inches.
However, the general rule is that the taller you are, the bigger the treadmill and the longer the belt should be in order to support you comfortably.
The Electronics
Some might regard electronics as the least important part of a treadmill machine.
However, in order best to utilize and get the most out of your treadmill and your workout, a good LCD screen with lots of statistics will do wonders.
Moreover, if you get a version with built-in heart rate monitors, you will be able to pace yourself much better and reach your goals faster.
How to Use a Treadmill?
It is easy to use a treadmill to put in a great workout with little cognitive effort.
However, there are still several steps that you should take in order to make your workout as successful and as enjoyable as possible.
Let's go over them.
Talk to your doctor. Before starting any workout regime, you should talk to your GP and discuss your health with them, and even run some tests if necessary. This way, you will ensure that your health is in top-notch condition and that you may put some strain on both it and your joints to get a good workout.
Stretching is important before every workout. For running, the best type of stretching to do is dynamic stretching. If you do this, you will prepare your muscles and joints for exercise, but you will also raise your heart rate sufficiently. By stretching and warming up properly before a workout, you significantly lower your chances of injury and you make your workout easier.
Whenever you are starting your workout, you should do it slowly. At first do a short warm-up routine, which includes an at least 5-minute long light jog, or a walk. As time goes by, slowly increase the pace to give your body time to adjust to the effort needed, until you reach your desired speed.
Maintain proper form. It is very important to run with good posture, in order to maximize efficiency and prevent injury. Your back should be straight, and you should look forward and not at your feet.
Stay hydrated. You should drink enough water not only before your workout but also during and after it. However, you should not overdo this step, because too much water moving around in your stomach can make you feel sick or cause stomachache. A good routine to follow is to take a sip or two every 10-15 minutes to stay hydrated and keep your mouth moist.
Make a routine and stick to it. Don't be too quick to give up when the going gets tough. Thirty minutes of moderate exercise 5 times a week should be enough to lower your chances of heart disease significantly and keep you in good shape, as well as help you lose excess fat.
Perform static stretches after your workout. This is equally as important as the dynamic stretches and warmup before the workout. If you stretch after the workout, you will prevent muscle soreness and the feeling of tightness. The muscles you should focus on the most are your quads, glutes, hamstrings, and Hold each position for at least 30-40 seconds in order to get the maximum benefits from stretching.
What to Look for in Treadmills
Since treadmills are such popular exercise equipment, the choice that we have when we want to buy one is huge.
That is a good thing.
However, it can also be a problem because we can get baffled by all the possibilities.
Below, I will cover some of the most important aspects and features to pay attention to when buying a treadmill for your home.
A Good Motor
When it comes to the motor, you should look for quality.
There are two stats that you can consider when choosing one: peak power and continuous duty.
You should not bother yourself too much with peak power stats, as this is the maximum power a motor can generate.
Instead, make sure that the continuous duty horsepower is around 2.0, as this will be plenty to do the job for almost any runner.
Electronic Features
Once you start looking for a treadmill to buy, you will see that some can offer many electronic features that seem appealing.
However, focus on the ones that you specifically will find useful.
Some of the electronic features that are a must are interval programs, customizable user IDs, and a quick start function.
In addition, choose whatever you think will aid your fitness journey.
Shock Absorption System
This feature will be very important both for the longevity of your treadmill and for your joints.
Many treadmill manufacturers advertise revolutionary methods that decrease shock, but be wary.
Look for the ones that are able to explain scientifically why their technology works.
Once you are making your choice, go for something that is not too firm, but also not too soft, as both can be bad for your knees.
Safety Features
Safety is another important feature that may prevent serious injury.
An ideal treadmill should have a safety key, as well as an option to increase and decrease belt speed gradually.
The handrails and console grips should also be comfortable and easy to use, as they will be handy if you ever lose balance.
Warranty
No matter how high-quality your treadmill is, one day it will require maintenance.
Almost all of them have a lifetime warranty on the frame.
For the other parts, make sure that the warranty includes the motor and electronics, as well as the belt.
A minimum of a 1-year warranty is a must for these parts.
Maintenance
For maintenance, you should look for something that provides you with ease of use.
Nobody wants to spend valuable time lubricating and cleaning grease off of a treadmill before or after every workout.
Look for a machine that is essentially maintenance-free as this way you will not have to put in substantial time to keep your treadmill in working condition.
What to Avoid in Treadmills
There are several mistakes that you can make when you are buying a new treadmill.
These mostly occur due to inexperience or disinformation that retailers give you.
These are some points you need to pay attention to in order to avoid making such mistakes.
Don't Get Fooled by Attractive Features
Many treadmill manufacturers will try to lure you into buying their product by offering you attractive and irrelevant features.
By doing this, they hide everything that is bad but that you should actually focus on.
For example, they might offer a free heart rate monitor as an extra, when the motor power is only 1.5HP.
Therefore, focus only on the essential features, and then consider the extras that you might need.
Peak Duty HP and Continuous Duty HP
Often, when you go to look for a treadmill, a seller will try to impress you by talking about the 3.0 peak duty horsepower that the treadmill has.
However, they might avoid telling you that the continuous duty horsepower is only 1.5.
This is a much more important specification, as it is the power the treadmill can run on continuously for 24h.
Therefore, again, disregard this point and focus on the CD HP instead.
Don't Try to Save Money at All Costs
Price is definitely important when it comes to treadmills.
Not all expensive machines are good, but the cheapest ones are definitely not.
Unfortunately, not all of us are in a position to splurge $4000 on a top-notch treadmill.
Nonetheless, good-quality treadmills that offer a compromise between price and quality can be bought for around $1000.
Buying the cheapest ones with poor cushioning and ergonomics might prove to be detrimental to your health.
Essentially, you are buying a treadmill in order to improve your health and reach those health goals.
Purchasing a low-quality cheap machine will just hinder you from reaching them.
Precautions
Now that we have covered everything that you should pay attention to when buying the perfect treadmill, we should focus on how to get the most out of it.
There are several precautions that you should take when using a treadmill in order to make sure that you will use it successfully for a long time, avoid injury, and keep hitting those fitness goals continually.
Don't read while you are using a treadmill. This is one mistake that many people make. It might seem appealing in the beginning, and it surely takes your mind off of the difficulty. However, the problem is that it can take your mind off of what you are doing too much and you might end up losing your balance, falling, and injuring yourself. Instead, play some music or watch a TV screen in the distance.
Avoid stagnation. Do not be afraid to increase the effort that you are putting into your sessions. Challenge yourself from time to time, as this is how you will progress the most. Make incremental steps toward increasing your speed and duration and raising your fitness level. However, make sure that you are not doing it too fast, either. Walking or running too fast might cause injury or overtraining, which will hinder your progress.
Never jump. Do not jump or take long steps while on the treadmill. This is a recipe for injury. Instead, take small and controlled steps. The ideal pace (number of steps per second/minute) should be 3 steps per second, which translates to 180 steps per minute. A good trick to maintain this pace is to listen to songs that have 180 bpm (beats per minute) and gauge your steps by it.
Do not hunch. Maintain an upright position at all times and look up, into the distance. Leaning forward too much might cause you to lose balance, fall, and injure yourself. Staying upright will also prevent back and neck pain.
Do not overdo it. Listen to your body. Pain is a sign that you should not ignore and power through, hoping that it will eventually disappear. Muscle soreness is good and expected, but you should give your body enough time to recuperate and heal. Remember, exercise is important, but rest is equally, if not more, so.
Conclusion
As I promised at the beginning of this article, buying and using a treadmill may seem daunting to some, but it is actually easy.
There is no reason not to include this ingenious contraption in your home gym and into your workouts, as it can do wonders both for your health and looks.
Now that you know all that there is to know about treadmills, there are no more excuses for not getting one and starting to use it.
Winter time or scorching heat ceases to be a problem as we have all we need to work out in our own living room.
However, when you finally decide to buy your first or second treadmill, make sure to pay attention to all of the tips that we have covered above.
Pay attention to the motor quality and the electronics, as well as to the warranty that you might get.
Make sure to think about what you need and what your fitness goals require.
Finally, something that works for other people may not work for you.
Consider everything and make a list of what you specifically need, keeping in mind all of the advice that I have given you.
Stay fit and stay safe!
FDA Compliance
The information on this website has not been evaluated by the Food & Drug Administration or any other medical body. We do not aim to diagnose, treat, cure or prevent any illness or disease. Information is shared for educational purposes only. You must consult your doctor before acting on any content on this website, especially if you are pregnant, nursing, taking medication, or have a medical condition.
HOW WOULD YOU RATE THIS ARTICLE?