Best Body Wash for Acne in 2018 Reviewed (Top 10)
When acne flares up it means business.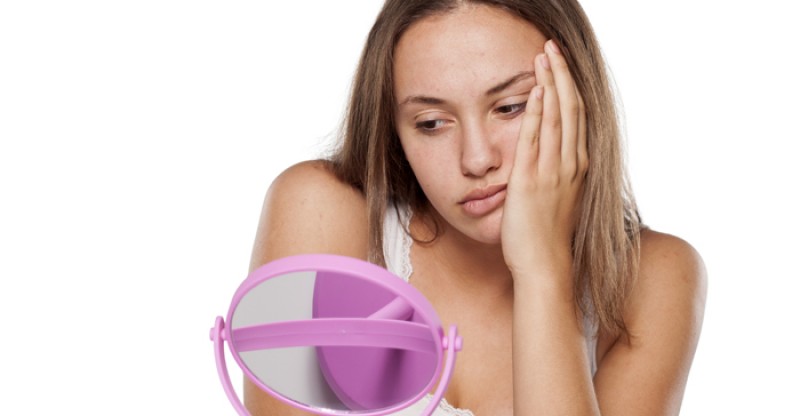 Acne isn't just for teenagers and it can appear anywhere on the body, including the arms, face, back, shoulders, legs, buttocks, and genitals.
Your choice of clothing may be the reason for acne flare-ups.
Sweaty, tight fitting clothing such as skinny jeans as well as fabrics that don't breathe may contribute to acne throughout the body.
Stick to sweat-resistant workout clothes and loose fitting, breathable fabrics such as cotton.
Harsh detergent and scented fabric softener should also be avoided.
Oil and sweat glands, as well as hair follicles, play an important role in maintaining healthy skin.
An imbalance in your glands and follicles may lead to clogged pores which can cause oily skin and create acne breakouts.
What Makes a Good Body Wash for Acne-Prone Skin
Choosing the best body wash for acne-prone skin means getting to know your skin better.
Oily, dry, and sensitive skin all have different needs when it comes to the best body wash.
When used correctly, cleansers can remove unwanted bacteria from the skin and unclog pores.
Choose gentle, alcohol-free cleansers to ensure the best possible results on your skin.
Harsh or scented cleansers can irritate your skin and lead to bigger breakouts or immediate flare ups.
WebMD suggests keeping your skin moisturized and avoiding over-drying.
One rule of thumb when it comes to choosing a body wash for acne-prone skin, the more bubbles the better.
Bubbles or other exfoliating cleansers help remove dead skin, sweat, and clear away natural oils that clog pores.
Both of these options are great for controlling acne breakouts, especially on the face.
What to Look for in Acne-Fighting Body Wash
Your skin type.

Different types of skin have different needs. If you have dry or oily skin, look for washes or scrubs that target these specific requirements.
Product ingredients.

Look for active ingredients such as salicylic acid or benzoyl peroxide. These are acne-fighting ingredients designed to keep your skin clear and free from breakouts.
F

oaming and e

xfoliating

.

Exfoliating is a great way to remove dead skin and freshen up oily skin. However, you may want to test out a couple different brands first, as some can be too harsh for those with sensitive skin.
Medicated products.

Some products for your skin may be medicated. Talk to your dermatologist to see which medicated products will be best for fighting acne-prone skin.
Top 10 Body Washes for Acne-Prone Skin
Sweat from hot weather or vigorous exercise can cause a buildup of oil and can clog your pores, which could lead to breakouts.
Body hair may also attract oil and sweat and cause acne-loving bacteria to thrive.
You may think shaving is the answer, but acne may also pop up in irritated areas where razor burn is present. So what is the answer?
No matter what is causing your acne, there is a body wash out there designed to help reduce acne flare-ups and leave you with clean, clear skin.
We're looking at the top 10 body washes for acne-prone skin and giving you the low down on which product is going to work best for your skin.
2017's Reviews of the Best Body Washes for Acne-Prone Skin
#1 – Murad Acne Complex Acne Body Wash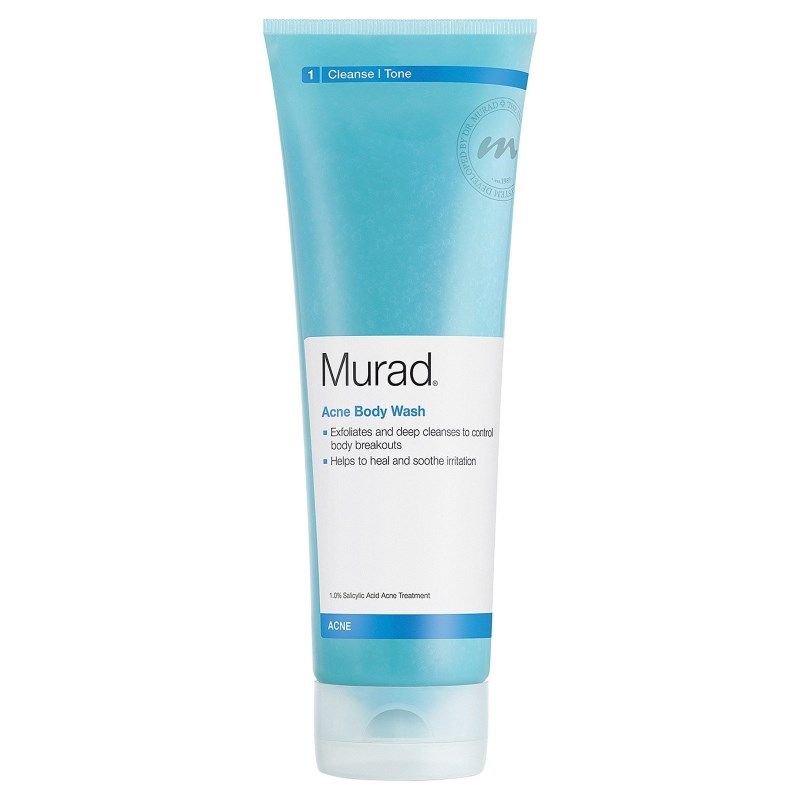 ​
Murad acne complex acne body wash combines both salicylic and glycolic acids to penetrate the skin and give a deep clean.
This body wash contains date seeds that are used as an exfoliator to wash away oil and dead skin.
Other ingredients include licorice and green tea, both of which help soothe red and irritated skin with antioxidants.
This product is developed by dermatologists and is part of a multi-step line that will eliminate even severe acne.
Users did report seeing improvement after regular and consistent use.
Murad Acne Body Wash lathers up and is then distributed on the face to clean and moisturizes sensitive skin.
See even more noticeable results by using the full multi-step system and incorporating the Murad Acne Complex Clarifying Body Spray into your skincare regiment.
Pros
Contains acne-fighting ingredients
Moisturizing
Cleans the skin
Gentle for sensitive skin
Effective
Cons
Expensive
Lather does not build up enough
Scent may bother some
Check Current Price on Amazon®
#2 – The Body Shop Tea Tree Body Wash

​
The Body Shop designed a soap-free body wash that is formulated with tea tree oil.
Tea Tree oil is great for fighting acne, getting rid of fungal infections, relief from itchy skin, curing dry sky, giving relief from razor burns and more.
Tea tree has been used for thousands of years for its healing qualities.
There are more than 300 species of tea trees in Australia, where most tea tree hails from.
Tea tree oil has a unique fresh scent that makes users feel clean all over.
Since tea tree is a natural product it's able to combat oily skin without drying it out and making your skin feel dry and rough.
Instead, you'll be left with moisturized, fresh feeling skin.
Pros
Reduces skin inflammation
Product of fair trade
Effective against even stubborn acne
Frequently on sale
Cons
Some many not enjoy the tea tree scent
Only available in 8 oz.
Check Current Price on Amazon®
#3 – PanOxyl 10% Acne Foaming Wash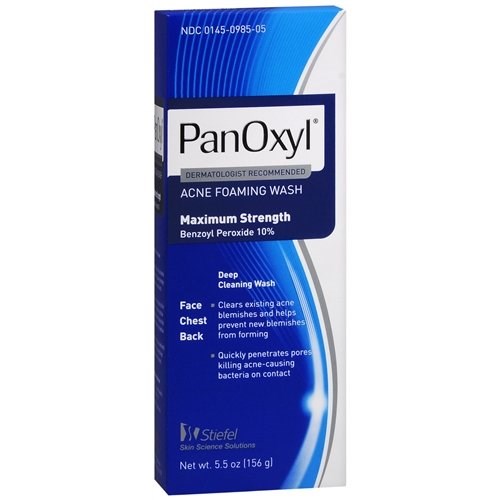 ​
This body wash has highest strength benzoyl peroxide available without a prescription.
It kills acne-causing bacteria on contact and is safe to use on the face. Using it on a daily basis helps prevent new acne outbreaks.
The high concentration of benzoyl peroxide has antibacterial, anti-inflammatory and exfoliating properties.
However, if you have sensitive skin it may cause irritation and peeling.
The PanOxyl foaming wash should not be used with other acne treatments, such as lotions, that have active ingredients.
Pros
High concentration of acne-fighting benzoyl peroxide
Effective at preventing new outbreaks
Cons
Possible skin irritation
Can lead to peeling skin
Check Current Price on Amazon®
#4 – Proactiv Deep Cleansing Wash

Proactiv is a popular acne-fighting product that has been around for more than 20 years.
Proactiv deep cleansing wash is formulated to treat and clear acne covered skin and leave users with a flawless complexion.
The process starts with a deep exfoliating with gentle beads and glycolic acid to destroy acne-causing bacteria.
The second step involves "filling" the pores with benzoyl peroxide to help prevent blemishes.
The last step rejuvenates the skin by rehydrating your face and body. The end results should reveal smooth, even skin and reduced pore size.
Those who do not have acne-prone skin also found good results in using Proactiv.
Pros
Money back guarantee if returned within 60 days
Smooths and softens the appearance of skin
Cons
Not effective on every skin type
Expensive, but you do get 16 ounces
Check Current Price on Amazon®
#5 – Neutrogena Body Clear Body Wash

​
Salicylic acid is a powerful medicine that kills bacteria and cleans pores.
It's no wonder why Neutrogena uses salicylic acid as their main ingredient for giving users clear and radiant looking skin.
Perfect for sensitive skin, this gentle body wash is used by lathering and gently washing the body.
Those who experience occasional breakouts will love the smooth skin Neutrogena Body Wash gives with consistent use.
However, some find this product is too mild for treating chronic acne.
Pros
Inexpensive price point
Good for sensitive skin
Cons
Not effective for severe acne
Check Current Price on Amazon®
#6 – Neutrogena Body Clear Body Scrub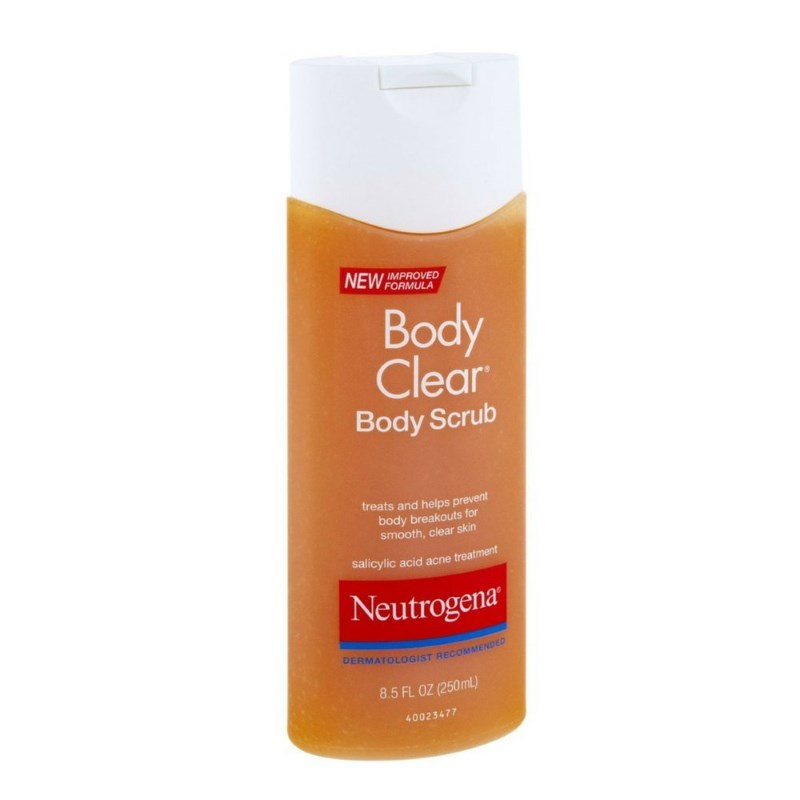 Another Neutrogena product to make the list is their Clear Body Scrub.
This scrub uses microbeads to exfoliate the skin and remove excess oil and dead skin.
This oil free acne-fighting scrub also contains salicylic acid to help cleanse pores and clear the skin of acne.
Reviews indicate that the unique microbeads work successfully at keeping pores clear, soothing acne, and improving ingrown hairs with consistent use.
Since this is an oil-free product, those with dry skin should avoid this product or only use in combination with a moisturizer.
Pros
Great for combating oily skin
Effective with exfoliating
Cons
Not ideal for dry skin
Irritating to sensitive skin
Check Current Price on Amazon®
#7 – Alba Botanica Acnedote Face & Body Scrub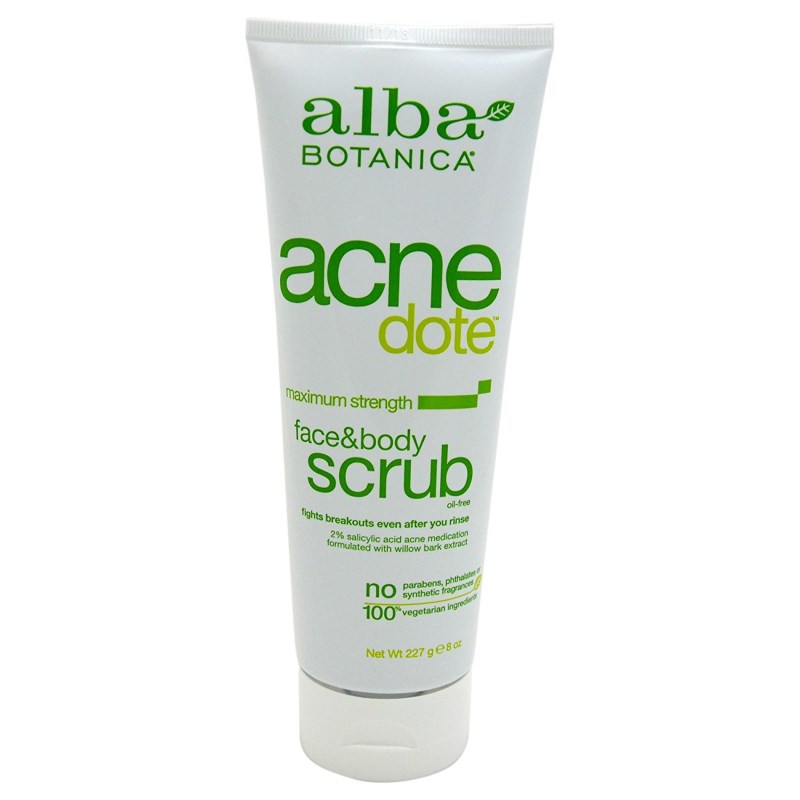 The next choice in this top 10 list is an all-natural acne-fighting body wash.
This Alba Botanica face and body scrub is 100% vegetarian and dermatologist tested.
This scrub is perfect for those with dry skin since it contains witch hazel extract.
Witch hazel extract is a natural astringent, witch tightens the skin and reduces swelling, reduces the appearance of varicose veins, and soothes various other skin irritations.
The Alba Botanica body scrub is made with salicylic acid from willow bark extract.
Unlike other exfoliators, the "beads" in this scrub are made from ground walnut shells and is so gentle it on the skin it can be used every day.
This scrub is fast-acting to reduce the appearance of acne and must be used consistently for best results.
Pros
Gentle, daily use exfoliating
All-natural and vegetarian
Inexpensive
Pleasant scent
Not tested on animals
Cons
Only consistent use will help control acne
Check Current Price on Amazon®
#8 – Peter Thomas Roth Blemish Buffing Beads

This body scrub is formulated with glycolic acid complex and salicylic acid.
Joba beads help unclog pores and exfoliate the skin to leave it free of blemishes.
This product formulated without Phthalates for an even safer clean.
Those with hormonal acne greatly benefit from using this body scrub.
Another component of these blemish buffing beads is how it contains Sepicontrol, which supports the body's cell turnover and inhibits blackhead and acne formation.
This will help your skin to look fresh and clean at all times.
Users experienced good results when combining this product with other products in the Peter Thomas Roth line.
Pros
Effective at exfoliating the skin
Good for oily skin types
Cons
Expensive
May dry out or irritate skin
Check Current Price on Amazon®
#9 – Clinique Acne Solutions Cleansing Face and Body Soap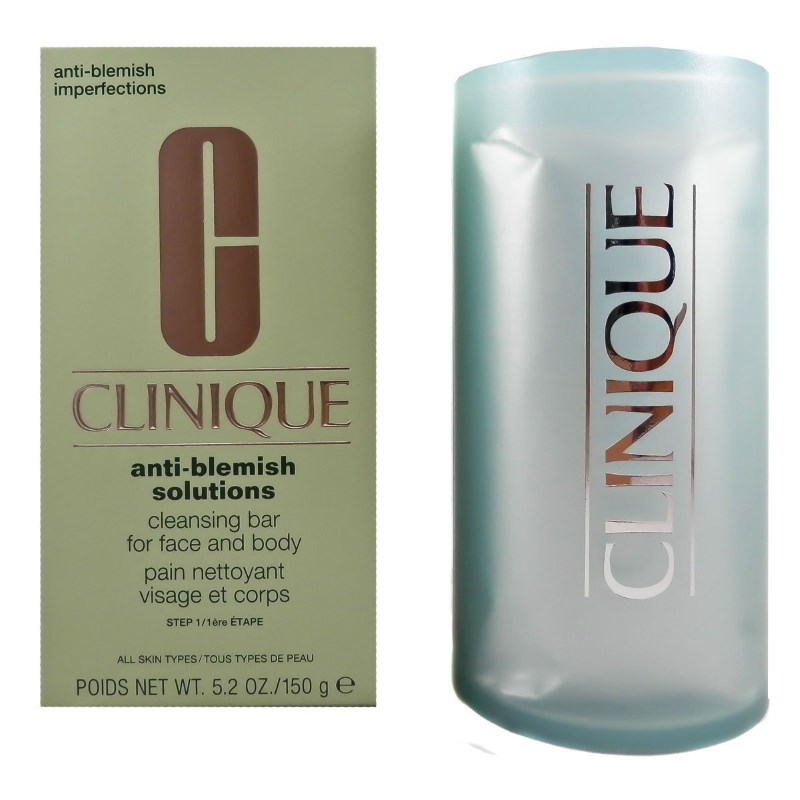 This body wash takes on bar soap form.
Made by Clinique, this Acne Solutions Cleansing Bar for Face and Body is a mild, medicated soap that targets acne-related breakouts with salicylic acid.
By removing excess dirt and oil and by unclogging pores, skin will be left feeling clean and smooth.
This dermatologist-tested cleanser is used by creating a lather under warm water.
Wash and rinse your target areas and gently pat dry.
For dry skin use a clarifying moisturizer immediately following usage.
The bar itself is 5.2 ounces, which is 1.2 ounces larger than a regular bar of soap. It also comes in a plastic carry case for easy transportation.
Clinique recommends using this as Step 1 of their multi-step acne fighting system.
Pros
Unscented
Comes in convenient travel case
Dermatologist tested
Great for sensitive skin
Tested by dermatologists
Great alternative to bar soap
Cons
Expensive
Recommended to be used in multi-step line of Clinique products
Consistent use required for maximum results
Check Current Price on Amazon®
#10 – SAL3® Salicylic Acid and Sulfur Soap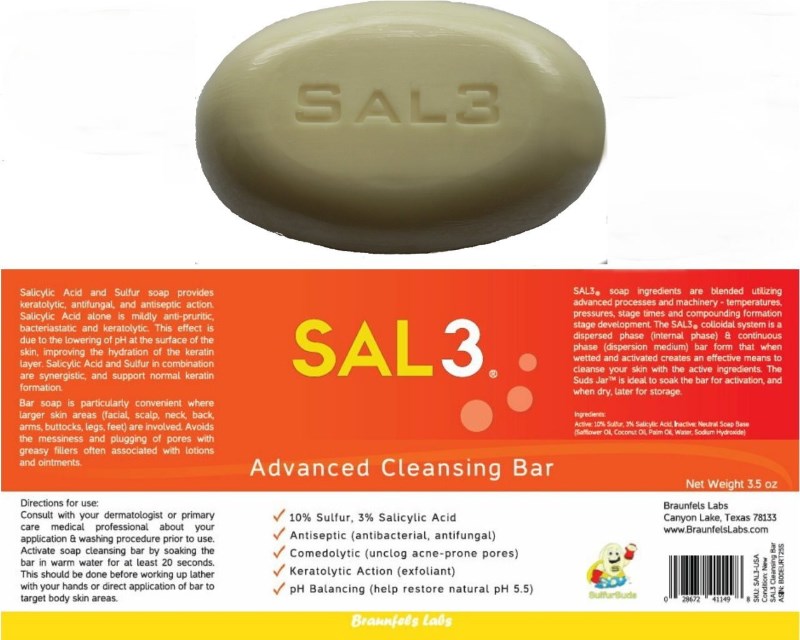 Sal3 soap is aptly named for its high 3% salicylic acid concentration.
This acne-fighting wash is in bar soap form, which can cover larger areas of skin.
This soap works by lowering pH on the surface of the skin and improving skin's hydration.
Sal3 also promotes keratin formation of the skin. This cleanser contains 10% sulfur, which can prevent inflammation and soothe the skin's surface.
This fragrance-free soap is used by soaking it in water and then working it into a rich lather and applying it to target acne-prone areas of the skin.
Official direction recommends one daily application, increasing application to multiple times a day if needed.
Pros
Beneficial for those with dandruff and itchy, dry skin
Antibacterial and antifungal
Concentrated salicylic acid
Affordable price point
Cons
Not effective for everyone
May tarnish silver jewelry
May affect dyed hair color if used on the scalp
May cause dryness or peeling on the skin
Scent is not for everyone
Check Current Price on Amazon®
Conclusion
If you have the acne-prone skin you'd do well to experiment with different acne-fighting body washes before settling on one.
Using your body wash of choice, do a test patch on a small area of your skin before using the cleanser on your face or body.
This will help you discover how your body is going to react to the different levels of salicylic acid and exfoliating beads found in these products.
If your skin burns or an allergic reaction occurs, cease using that product immediately.
Salicylic acid and benzoyl peroxide are common and safe ingredients to help treat acne and breakouts.
Get to know your skin type so you can discover what combination of products is going to work best for your skin.
Consistent skin care is important for maintaining a healthy, glowing complexion, but don't overdo it.
Excessive scrubbing and exfoliating can dry out your skin, which will then over-compensate by producing natural oils which can lead to even more breakouts.
Using an oil-free moisturizer after cleansing your skin will help combat this issue.
Your skin changes as you get older, so don't be afraid to try new and exciting acne-fighting products so you can show off your best skin ever.
Amazon Affiliate Disclosure
Well-BiengSecrets.com is participating in Amazon Associates affiliate program and some of the links to Amazon might earn us a small commission. This helps us to support this site and create more high-quality content for you. Amazon is the rightful owner of all Amazon related trademarks and copyrights.
​
FDA Compliance
The information on this website has not been evaluated by the Food & Drug Administration or any other medical body. We do not aim to diagnose, treat, cure or prevent any illness or disease. Information is shared for educational purposes only. You must consult your doctor before acting on any content on this website, especially if you are pregnant, nursing, taking medication, or have a medical condition.
HOW WOULD YOU RATE THIS ARTICLE?