Top 5 Best Elliptical Machines of 2018 Reviewed
Why You Need an Elliptical Machine
If you have just promised yourself to get fit, but you need to move your cardio indoors due to the change of seasons, you might be wondering about your next move.
Is it better to join one of your local gyms and pay ongoing membership fees, or lay out a sum for an exercise machine you can use at home?
The gym is perhaps a better idea, but only if you can afford it and will use it regularly.
If there is one exercise machine you can use at home that will give you similar results, it is the elliptical machine.
With shortcomings such as maybe being boring and not challenging enough, it comes as no surprise that the elliptical machine does not get any praise.
But in reality, elliptical machines can be more effective, more difficult, more time-saving, and offer a more full-body workout compared to other cardiovascular types of exercise.
This is the primary reason why I train 2 to 3 times a week on an elliptical machine as a substitute for running, cycling, or rowing.
For this reason, as with anything, an elliptical machine workout is what you make of it.
And you actually can choose to make it great!
In this article, you will learn about elliptical machines and be presented with a set of answers to questions everyone needs before purchasing their first elliptical machine.
Elliptical machines – What types of elliptical machines there are on the market.
Health benefits – Is it only good for your heart and certain muscle groups, or can it also improve your immune system, reduce stress, and more.
Features – How do elliptical machines work, how many workout options are there, and what should you pay attention to while working out.
Buying guide – I know online purchasing can sometimes be a daunting experience. This detailed buying guide will help you choose your ideal machine.
My top 5 favorite elliptical machines – I will review my all time favorite elliptical machines currently available for sale.
Stay tuned to learn more about this awesome home workout buddy better, and learn from my personal experience!
Top 5 Best Elliptical Machines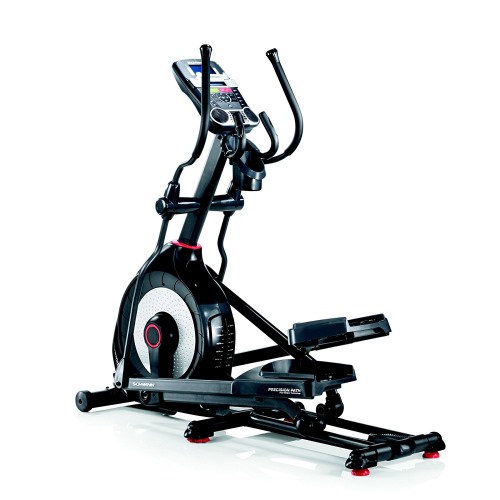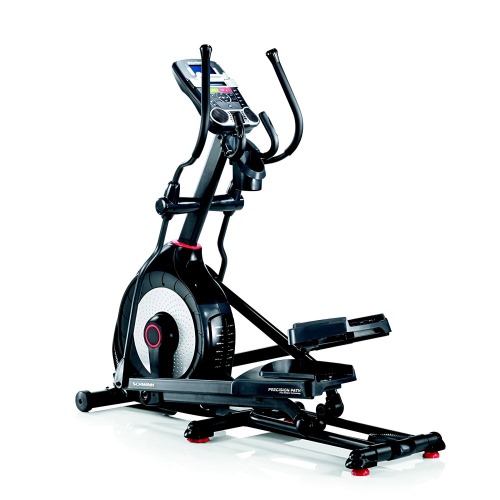 The Schwinn Elliptical Machine is a home exercise elliptical machine.
It is one of the best of Schwinn's offerings and includes a bunch of safety, convenience, and comfort features.
This review is intended to illustrate in detail the important characteristics of this model, explain its key features, and analyze whether it is worth the price.
It goes without saying that there is a lot of competition in the home elliptical market, so products like this pricey model require thorough analysis.
Schwinn Elliptical Machine works both for complete beginners and advanced users.
The Schwinn Elliptical Machine weighs 187 lbs. and measures 79 inches long by 63 inches tall by 28 inches wide.
Although it does not come fully assembled when ordered online, it is pretty simple to assemble.
It is also designed for all body types because it has 20-inch stride length.
This model comes with numerous programs, displays, and metrics to monitor your workout progress and set goals.
It can save up to 4 different user settings groups.
It also comes with 25 different resistance settings, paired with a weighted flywheel for all difficulty levels and workouts of varying intensity.
Each model includes a USB port that may be used for exchanging tracking data and charging portable devices.
Schwinn Elliptical Machine comes from a manufacturer that is considered top-notch in the fitness world.
Schwinn is a leading brand, and this model has additional and top-level add-ons for those looking for a serious workout experience.
The USB port this model provides allows you to enjoy your music while working out.
The overall console includes a heart rate monitor, fat-burning recording, high-quality LCD screen, and numerous customizable workout programs.
The Schwinn Elliptical Machine takes an hour or two to assemble – an impressive time for such a big model.
On top of that, the model is customizable for up to four user profiles, so every family member can use it.
The Schwinn Elliptical Machine is capable of providing a full-body workout while minimizing the risk of injury and keeping things interesting along the way.
Pros
Intuitive controls
Motorized ramp with 6 positions for customized workouts
29 programs with 4 separate user settings
Large pedals for decreased risk of foot injury and foot soreness
Cons
Large and heavy
Fixed stride length
Not ideal for people with knee injuries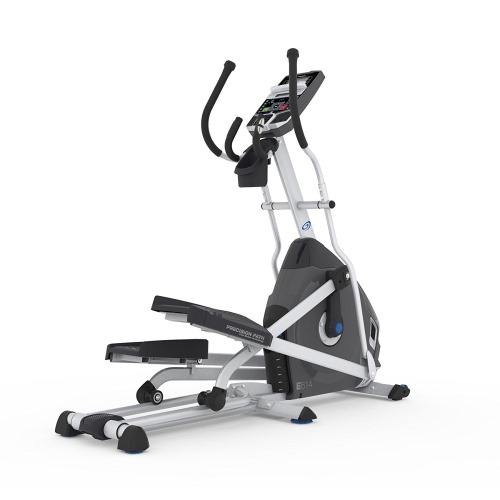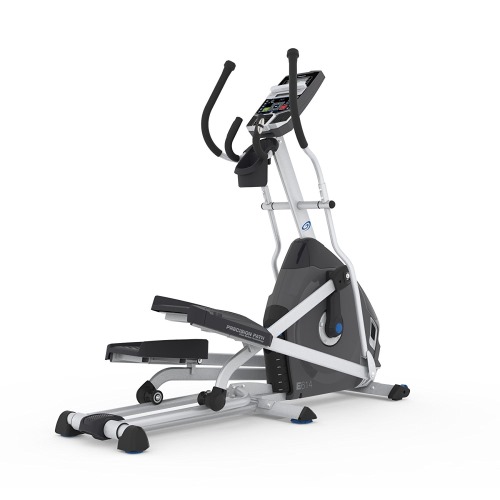 The Nautilus Elliptical Machine has been upgraded several times throughout its rich history, resulting in stronger features and more flexibility.
Thanks to its reputation for a long-life, quality construction, and the ability to challenge both complete beginners and advanced users, The Nautilus Elliptical Machine remains a popular seller.
In conclusion, when assembled properly, the Nautilus Elliptical Machine will deliver great results with consistent use.
The Nautilus Elliptical Machine is perfect for the whole family, with 22 different workout programs to cover all aspects of fitness and a 20-inch stride length.
However, you should know that it only includes two user profiles, which means it would better fit a couple or a family with children that are not old enough to use fitness equipment yet.
This model comes with a grip heart rate monitor to track your progress and keep you healthy throughout your workout.
Large, cushioned footplates decrease the risk of injury.
It also includes acoustic chambered speakers that deliver a big and clean sound.
Nautilus Elliptical Machine might not be your best bet if you are looking for plenty of customizable options or a full-color console.
However, this model is for those looking for a durable and reliable elliptical machine.
This model is intended for those that want to avoid complicated features and high expense.
It is perfect for a private residence, due to its transport wheels that enable easy relocation.
It also includes arm handles to keep your upper body toned, and chambered speakers to play your favorite tunes loud and clear.
Nautilus is acknowledged as one of the best-trusted brands on the market, so expect few to no issues with this elliptical.
The model also comes with a three-speed cooling fan and ergonomically-placed components that will allow you to get your sweat on and push hard with no risk of injury.
Pros
Reliable and sturdy construction
Goal tracking and data exporting through Nautilus Connect
Great range of workout programs and resistance levels
Cons
Fixed stride length
Complicated assembly
Low-powered fan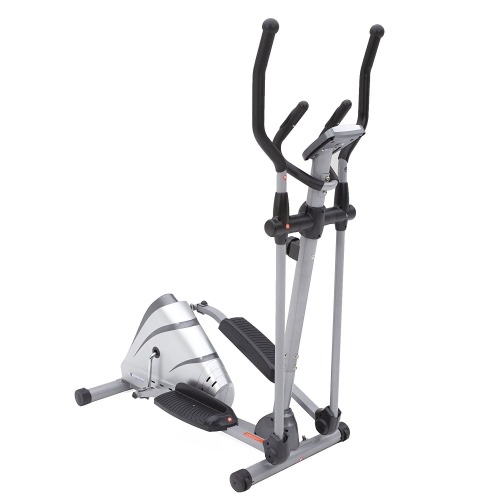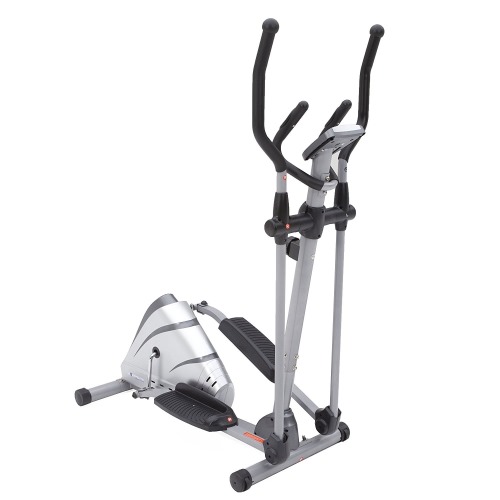 The Exerpeutic Elliptical Machine is an excellent elliptical machine for a full-body cardio workout, offering a quiet and smooth ride with minimal impact on the joints and back.
It is a model that will surely help you improve your cardiovascular shape, tone your legs, hips, shoulders, and abs, and even lose some weight.
It is also one of the cheapest models out there.
Even though it is not the best there is, it is an elliptical machine with one of the best price/quality ratios.
The Exerpeutic Elliptical Machine is one of the cheapest models on the market.
This compact device weighs just 76 pounds and takes up only 54" x 23" of floor space.
The model is distinctive from other Exerpeutic ellipticals for its high capacity – its weight limit is up to 300 pounds.
Other features include mobile arm handles, a stride length of 13", and 8 levels of resistance.
The resistance is created by magnetic force upon a flywheel and is adjustable by turning a knob.
In comparison to its competition, Exerpeutic Elliptical Machine is extremely low-priced.
What's more, there is not a cheaper residential elliptical machine on the market than this one.
It is also endorsed for its small dimensions and yet for having a high weight limit (300 pounds).
The pedals are used for both forward and backward motion, and the product also comes with mobile and stationary arm handles.
Finally, it is easily relocated because it has transport wheels attached.
Pros
Easy-to-read LCD
Extremely compact, with wheels for easy relocation
Dual-direction flywheel
Slip-resistant pedals and stability
Cons
Short elliptical stride length
Inaccurate heart rate monitor and LCD screen
Complicated assembly
Requires frequent maintenance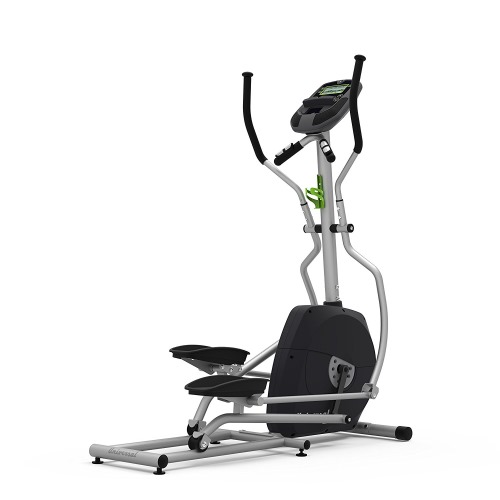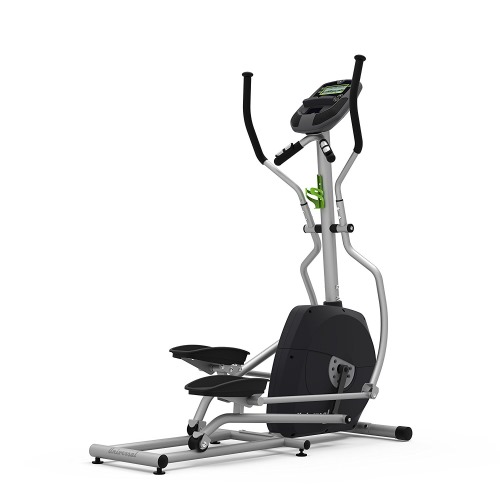 Finding a good-quality elliptical machine at a reasonable price is often a daunting experience, but the Universal Elliptical Machine appears to be an excellent value for money overall.
This is because it offers a wide array of workout options, is very easy on the joints, and runs quietly and smoothly, while also being strong enough to support anyone up to 275 pounds.
The Universal Elliptical Machine offers good resistance with low-impact and 17-inch stride length for comfort to fit all body types.
Along with many other additional features, it includes a fully-operational LCD console that allows you to monitor your progress, speed, workout duration, and calories burned.
This model also has one extra feature – the option to level off the feet on uneven surfaces, meaning minimal rocking and risk of injury – and most elliptical models in this price range do not offer this option.
The machine has a sturdy steel frame to maintain stability and durability, and also runs quietly and smoothly.
It also includes onboard speakers and a grip heart rate monitor located on the arm handles to help you remain in your targeted range throughout your workout.
Many people have reported pain in the hips and knees after an elliptical session.
However, the Universal Elliptical Machine is reported to cause no problems in people with existing joint problems.
With the 17-inch stride length, many users have commented how comfortable, smooth, and quiet it is in operation.
It offers a variety of workout options such as 8 magnetic resistance levels in total.
Also, unlike other models in this price range, this model offers 7 workout programs including manual, interval, and random programs.
It also works both the upper- and the lower-body muscles, providing a fully-body, low-impact workout.
And it includes a fully operational LCD screen, decent sized speakers, a reading rack, is easy to assemble, and perhaps most importantly, is suitable for anyone up to 275 pounds.
Pros
Easy assembly with transportation wheels
Ergonomic, articulating pedals
Rubberized, adjustable foot stabilizers
8 levels of magnetic, motor-assisted resistance
Cons
No backlight in the LCD display
Tablet or magazine holder partially or totally covers the console display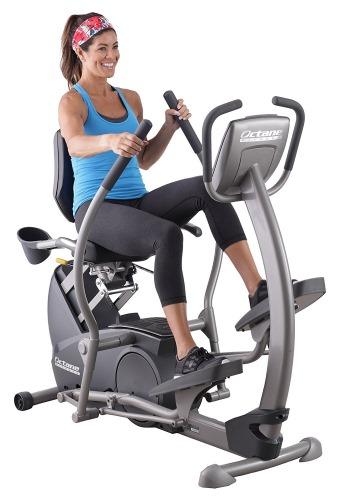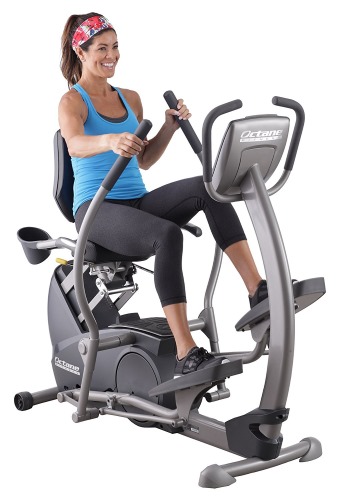 The Octane Elliptical Machine is a high-quality machine with a unique design.
In comparison with typical recumbent bicycles, this model allows faster calorie burn and is the most reasonably priced model for advanced elliptical workouts.
If you are willing to spend less, you should choose an elliptical machine that costs less, is loaded with modern technology to improve your workout experience, and has a longer warranty.
If you are willing to spend more, this model will offer benefits such as an "active seat" and Workout Boosters, video training and WiFi, and a longer warranty.
Known for its quality, Octane Elliptical Machine allows you to burn calories about 25% more efficiently in comparison with seated elliptical machines and recumbent bicycles from other brands.
As mentioned above, this machine is loaded with Workout Boosters for advanced workouts.
This model burns more calories thanks to what's called an "active seat."
In other words, as you ride, your body is positioned in a way that requires greater muscle recruitment.
The greatest difference is in glute activity.
In comparison to other recumbent machines, Octane Elliptical Machine allows you to move your torso freely and extend your legs further.
The model also includes a console that displays distance, speed, time, resistance (20 levels), pulse rate, and calories burned.
It includes 6 diverse workout programs.
The Octane Elliptical Machine can run 3 Workout Boosters named Leg Press, Chest Press, and XMode.
These modes can be activated at any time to add variety and interval training to a primary workout program.
When Leg Press is activated, you will not use the arm handles and will work only lower-body muscles.
When Chest Press is activated, you will not use the pedals and will only use the arm handles in isolation.
When XMode is activated, you will be led through a variety of lower- and upper-body workouts.
Pros
Workout Boosters for a variety of workout options
Adjustable seating for all body types
Heart rate monitor with built-in sensors
Minimal floor space required
Safety mode to protect curious children
Cons
Straight arm handles
No personal cooling fan
No wireless heart-rate monitor
Does not include a USB port for data transfer or MP3 player


What is an Elliptical Machine?
An elliptical machine, also known as a cross-trainer or an X-trainer, is a stationary exercise machine that simulates the physical movement of stair-climbing, running, or walking without inflicting too much pressure on the joints, thereby reducing the risk of impact injuries.
Because of this, those suffering from certain injuries can use an elliptical machine to stay fit due to the minimal physical impact exerted by the machine.
Elliptical machines also offer a non-impact cardiovascular workout that can go from low to high intensity, depending on the speed of the exercise and the resistance preference chosen by the user.
Most elliptical machines affect your upper and lower body (even though some models do not include moving upper body components).
Although elliptical machines are thought to provide minimal impact, this piece of fitness equipment is an example of a weight-bearing form of exercise.
Some models come as power-generated machines, meaning your motion supplies them with power.
The fact that elliptical machines have become energy-saving devices tells a lot about their progress throughout history.
So, the question is, when did the first elliptical machine come into being, and whose idea was it?
Elliptical technology has been characterized as "the generic name for a device that uses different mechanisms and linkages with the aim to create a preferred pattern of movement for a pair of foot pedals."
The word 'elliptical' comes from that preferred pattern – egg-shaped, or oval.
Elliptical machines were created in 1995 by Precor, a fitness equipment company, and became an instant success because of its revolutionary concept – the minimal-impact cardiovascular workout.
It was the first exercise machine that offered the same end results both for beginners and for trained athletes.
According to various sources, the first elliptical machine models had fixed upper handles to deliver extra balance so that you could train the muscle groups in your lower body.
However, the manufacturers came up with an idea to make the upper parts mobile so as to include them in the training process, thus making the machine more compound and, more importantly, more effective.
Reebok studied Precor's model, and to intensify the exercise, they improved it by adding an upper-body workout to the existing lower-body one.
The result? A full-body, calorie-burning workout that has since been on everyone's radar.
This is why this machine deserves to be in the spotlight, including due to its various benefits.
Benefits of Elliptical Machines
I know there are elliptical skeptics who think elliptical machines are worthless.
I have rounded up 18 reasons (both practical and scientific) to help you change your mind.
Anyone Can Use Them
The elliptical machine is convenient for all fitness levels and all ages (except for if you're injured), according to Amie Hoff, a fitness expert based in New York City.
"It gives people a sense of security due to an easy motion," she says.
This is especially helpful to complete fitness beginners who do not feel as confident to use "complex" gym machines.
What's more, you will not need a manual to use it.
They Can Be Found Almost Everywhere
If you think you will need a boutique studio to access an elliptical machine, you are wrong.
These handy devices are in just about every gym, including the tiny model usually found in hotels and apartment buildings.
Elliptical Machines Get Your Heart Pumping
Although it may sound strange, elliptical machines raise your heart rate higher than the treadmill, reports the Journal of Strength and Conditioning Research.
According to their data, an elliptical device is an acceptable alternative to a treadmill (1).
In another study published in 2004, it was found that elliptical machines induced greater physical impact on runners' legs as compared to working out on the treadmill (2).
They are Schedule-Friendly
Despite how much love we share for HIIT workouts, they are a bother at times, mainly because they require a post-workout shower session.
And if you are pressed for time, you know how important it is to get in and out of the gym as quickly as possible.
Moreover, any of you ladies out there know how difficult it is to keep your strands sleek and smooth through a sweat session.
On the other hand, the elliptical machine allows you to control intensity levels, enabling you to avoid sweating and spend more time exercising.
There is No Unwanted Competition on the Elliptical
Everyone desires friendly competition, no doubt.
Sometimes, powering through your treadmill workout means gym rats next to you checking your speed and mileage.
Thanks to elliptical machines, this phenomenon is limited to treadmills, so you can power through your elliptical workout in peace.
Elliptical Machines Work Upper-Body Muscles
Thanks to their mobile handles, you can pump your arms throughout your elliptical workout.
Or, you can grab some dumbbells, ditch the handles, and do shoulder presses as you move your legs.
And voilà: Now you have your upper body working out too.
Elliptical Machines Improve Your Life
It may sound like an exalted claim, but studies actually report that an elliptical workout may improve your quality of life and kick back fatigue – though it is important to mention that the study measured fatigue parameters in patients with multiple sclerosis (3).
There is a Wide Array of Workout Options
Elliptical machines have built-in programs that make switching up workout types super simple.
In addition, switching the settings manually is also child's play.
Tip: in case you are sticking to a certain program, keep tabs open to keep a record of how challenging a workout is for you.
You Can Multitask
Whether you have to send a bunch of e-mails on a phone or tablet, or just want to catch up on your favorite show, checking things off your to-do list is completely possible on the elliptical machine.
And, yes, it is maybe possible to do all of these things on any other cardio machine at the gym or at home, but it is particularly easy to multitask while working out on this machine.
Elliptical Workout is Easy on Your Knees
Compared to other cardio equipment in the gym, elliptical machines do not put as much pressure on your body in general – and that is pretty essential for people with knee, joint, and lower-back issues.
The gliding motion is low-impact but can be very beneficial.
Elliptical Workout Can Be a Killer Workout
Whether it is going to be a low- or high-intensity workout is up to you.
According to a 2011 study published in the Journal of Rehabilitation Research & Development, elliptical machine workouts lead to similar fitness results as exercising on the treadmill or a Stairmaster (4).
So, what is the deal?
You need to keep the intensity up and work as hard and as long as you would on the other two machines.
In other words – no slacking!
You can add an extra challenge by cranking up the incline for 3 to 4 minutes, then decreasing the incline as you increase speed, and alternating until you have completed your workout.
This works your gluteus muscles a little more.
Elliptical Workout Helps You Recover from Injuries
Although you should get the green light from a physician before getting back into working out after an injury, experts suggest that an elliptical workout may help you regain range of motion in the hips.
And if you are having issues with sore joints, the low-impact workout may pay off.
On top of that, doctors recommend incorporating elliptical exercise into a rehab program for patients who have had ACL (anterior cruciate ligament) surgeries.
A 2013 study even reports that an elliptical workout may be beneficial in a rehab program for people with traumatic brain injuries (5).
And there is also more research suggesting that an elliptical workout increases balance, mobility, and endurance in those who have experienced a stroke (6).
You Do Not Need a Lot of Energy
Some days, it just does not feel like a beast mode day.
When such a day comes, hit the elliptical machine.
Since it is low-impact and you can adjust the intensity, you can get yourself sweating without doing yourself in.
In addition, thanks to the built-in features, you can easily coast – in case this is exactly what you need.
You Can Read
Using a treadmill or Stairmaster and turning pages at the same time is way harder than reading on the elliptical.
So, when you want to stay in shape but also need to prepare for an interview, multitasking with the elliptical is a pretty safe bet to get your reading done and your sweat on too.
They Help You Get Back into Your Fitness Routine
An exercise hiatus often requires some time to get back fully on the fitness track.
Just like it is a great device for fitness newbies to get their sweat on, elliptical machines are a great choice for those looking to get back right away.
Offer You a Full-Body Workout in Less than 30 Minutes
Fitness is all about efficiency, and elliptical machines have to be one of the most efficient pieces of gym equipment.
You can work your lower and upper body, and get your cardio fix, all in one go.
Can Be Used as an Add-on to Other Workouts
Have you ever felt that you have hit only 80% of your workout potential?
In case that happens occasionally, a little session of the elliptical will help you erase that feeling and leave the gym 100% content.
You Can Go Backward
Though this may sound strange, pedaling in reverse works the hamstrings and calves more than the forward motion.
Consider this the go-ahead to switch things up as you work out.
How Elliptical Machines Work
The elliptical machine also called an elliptical trainer or cross-trainer, simulates non-impact running or walking.
It is a cross between a cross-country ski machine and a stair climber.
The elliptical machine's most distinctive feature is that it provides a weight-bearing (the amount of your body weight you put on your legs), low-impact cardiovascular exercise.
Most ellipticals work the lower body using pedals and the upper body using mobile handles or poles.
Though treadmills are the most popular cardio equipment, many dedicated treadmill users are switching to elliptical machines.Its unique benefit is in its low-impact, lower- and upper-body workout.
Its unique benefit is in its low-impact, lower- and upper-body workout.
The elliptical machine is not a non-impact workout; it still incorporates a certain degree of impact.
However, the impact is insignificant when compared to jogging or walking.
On the elliptical machine, your legs, joints, and knees move in an elliptical motion, thereby significantly reducing impact.
On the other hand, a running workout includes hitting the ground with a force of up to 3 times greater than your body weight.
You can adjust the intensity/resistance of the elliptical machine and, for some models, the incline and stride length.
Only when it feels comfortable to your feet on the pedals should you start working out.
The handle-levers should not hinder the movements of your lower body.
Moreover, a well-designed machine should be equally dependent on the leg and arm power.
It should not feel as if your arms are limply following the handles.
The impact should be equally divided, and it should feel as if your legs and arms are sharing the work.
How to Use Elliptical Machines
It has already been clarified that elliptical machines work both the lower- and the upper-body muscles.
The elliptical machine targets primarily the lower-body muscles, including the:
Front of thighs (quadriceps) – The elliptical machine really works the quadriceps, even though this is not as targeted as on the stationary bicycle. However, you will surely feel the burn by increasing the intensity of your workout.
Back of thighs (hamstrings) – Some elliptical machine models allow you to increase the incline. By doing so, you simulate stair- or hill-climbing, increasing stimulation of the hamstrings. Pedaling in reverse (backward) also puts more stress on the hamstrings.
Buttocks (gluteus maximus) – By increasing incline, you increase the butt-firming effect.
Calves (gastrocnemius) – You can also target your calves by holding onto the handles and focusing your energy on pushing your legs. Alternate between going forward and going backward. Drive with your heels as you move the foot pedals backward.
Lower shin (tibialis anterior)
The elliptical machine also works the upper-body muscles (though to a lesser degree):
Upper arms (triceps)
Front of the arms (biceps)
Chest (pectoralis major)
Deep Core Muscles
When you hit the elliptical machine, perhaps there is a particular muscle that you want to tone.
Some newer models of elliptical machines have these body-part specific features, such as "gluteal training," or those targeting the calves.
The elliptical machine really does work the upper-body muscles.
However, this way of working the upper body differs from weight training.
The elliptical machine is limited when it comes to targeting every single muscle in the upper body.
For this reason, you still need weight training to target the entire body.
When it comes to the lower body, the elliptical machine is very good at targeting most of the lower-body muscles, especially at high incline/resistance.
Therefore, depending on your goals, an elliptical workout may be enough so that resistance training targeting lower-body muscles may be unnecessary.
What to Look for in Elliptical Machines
Buying a home elliptical machine can be difficult with all the choices.
Elliptical machines range from $200 to $5,000, depending on your budget and needs.
Your Budget
Money is the most important factor when it comes to buying exercise equipment.
You should invest as much money as you are able to.
In case your budget is only a couple hundred dollars, should you buy a cheaper model?
Well, it depends.
You can definitely find inexpensive models at discount department stores.
Though they may work okay, they may not last and be as sturdy as higher-quality models.
For this reason, perhaps it is better to save money over time and buy a high-quality model such as those offered by Precor, Sole, Nautilus, or ProForm.
Must-Have Features
When buying an elliptical machine, you want to look for the following features:
Adjustable incline – Although it is not necessary, an adjustable incline allows you to adjust the intensity of your workouts.
Stride length – Pay attention to this feature, because the stride length may be too short for your body dimensions. Average-sized people look for about 21", while some models only offer 14".
Smooth motion – Moving the pedals forward and backward should feel smooth and quiet, and not jerky.
Adjustable resistance – Just like with adjustable incline, your elliptical machine should also have adjustable resistance, so you can reap the maximum benefits.
Upper-body option – Although they are not necessary, it is recommended that your model includes arm handles so that you can work your upper-body muscles too.
The quiet factor – You do not want your machine to sound like a freight train.
Safety Features
It is important that your workout is not only effective, but also safe.
Therefore, your elliptical machine should have the warm-up and cool-down periods handles that provide balance but do not get in the way, an easy-to-read console, and, preferably, a heart-rate monitor so you can track your workout progress.
Also, look for a good warranty (1 year for labor, 1-3 years for parts) and a maintenance-free elliptical machine just in case something goes wrong.
Finally, it is important that your dealer has trained staff to service your equipment.
Extra Features
The first question is what kind of interactivity you need.
One to consider is a heart-rate monitor.
There is an interactive version of the machine that automatically adjusts your workout intensity to keep you in your targeted range.
If you are looking for a variety of pre-set programs, then look for models that allow you to create customized workouts too.
However, be mindful of the fact that more features mean more money, but the expenditure is worth it if that is what you need.
Other Tips
Prior to buying your elliptical machine, visit a few different retailers (preferably those specializing in fitness equipment), and try a few models.
Use each model for at least 10 minutes so you can get a feel for it.
While using the machine, pay attention to the console.
Is it easy to use? Is it easy to see?
Make sure that that the motion is not jerky but smooth, and that the arm handles are convenient.
Finally, measure the model dimensions, so you know if it fits in your room.
What to Avoid in Elliptical Machines
When purchasing, people often make mistakes.
Some models of elliptical machines are better than others.
Some models have more pitfalls than others.
Therefore, I have compiled a list of three mistakes people often make when buying elliptical machines.
Too-Lightweight Model
People often look for a lightweight model so that it can be easily moved around.
But the truth is that most of these lightweight elliptical machines are not well-built, and will not be able to provide a smooth, quiet, and comfortable workout.
This does not mean they have to be too heavy (more than 250 pounds).
Even if they are heavy, some models come with what are called tilt-go-wheels, so you can move them around with ease by plugging those wheels in.
Stride Length – Longer is Not Better
According to numerous fitness equipment websites and review websites, the longer the stride length the better.
But this is not true.
Stride length should depend on your height.
If the stride is too short, it will feel choppy and you will not be able to experience the full elliptical motion.
On the other hand, if the stride length is too long, you may end up stretching your legs, which is not a pleasing experience.
This is the recommended stride length according to your height.
If you are less than 5'3", you should buy an elliptical with a 16-18 inch stride to have a full elliptical motion.
If you are 5'7" to 6'7", you should buy an elliptical with a 20-21 inch stride to have a full elliptical motion.
If you are more than 7′, you should buy an elliptical with a 26-inch stride length to have a full elliptical motion.
One Size Never Fits All
If you are the only one using your machine, you should not be worrying about this point.
However, if there are several people using the same machine, chances are the machine will not feel comfortable for everyone.
For this reason, it is recommended that you buy an elliptical machine with an adjustable stride so that different users can adjust the stride length as they see fit.
Precautions
Elliptical machines are one of the greatest devices on the market for getting your sweat on, but using the machine properly is essential to reducing your risk of injury.
Read on for safety tips that will make your elliptical experience better than ever.
Start Slow
It is important to step on the machine carefully and slowly.
Once you press the start button, start at a slow pace so that your muscles have enough time to warm up and get ready for the upcoming workout.
Use the Resistance
Not only is the elliptical machine safer with a little resistance, but using this feature is also better for you.
The rotating mechanism used in the elliptical machine is a flywheel.
This means it uses momentum to spin itself around.
Thus, fast feet produce a lot of momentum, which means that your muscles do not work as hard to move the pedals.
With increased resistance, your legs and arms have to work harder to keep the elliptical moving.
Watch Your Heart Rate
When hitting the elliptical, your heart rate monitor is your new best friend.
This tool helps you remain in your target heart zone to avoid overexerting yourself.
To use it, simply find the monitor, then set your target heart rate.
To start your workout, place your hands on the sensors.
Remember – if you are feeling weak or out of breath, just stop!
Stay Hydrated
Dehydration can cause dizziness, confusion, weakness, tiredness, and blurred eyesight.
This is why it is crucial to keep yourself hydrated throughout your workout.
Even though we want to push ourselves another mile, dizziness is an indicator you should stop working out and hydrate.
Watch Your Weight
Your weight should be distributed evenly while you are using the elliptical machine.
This means that leaning on the machine, both figuratively and literally, is a no-no.
The key is to stay stable and balanced to avoid injuring yourself or someone nearby.
Hold the Arm Handles Lightly
It is essential that you hold the arm handles while using the machine.
They are designed to keep you balanced and your body in the right place throughout your workout.
Keep your arms relaxed while gripping the handles lightly.
If this does not feel natural, just let your arms go and swing naturally.
Remember, keep your back straight.
Maintain Proper Alignment
If your posture is unstable and poor, you will not get the maximum out of your workout.
Plus, you will be uncomfortable and stiff later on.
Step on the machine with your back straight, and keep your head high and shoulders back.
Your core should be tight, which will enable you to stand straight and maintain this ideal stance.
As for your feet, it is better to keep them closer to the inside of the pedals.
Imagine that you are climbing stairs or hills.
That is what an elliptical workout should feel like.
Conclusion
Elliptical machines are an economical and practical way of meeting your fitness goals in the convenience of your home.
These machines are low-impact, challenging, and easy on your joints, and they work both the upper- and lower-body muscles for maximum calorie burn and a full-body workout.
In comparison to traditional treadmills, elliptical machines use cushioned pedals that create an elliptical, smooth motion similar to jogging or walking.
However, unlike jogging or walking, your feet never leave the pedals, and joints are supported at all times.
Before buying an elliptical machine, it is essential that you consider several factors such as your budget, how compact the design is, and the space you will need to ensure you are going to find the best fit for you and your needs.
If you are looking for a high-quality home fitness machine, you should seriously consider an elliptical machine.
FDA Compliance
The information on this website has not been evaluated by the Food & Drug Administration or any other medical body. We do not aim to diagnose, treat, cure or prevent any illness or disease. Information is shared for educational purposes only. You must consult your doctor before acting on any content on this website, especially if you are pregnant, nursing, taking medication, or have a medical condition.
HOW WOULD YOU RATE THIS ARTICLE?