Top 5 Best Epilators of 2018 Reviewed
According to many people, hair removal is an irritating and usually expensive process, which often takes time to find out what works best for you.
You'll probably try several different methods, for example, waxing.
This form of hair removal has become really expensive over the years because it takes too much time for your hair to grow back.
On the other hand, shaving requires you to purchase blades.
For that reason, we decided to try an epilator.
This device is quite handy and comes in all sizes and shapes.
Some are designed for facial and sensitive area epilating, some for your legs, and others for the entire body.
Depending on your needs, we'll help you pick the right one by recommending a few in our epilator reviews.
Whether you are an expert or a newbie, with our detailed guide you'll have less trouble choosing the best epilators on the market.
What is an Epilator?
An epilator is an electrical device that is very similar to a shaver.
Unlike shavers that just slice hairs, epilators have numerous small tweezers that pull hairs from the root.
Twenty to seventy-two tweezers — the number depending on the epilator—rotate on top of the device and pull many hairs at a time.
The first one was designed and produced by Israeli researchers in the 1980s.
These epilators had a rotating coil spring, but this was soon replaced because of the repetitive bending of the spring, which was the most common cause of malfunction and ultimately breakdown.
An alternative was the rotating disc epilator, but this caused much litigation because the two products were similar.
The case was lost, but the outcome made room for a breakthrough in epilator technology, thanks to which we have some amazing devices today.
Today, epilators are streamlined to improve efficiency and reduce pain.
They include hypoallergenic ceramic disks that reduce irritation, massagers that reduce pain, and specialized devices for particular body parts.
Top 5 Best Epilator Reviews
The five epilators that you'll be reading about are all fantastic.
They are, however, different in functionality, quality, and features.
They differ in price as well, but expensive epilators come with extra features and enhanced quality.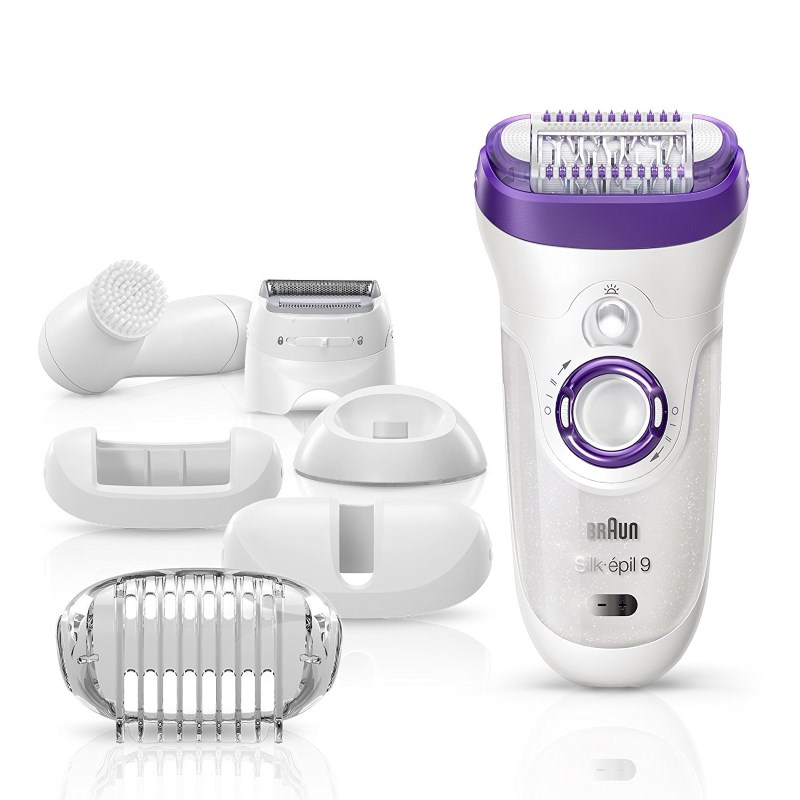 This epilator is the best-selling one on the market and arguably the highest in quality.
The Silk-Epil 9 is a cordless epilator designed for whole body use and can be used dry or wet.
This well-built and solid epilator has a number of great features, including a pivoting head that creates a warm and relaxing feeling during epilation as well as a smart light that illuminates any of the tiny hairs that you might have missed.
In addition, another feature of this epilator is a high-frequency massager that stimulates your skin, thereby reducing pain.
This machine is ideal for both newbies and seasoned pros.
It has five included caps that are adequate for the entire body and uses 40-tweezer technology to make your skin as smooth as it can be.
If you are looking for a high-quality, multifeatured, and reliable epilator that has a well-earned reputation in the beauty community, this is a perfect choice.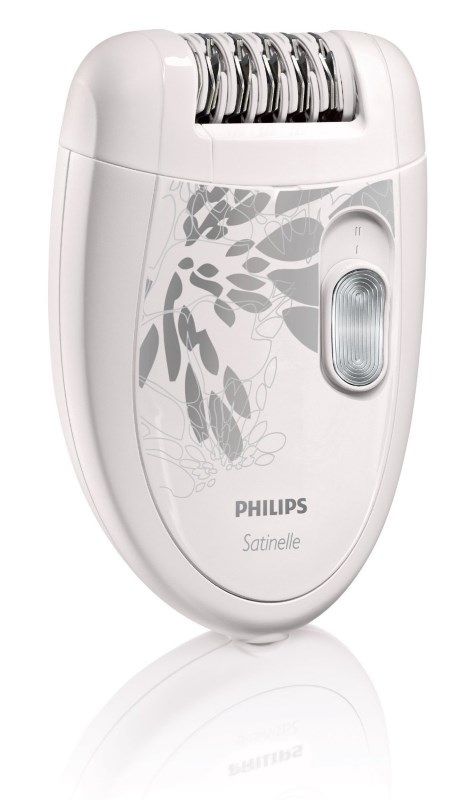 In case you don't plan to use an epilator while showering, corded epilators are your best choice.
The battery life of cordless epilators is very low, depending on the quality of the device.
One of the most frustrating things that can happen is that your device will fail when you're halfway done.
This will not happen with a corded epilator.
The Philips Satinelle is arguably one of the best, if not the best epilator available.
It is a valuable device on its own and also includes a few great features that make it exceptional.
You won't have to use the full power of the machine to epilate more sensitive areas because it has a two-speed setting to help you out.
It also comes with an attachable efficiency cap and is very easy to clean.
It's designed for both men and women and will keep hairs away for weeks on end, but you can't use it underwater though the head is washable.
You'll get much better results epilating dry.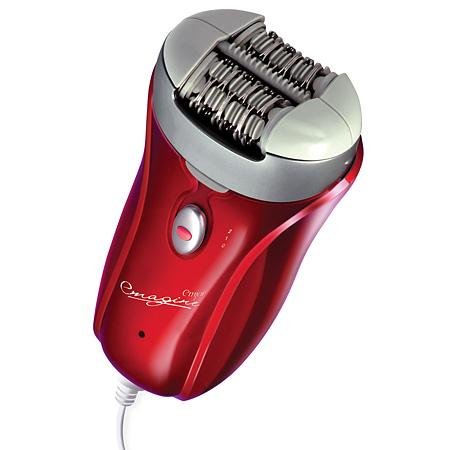 If you prefer a mid-range epilator, the Emjoi AP-18 is a good choice.
This brand is not as popular and does not cost as much as those mentioned above, but you'll still get a strong machine.
Despite being bulky and large in size, it's still a high-quality device.
This model is designed for both men and women, which you'll notice by the unisex design.
It includes seventy-two tweezers, making it second to none in efficiency.
This pioneering model in the world of epilators stands out from the crowd thanks to its Silver Ion Technology, which is just a fancy name for antimicrobial protection.
You won't be infected with this epilator.
The Emjoi Ap-18 is designed for dry conditions only, so you can't use it in the shower.
Its seventy-two tweezers, however, provide increased efficiency in a dry environment.
If you don't mind the dry-only aspect of this model and want effective and fast epilation, this epilator is for you.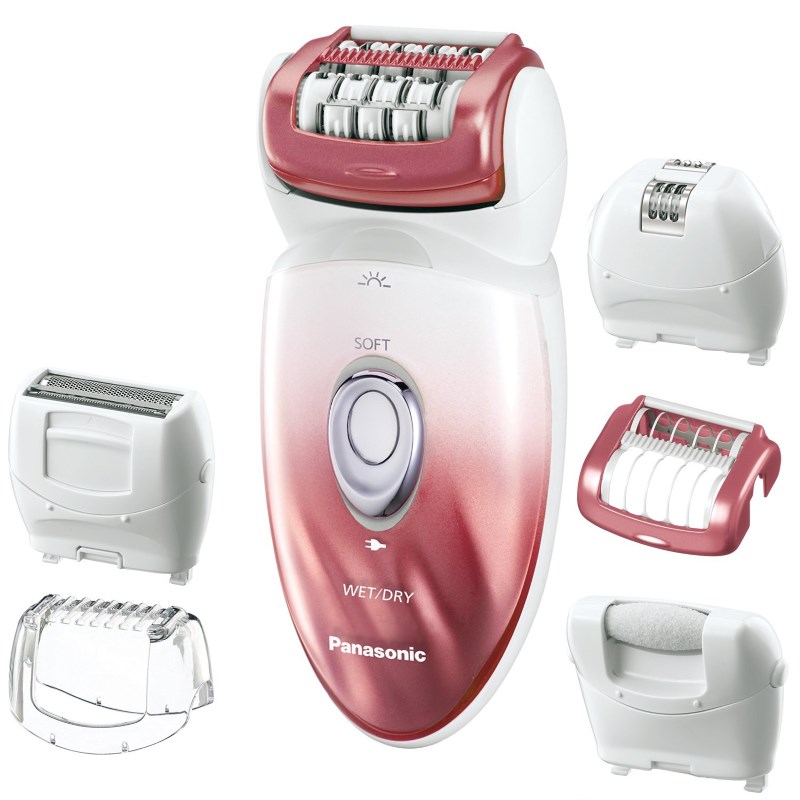 The ES-ED90 does not sell as well as the Braun epilator, but it really gives the Braun a run for its money, and reviews are almost all 5-star.
We highly recommend this epilator for people who are looking to find a top-notch epilator that will last a long time.
Many companies today manufacture a great number of different devices with different features and options to lure people into buying more.
Contrary to these companies, Panasonic has put all its innovations into a single device, such as the ES-ED90, resulting in an outstanding epilator that is capable of doing more than most other epilators put together.
The ES-ED90 is a full-body device suitable for your arms, legs, underarms, and even bikini line.
Technically, it isn't designed for facial epilation, although many people use it for this purpose.
What makes this epilator so special is its pedicure buffer feature.
It's very easy to use and lasts a surprisingly long time.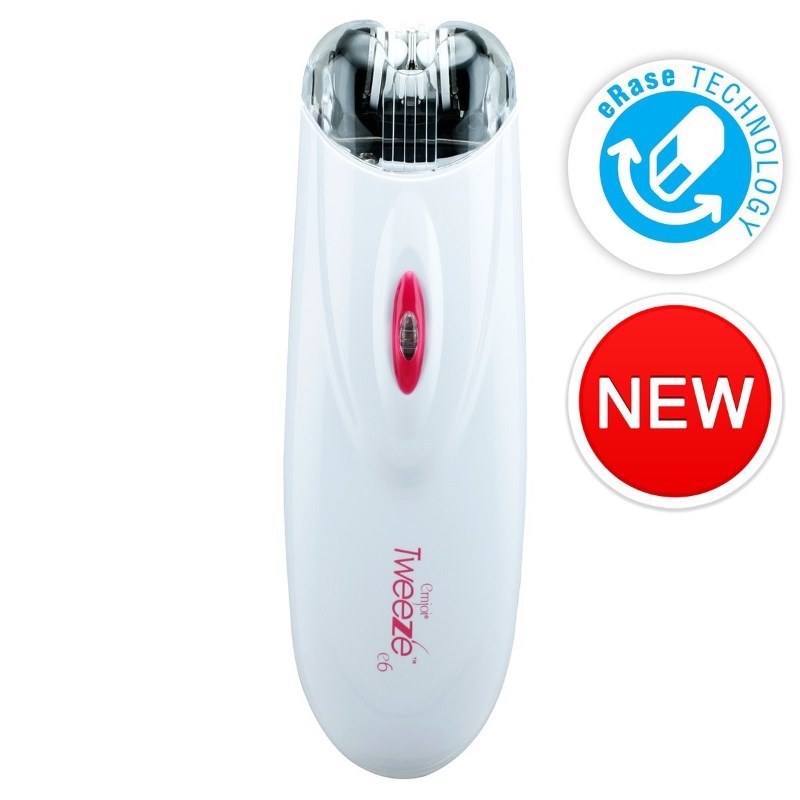 The Emjoi Epi Slim is on our list because it represents travel epilators in the best light.
It has an ultraslim design, is battery powered, and also cheaper than any of the other models.
Not only is it a great epilator to have at home, but we also highly recommend it for holiday or travel use, particularly for people who commute on a regular basis.
The Epi Slim is designed for the more sensitive areas of your body: chin, upper lip, bikini line, and underarms.
You can also shave your legs with it, but this could take a while, as it has only nine tweezers.
This model is on our list because of its uniqueness.
It is one of the few battery-powered epilators that can really hold its own.
Battery-powered epilators that are used quite often normally run out of battery life rather quickly.
With the Emjoi Epi Slim, however, this problem isn't an issue.
If you prefer shaving or waxing your legs, you can also use this model.


Advantages of Epilating
Epilating has many more advantages than shaving or waxing.
You stay hairless for a longer time.  As in waxing, epilating also involves pulling hairs from the root as opposed to cutting hairs as close to the skin as possible. More time will be needed for hair to reach the surface of the skin and be noticeable.
It's much cleaner. Waxing can be difficult, and shaving is not any better. Epilating doesn't require liquids or creams, and certain epilators even have containers that store loose hair. Professional waxing is still the cleanest option, however, since it's performed away from your home.
It's much cheaper. Buying an epilator may be expensive at first, but it offers long-term benefits and savings. You won't need to buy creams or razors or book expensive appointments. It will always be right at hand when you need it.
It's better for your skin. Repeatedly running a sharp blade across your skin significantly increases the risk of cutting yourself or experiencing a razor burn. Waxing can cause redness and irritation due to the removal of a layer of skin cells with the hair.
It works everywhere. Most epilators can be used for your entire body. Some are specialized for particular body parts and sensitive areas, but most can be used on your face, legs, underarms, bikini line—just about anywhere!
How do I Find the Best Epilator for Me?
When purchasing an epilator, you might want to consider a few factors to determine the best one for you.
A cordless epilator is portable and easy to use when traveling. One particular advantage is being able to use it in both wet and dry conditions. So, if you have a wet and dry epilator, you can use it in the shower. Corded epilators, on the other hand, have an extended battery life, which is a problem that most cordless epilators face. Most cordless epilators last from thirty minutes to an hour after recharging, which means that you'll have to do your job within an hour after charging. A problem arises, though, if you scheduled your session after that time frame. You do not have to think about recharging a battery if you have a corded epilator.
Battery or Rechargeable: if you choose a cordless epilator, you can select one that is battery powered or one with a built-in rechargeable battery. Battery-powered epilators are usually cheaper. They are best used when on a holiday, but I don't recommend them for regular use simply because this type of epilator quickly drains battery life.
Of the two, a rechargeable battery epilator would be my choice.
This type of epilator is waterproof and really easy to use anywhere on your body.
As long as you are careful when charging the battery, this one is by far the best choice.
Wet & Dry:The choice between a wet and dry epilator is a choice of convenience. It is undeniably more effective to epilate with dry hair, as the hairs are not weighed down by water or stuck to your skin. You will probably be epilating more in dry conditions, but it is also quite convenient to epilate in the shower because water soothes the skin, thereby reducing pain and creating better and cleaner conditions.
What About Pain?
Epilators have a bad reputation for causing pain, but often you won't feel anything at all.
Your first epilating experience may be a bit rough, but you'll soon get used to it and feel much better.
Perhaps you won't have any discomfort, even the first time you use it.
Try it out and you'll know.
FDA Compliance
The information on this website has not been evaluated by the Food & Drug Administration or any other medical body. We do not aim to diagnose, treat, cure or prevent any illness or disease. Information is shared for educational purposes only. You must consult your doctor before acting on any content on this website, especially if you are pregnant, nursing, taking medication, or have a medical condition.
HOW WOULD YOU RATE THIS ARTICLE?