Top 5 Best Face Masks for Blackheads in 2017 Reviewed
Face masks are a relaxing, easy solution to your skincare concerns.
You can utilize them to get glowing, taut, blemish-free skin.
Face masks are great for those wishing to control excess oil and improve the appearance of pores.
And they're pretty useful for getting rid of those pesky blackheads that can mar your complexion.
By opening up your pores and reducing sebum accumulation, they prevent hair follicle openings from getting blocked and producing those tiny black bumps.
However, all face masks are not the same. And like all skincare products, certain brands outshine others.
Therefore, we studied several products and came up with a list of the five face masks that work best for removing and preventing blackheads.
Majestic Pure Natural Dead Sea Mud Mask Facial Cleanser contains natural mud from the mineral-rich Dead Sea. It's easy to apply, easy to take off, and makes your skin easy on the eyes. It effectively removes dirt and oil from your face, leaving it clear and radiant.
InstaNatural Charcoal Mask for Face contains charcoal, a potent ingredient known for being able to remove impurities from the skin. It draws out dirt and grease and leaves people with an immediate sense of freshness and brightness.
Aztec Secret Indian Healing Clay Deep Pore Cleansing is a wholly natural product, with 100% bentonite clay and no synthetic substances or chemicals. You don't have to worry about unwanted effects from added substances, and you can enjoy the effects of pure, cleansing mud.
Vidazen Charcoal Face Mask Organic Clay Mud Exfoliator and Pore Minimizer is a lightweight mask. With activated charcoal and eucalyptus extracts, it naturally fights blackheads and large pores. It cleanses, detoxifies, reduces blemishes, tightens skin, and makes it glow.
Thick, creamy, and free of fillers, Amara Organics Dead Sea Mud Mask for Face & Body is made of pure Dead Sea clay. It soothes acne and irritation, reduces signs of aging, and shrinks the size of pores.
What Should you Look for in a Blackhead-Fighting Face Mask?
Among hundreds of available face masks, there are only a few that will actually deliver the results you need.
So how do you recognize which products will benefit you the most?
To discern the face masks that'll remove your blackheads the most effectively, look for the following ingredients:
This component is often found in powerful anti-acne products.
It's a penetrating ingredient that goes deep into the skin and unclogs pores, so it's very effective against blackheads.
It also dissolves the layer of dead cells that make your skin look dull.
This keratolytic effect gives you a bright, youthful look.
It also works as an antiseptic agent, preventing germs and bacteria from thriving in your skin.
And it helps maintain your skin's pH level and shrinks pore size.
This component is also great for fighting acne, which includes blackheads.
It prevents the proliferation of bacteria in your skin, so it helps prevent breakouts and skin infections.
Additionally, it helps control sebum production, so that excessive oil doesn't clog up your pores.
And it assists with removing dead cells.
A renowned ingredient for cleaning up pores, activated charcoal has enhanced absorbency, and it draws out all the toxins and impurities from your skin.
It also attracts bacteria, residue from makeup, and chemical substances from your skin.
And it expels them as you rinse it out.
These acids (such as glycol, citric, lactic, magic, and tartaric) are naturally occurring, so they dissolve the bonds that hold dead cells together.
This effect makes it easier to shed those cells.
These water-soluble acids also hydrate skin, prevent acne, and treat acne scars.
Why Should you Use Face Masks?
Face masks are great because they give you quick, observable results.
Immediately after use, most people find improved skin elasticity and appearance, which takes a while for most lotions and serums to achieve.
They aren't usually expensive, so it's recommended that everyone add face masks to their beauty regimen.
Here are some major benefits of face masks:
Regular face washes can remove dirt and impurities from your skin —  to a certain extent.
But at least once a week, you need to use a deeper-reaching product, which will properly detoxify your skin.
With good-quality face masks, the impurities are embedded deep within your skin — below the top layers, where they can be extracted.
So all of your skin will be clean, as opposed to just the surface.
Clogged pores are a major cause of acne.
With face masks (particularly those containing bentonite clay), you can open up your pores, so that impurities don't get trapped or encourage bacterial growth.
By removing the debris of dead cells, dirt, and oil from the surface of the skin, your pores will be allowed to breathe.
Face masks can expand the blood vessels under your skin and improve blood circulation.
Then your skin tone improves, and you look more radiant.
It provides essential nutrients to your skin and keeps it soft and supple.
And it improves the elimination of toxins and ensures better absorption of other beauty products.
The Top Five Best Face Washes for Blackheads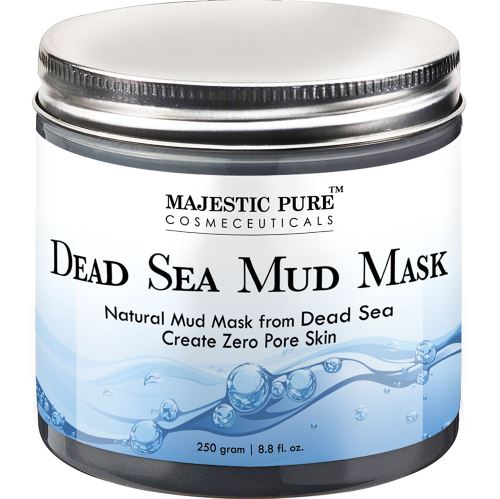 As its name proclaims, this product contains pure mud from the Dead Sea.
Rich in salt and minerals, this mud will provide your skin with all the nourishment it needs.
It effectively fights against blackheads, other skin conditions (such as dermatitis, eczema, and psoriasis), and sore muscles.
And it shrinks the size of your pores to give you a clear, even look.
This high-concentration, natural formula also hydrates your skin to give you a soft glow.
These sorts of masks are commonly used in expensive spas and beauty salons.
But you can achieve the same results at home for a far lesser cost by purchasing this product.
It also reduces wrinkles, redness, and inflammation, and it's suitable for all skin types.
It has a thick, creamy consistency that dries in about five to fifteen minutes.
And it comes off easily. It also has a mild scent that most people enjoy.
Pros:
The mask dries up quickly, so it saves time.
It doesn't dry very hard or leave a crackly surface.
Even after washing the mask off, your skin feels taut and young.
Cons:
Some have complained that using the product led to breakouts of rashes and pimples.
The color is a dark gray that can stain your towels and sinks.
Some have said it causes redness, tenderness, or excessive dryness.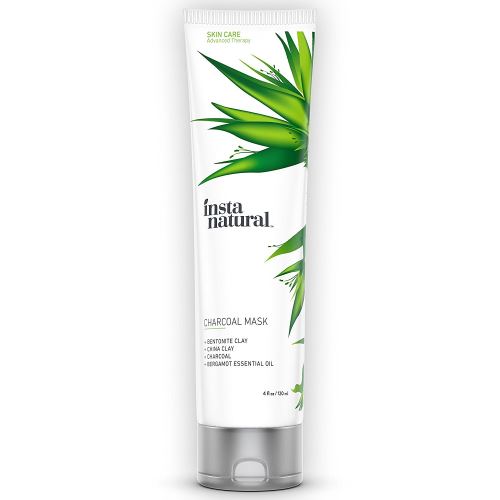 InstaNatural's Charcoal Face Wash comes with a unique formula, which contains charcoal powder and other ingredients (such as kaolin, bentonite, china clay, lecithin, bergamot oil, and other naturally derived extracts).
Together, these ingredients address your skin issues, especially acne and blackheads.
It works best on those with oily skin, but it's suitable for all skin types.
It extracts all the dirt and oil from your pores, reduces blemishes, and improves your skin's tone and texture.
It comes in a tube, rather than a jar. So it's easier to carry around and use on the go.
Despite containing charcoal, it only has a slight scent.
This cruelty-free product takes five to ten minutes to dry, and it's suitable for sensitive, rough, and damaged skin.
Pros:
It dries up rather quickly, and it's easy to use.
It's suitable for all skin types, and it soothes skin (rather than causing irritation).
It's free of animal cruelty.
Cons:
The consistency is not very thick, so you may have to apply more of the product.
It might be considered expensive, since the small tube doesn't last very long.
It has a faint charcoal smell that all may not enjoy.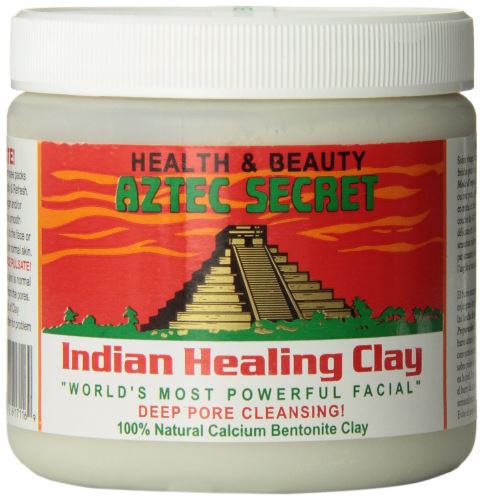 Another 100% pure product, Aztec Secret Indian Healing Clay contains untainted bentonite clay.
It contains no additional additives, synthetic fragrances, or animal products.
Therefore, vegans (and people wary of chemical substances) can use this product with ease.
The makers of this face mask claim that green clay (or bentonite clay) has used for centuries as a beauty product.
From the renowned Egyptian queen Cleopatra to Pliney the Elder, there have been historical records of this clay preventing acne and improving appearance.
However, it comes reconstituted in powder form, so you have to mix your own and balance the consistency.
You can use water, but apple cider vinegar (also great for your skin) is a good idea.
If you have sensitive skin, you should test the product somewhere other than your face before you use it.
If you have eczema, it may also dry out the skin too much.
Pros:
It contains pure, untainted bentonite clay.
It tightens up the skin and is suitable for those looking to reduce oiliness.
It effectively fights acne and uneven patches.
Cons:
You have to create the mask yourself, since it comes in a powdered form.
It may not be suitable for those with dry or combination skin types.
It's more difficult to take off, and some experience irritation.

This natural mud-based mask treatment comes with activated charcoal and purifying eucalyptus.
Its organic formula also includes tea tree oil and willow bark.
Such ingredients work together to tighten your skin and prevent blackheads.
They also tackle your blemishes to give you a spot-free appearance.
This product contains no sulfates, paragons, artificial dyes, or synthetic fragrances.
Furthermore, this face mask does not contain dairy products or gluten, and it's not tested on animals.
It improves blood flow and gives you a younger shine and elasticity.
The clay is thin and easy to apply and remove.
It takes about ten minutes to dry, after which you can easily take it off using lukewarm water.
It's safe for use on all skin types, and you don't have to worry about further aggravating your skin.
Pros:
This face mask is affordable and provides good value with its decent package.
The mask is a vegan, gluten free, and animal-cruelty free.
It comes with a pleasant fragrance and is non-irritating.
Cons:
It may not be suitable for those with dry or combination skin.
It doesn't have a very thick consistency, so you might have to apply more if you like thick masks.
It may not remove deeply embedded blackheads.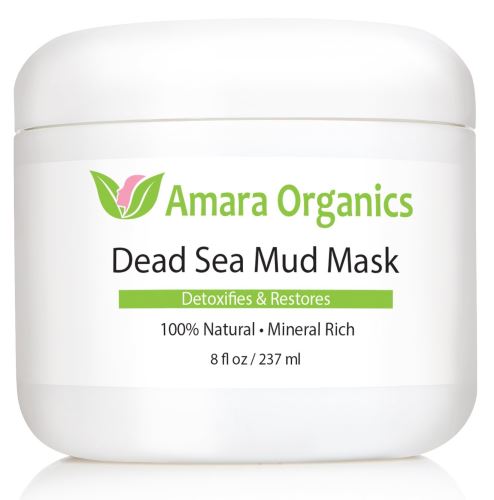 This product is also straight from the Dead Sea in Israel.
It's thick and dark, containing the rich salts and minerals from the Dead Sea (such as magnesium, calcium, potassium, iron, and zinc).
They nourish the skin and dramatically enhance its appearance, even after just one use.
It's also fully natural, vegan, and animal-cruelty free.
It doesn't contains additives, chemicals, dyes, or fragrances.
And it's safe for all skin types.
You can feel the natural healing powers of the Dead Sea right at home, instead of traveling all the way there to experience it.
It's 99.75% pure mud, and 0.25% grapefruit-seed extract.
So this face mask can eliminate toxins and impurities, and give you soft, healthy skin.
It'll clear away your blackheads, and it'll make you look younger by smoothing out fine lines and wrinkles.
Pros:
It's an affordable product and comes in a big jar, so it provides good value.
It's designed for both faces and bodies, so it can treat acne in other areas too.
It makes your skin bright and reduces acne marks.
Cons:
Some have said that it stings for a while after application and causes redness and tenderness.
It might not be suitable for those with dry or combination skin.
Some have complained about its smell.
Others report that it brought about no significant changes.

Conclusion
Blackheads are basically caused when the openings of your hair follicles get blocked and infected by bacteria, but the reasons for this occurrence are varied.
Therefore, they can be pretty tough to remove and prevent.
However, face masks are one of the best ways to avoid sporting those annoying black bumps.
To achieve this goal, the five face masks listed above are your best bets.
Of the five, we found that Amara Organics Dead Sea Mud Mask for Face & Body is the most effective.
It deeply cleans your skin and rids it of trapped dirt and oil, and removes those unyielding blackheads.
And it makes your skin softer and more lustrous.
FDA Compliance
The information on this website has not been evaluated by the Food & Drug Administration or any other medical body. We do not aim to diagnose, treat, cure or prevent any illness or disease. Information is shared for educational purposes only. You must consult your doctor before acting on any content on this website, especially if you are pregnant, nursing, taking medication, or have a medical condition.
HOW WOULD YOU RATE THIS ARTICLE?