Top 5 Far Infrared Heating Pads/Mats of 2018 Reviewed
Why Far Infrared Mats?
A backache, lower back pain, and many other kinds of chronic or acute pain often find a way to mess up our lives.
But did you know that there are mats that emit special kind of radiation that can be very beneficial for your health?
Far infrared radiation (FIR) has a lot of benefits besides helping with chronic pain.
In this article I will explain what kind of benefits FIR can bring to your life, and I will review my top 5 all time favorite FIR mats.
I have been using FIR mats for years and up until few years ago my go-to brand was Biomat.
However, lately another brand got my attention – HealthyLine's Inframat Pro.
The reason for that is the quality, price and variety of models.
Biomat has just 3 models, while HealthyLine has close to 100, similar HealthyLine mat is usually 50% cheaper, and HealthyLine has mats with PEMF (pulsed electromagnetic fields).
Also, what's very interesting is that even though Inframat Pro has more features and 50% cheaper, the quality of the product is superior to Biomat.
For this reason my top 5 favorite FIR mats will be mostly from HealthyLine.
Top 5 Best Far Infrared Heating Mats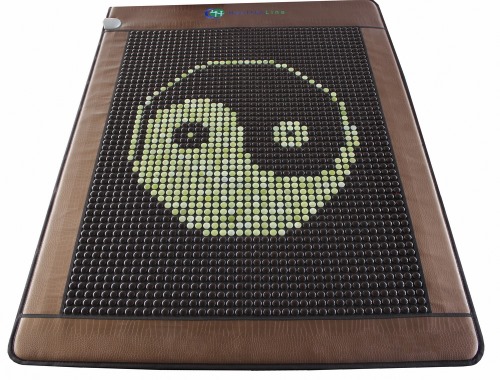 Weighing 25kgs, this far infrared ray jade heating mat has been designed with quality, harmless materials.
It is equipped with both jade and tourmaline stones and has a LED display controller for temperature adjustments.
Packed with more than 14 layers of different functionality, QueenMat has EMF filters, which are automated with negative ions of at least 1500 ccs.
It will perfectly fit a queen-size bed.
The structure of this jade mat has its top stones glued together by silicon, which renders it a lot more durable.
It also ensures that the ion levels are maintained at a lower level.
Tourmaline and jade stones offer variety to a customer who would like to have the full benefits of both.
Crushed and combined with ceramics, it outputs tourmaline ceramics that enhance the negative-ion maintenance levels.
It also has lower levels of FIR, which are beneficial to your body.
It makes you maintain a healthy body and ensures you are equipped to tackle physical problems.
Ideally sized and polished, jade stones power the ceramic tourmaline and gives the body a smooth, soothing effect.
QueenMat activation triggers negative ionization and emission of far infrared rays.
The benefits are felt when the gemstones are heated.
For that reason, many users choose it as their jade heating pad.
The EMFs emitted by QueenMat are beneficial.
In fact, they are a matter of life and death.
Our bodies emit EMFs that allow for efficient metabolic reactions. If they stopped, you would die!
A silicon coat of glue holding together the stones filter harmful radiation, while the other incorporated layers ensure equal distribution of heat throughout the night.
QueenMat has a sauna effect, which works best between 60-70° C for half an hour.
This effect can only occur while you are covered with a blanket.
Overnight therapy requires this setting to be adjusted to about 45-55° C.
However, this temperature can be minimally adjusted to test your body's temperature.
Pros
It's safe for all, including pets.
It's adjustable and can fit a king-size bed.
It delivers the right amount of negative ions, which are ideal for the body.
Its EMFs are regulated to protect you from electromagnetic radiation.
Being one of the best, most highly rated HealthLine mats, this product includes a 45-day free trial on top of its one-year warranty. During this trial, a user can return it if it's defective, or if they change their mind.
Cons
It only has a layer of two stones: jade and tourmaline.
It's incredibly heavy for an infrared heating pad.
It's very expensive. People who want to use it might prefer going for therapy and paying a lot less.
It can cause dehydration if the temperature is improperly set.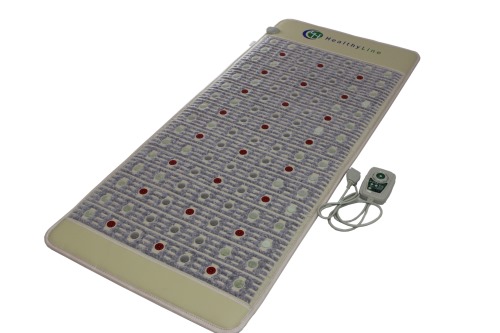 This infrared heating pad is slightly lighter than the QueenMat discussed above, and it only weighs 16 kg.
It is contained in a carrying case, which is extra-large.
It has been incredibly designed with 25 pounds of amethyst, tourmaline ceramics, natural jade stones, a pulsed electromagnetic field (PEMF), and lots of photon lights.
The PEMF is independently controlled.
The mat's display lets you adjust it to your desired temperature.
It has an automated timer that goes into overnight sleep mode after 3, 6, or 12 hours.
It has no EMF, but it does have an all-new generation wire for heating with filters of electromagnetic radiation.
And it has more reinforced layers of EMF-blocking built-in materials.
In fact, it has a minimum of at least 18 layers, an ionization level of 1500/cc, and infrared rays of 5 to 14 um for skin healing and regeneration.
It is made of high-quality, non-toxic materials.
If you are looking for a mat therapeutically designed for your full body with all the functions integrated into it, this mat is highly recommended.
It has great PEMF, which saves you the hassle of trying different treatment methods for your skin and body.
While powered on, it operates on a twenty-minute cycle, and when powered off, it operates on a forty-minute cycle.
At the right frequency (which in this case is 7.8 Hz), it reduces the effects of problematic EMFs with its photon lights, delivering fast healing and rejuvenating your skin for amazing results.
It can fix joints, and it enhances the circulation of blood and brain function.
The mat is held together by mesh, and it can be used on different surfaces, be it the floor or the bed.
However, the mat cannot be molded to fit the desired shape, for the risk of destroying the pad.
In other words, it has limited flexibility for its support of PEMF.
The amethyst used in this mat allows for comfortability and produces a calming effect.
The combination of these three stones (amethyst, tourmaline, and jade) produces the best, most efficient negative ionization.
Pros
It has amazing PEMF functionality, which incorporates the benefits of three stones.
It contains photons lights for efficiency.
With its crushed stone, it is very comfortable.
It is the cheapest mat with PEMF.
Apart from its one-year warranty, it has a return policy of no questions asked, and it comes with a free trial of 45 days.
Cons
However cheap it is for a PEMF mat, it's still pricey.
At 16 kilograms, it's heavy for a mat.
It cannot be bent to a particular shape because of its limited flexibility.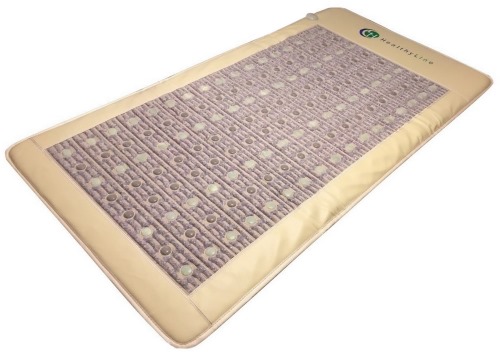 Carried in a case, this jade stone heating pad weighs 25 pounds, and it has an extra-large design.
It is packed with over five kilograms of amethyst crystals, 68 natural jade stones, and an equal number of crushed tourmaline stones.
It has a LED display for the temperature setting and an automatic 12-hour shutoff time for sleep mode.
Made with no fewer than 14 layers, each with a different purpose, it carries non-harmful quality materials that are suitable for one's body.
It is powered by an outlet that conducts 110V to 120V.
It is recommended that one uses an inverter if this outlet is not available.
Its negative ionization level is about 1500/cc, with between 5 and 14 infrared rays.
For protection against radioactive radiations, it also has automated filters for EMF.
It is relatively smaller than a QueenMat or TAJmat; it will only be able to cover about two-thirds of a king-size bed.
However, it is ideal for moving around as you please.
Held together by mesh, the new product smell shouldn't be a concern.
It also works as effectively on top of the bed as it would on the floor.
The amethyst crystals are proportionally layered together on the mat.
They go a long way in energy restoration, treat the physical ailments of the nervous system, and even keep your emotions in check.
Coupled with jade and tourmaline crystals, your body is bound to become toxin-free with restored skeletal and cellular functions.
For this reason, the far infrared heating pad will be useful to anyone.
The temperature regulations for this mat are conceptually the same as the QueenMat.
If you set it at 60-70 ° C and cover it with a blanket for about half an hour, it creates a sauna effect.
More temperature variations can be adjusted for further effectiveness.
The ideal place to start is your body temperature.
Pros
The size is perfect for daily use; it is not too small or too big.
The combination of the three stones provides efficient, amazing results.
It is relatively lighter than the other two jade mats.
The deep muscle penetration provides pain relief.
It's very comfortable.
Automated EMFs offer radiation shielding.
Like the first two products, it comes with a 45-day free trial and can be returned, provided it's still in new condition. It also comes with a year's warranty.
Cons
Like other mats reviewed above, it's heavy.
It's expensive.
If the temperature isn't set well, it can cause dehydration.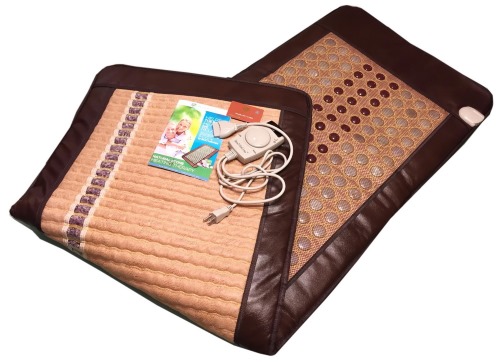 Weighing 32 pounds and contained in a carrying pocket, this jade mat is one of the softest models ever.
Its flexibility is quite impressive.
It has two sides. One side carries natural amethyst crystals that weight about five kilograms.
The other side carries 120 12" jade stones and 96 1.2" tourmaline ceramic stones.
A controllable LED display of white or green enables a user to set their preferred temperature.
It has the same negative ion and FIR levels as the other jade mats. Its layers offer 16 separate functions.
Made with the same technology as the AJT Mats, it incorporates EMF functions, which are automated.
They gently heat the stones, which causes the therapy.
It also helps shield electromagnetic radiations.
What else do you need from a far infrared heating pad?
It is rated as one of the most comfortable mats.
It has three beneficial stones: amethyst crystals, natural jade, and ceramic tourmaline.
You have the option to either use the amethyst crystals on one side or the jade and tourmaline crystals on the other side.
The stone differences are a wee bit negligible, so they are separated a few inches from each other.
This mat is sizeable enough and offers full-body coverage.
It can be used on the floor, or on top of the bed.
For the most comfortability and calm, the amethyst crystal side is ideal.
Like the other mats reviewed, this mat has been optimized to negatively ionize your body.
Heated gemstones lower the iron levels and the FIR.
The resulting effect is that your body feels great.
A wire that runs through the mat heats up the gemstones through the various layers.
The infrared heating is ideal for reducing fatigue, improving blood circulation, and filtering EMFs, which can be harmful to your body.
Pros
It's double-sided. One side has crushed amethyst crystals, and the other has a combination of tourmaline and jade.
It is lightweight.
It's highly compacted but comfortable.
It is flexible and ideal for various positions.
It comes with a 45-day free trial and a one-year warranty. It can also be returned in case of any problem.
Cons
It has three beneficial stones, but you can choose which ones you use.
While less expensive than other mats, it's still pricey for some people.
It can cause dehydration if not properly adjusted.
If you're looking for a seat like a pad, there are better options.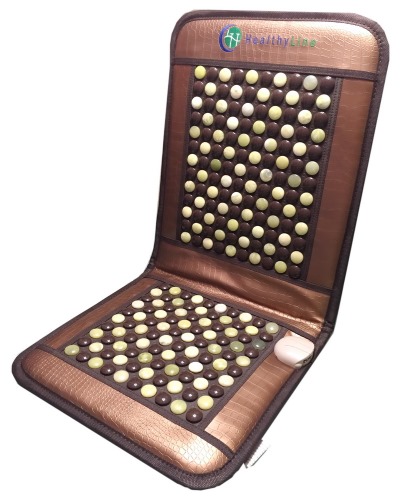 This infrared heating mat is one of the best designs for riding in cars.
The current version supports the passenger side of the vehicle, but a driver can also use it if with a power cable around the seat.
It has 115 natural stones of jade and the same number of tourmaline ceramic stones.
It weighs five kilos and comes with a carrying case.
It has a manageable fold size, works with a car's 12V lighter, and has a simple controller to set an optimal temperature.
EMF filter is present with extra layers blocking them.
It has a negative ion level of 1500/cc and a FIR of between 5 and 14 m.
The whole mat has a nontoxic structure of high-quality materials.
It is made of 14 layers, which have differentiated functions.
These layers enhance heat distribution from a wire that runs through the mat, thereby heating it up as long as it is in use.
The bottom layer is waterproofed and has a high synthetic leather.
The top layer is held together by silicon glue, which conducts heat, equally, dissipates it to the gemstones, and results in high negative ions and the production of infrared rays.
With its combination of jade stones and tourmaline ceramic stones, your body will get to enjoy the benefits of it in your car.
Set at the right temperature, a passenger can comfortably sleep through the night and wake up with no aches or pains.
This effect is facilitated by the two stones, which have healing properties.
Pros
It can be powered by a car's lighter.
It is light and highly portable.
It can be used at home or in a car seat.
It is affordable, compared to the other HealthLine jade mats.
The mat has a 45-day free trial and 1-year warranty. It can be returned in if it's in good condition.
Cons
Amethyst, which provides comfortability, is missing.
It is small and may not cover the whole body.

What is Far Infrared Heat
Sunshine is essential to all living creatures for two reasons – far infrared heat, and Vitamin D.
Emitted in sunlight, far infrared heat is the so-called "warm" energy present in every living thing on the planet.
Far infrared rays (FIR) are produced in the human body, and their intensity continually fluctuates.
Under high intensity FIR, your body is well–prepared to deal with physical challenges.
However, when the intensity of far infrared rays starts to decline, your body becomes more sensitive to environmental risk and physical disease, which results in accelerated body aging.
What makes this heat so powerful is the fact that exposing your body to FIR for hours will not harm your body or skin at all.
In fact, FIR is used as a traditional Japanese method for treating sunburns and promoting healthy skin.
Thus, FIR is absolutely safe and healthy for most living things.
History
The name infrared comes from the Latin word infra, meaning "below."
The longest wavelength of visible light is of the color red. Infrared light has a longer wavelength as compared to red light.
Put differently, infrared has a lower frequency than red light, which is why it is infra, i.e. below.
Sir William Herschel, an amateur astronomer, was recognized for his discovery of Uranus in 1781.
After this grand achievement, he discovered infrared in the early 19th century. Herschel hypothesized that there are various levels of heat represented in the colors of visible light, so he carried out an experiment to confirm this hypothesis.
Herschel created a spectrum by passing sunlight through a glass prism and measured the temperature of the various colors.
He applied three thermometers with blackened bulbs, and placed one bulb in each color.
At the same time, he placed the other two bulbs outside the spectrum as controls.
While measuring the temperatures of the red, yellow, orange, green, blue, and violet light, he observed that all the colors had temperatures higher than the controls.
What's more, he noticed the increase in temperature as they moved from the violet end to the red end of the spectrum.
He was now sure that there was a pattern, which allowed him to measure the temperature just beyond the red end of the spectrum.
He determined that the red end of the spectrum had the highest temperature, which meant that it radiated the most heat.
This meant Herschel came up with the discovery of a form of light beyond red light.
It was thanks to Herschel's experiments that infrared light was discovered.
Basically, infrared is a section, or "band," of invisible light present on the electromagnetic spectrum. It is a form of radiant heat also referred to as "infrared energy."
About 80% of the sun rays' light fall in this portion of the spectrum.
Far infrared is the energy that has a wave frequency falling  between 5.5 and 15 microns.
Types of Far Infrared Devices
For decades, and backed by scientific evidence, heat has been reported to maintain and enhance the overall health of the human body.
One of the main goals of modern medicine has been to find ways to develop more effective forms of thermal heat therapy that would focus on particular areas and enable deep-heat penetration.
Traditional forms of heat therapy can be hazardous, uncomfortable, ineffective, inefficient, and unhygienic:
Your body is exposed to extremely high temperatures in traditional saunas. These cause heat stress that can be detrimental to your well-being (especially to people with some form of cardiovascular disease, or who need to keep their blood pressure stable).
Thermal compressions and wraps feel uncomfortable. Temperatures fluctuate, heat is easily lost, and maintaining the thermal compression or wrap can be problematic and inconvenient.
FIR thermal technology was introduced thanks to thorough research conducted in the 60s in Japan and Germany. This innovative technology delivered a few revolutionary results, including an effective, safe, efficient, natural, and hygienic approach to thermal treatment.
Presently, a great and growing number of international healthcare professionals apply heat therapy to both humans and animals to treat various physical challenges. Pain relief for sports injuries via thermal therapy is just one of the many examples of its uses.
With the advance of thermal technology came different thermal therapy devices. The best-known and best-developed are FIR mats, FIR lamps, and FIR saunas. Each of these has pros and cons, which we are going to discuss in the following sections.
Far Infrared Mats
Many people have issues with back pain and how to relieve it.
FIR mats have been reported to relieve back pain in a few minutes, kick fatigue, restore energy, bolster your immune system, and detoxify your whole body.
These FIR mats deliver a very deep and soothing warmth.
It feels almost surreal because this warmth has no visible source.
Apart from relieving back pain, completely relaxing your body, and restoring your energy, a FIR mat session will also give you restful sleep.
If you avoid taking medication, these FIR mats are the ideal treatment for any kind of pain – without any adverse effects.
Are these Mats Safe to Use?
FIR mats are completely safe, compared to ordinary heating mats that only heat the surface of your skin.
There is no risk whatsoever of causing burns or drying skin.
Despite being completely invisible to the naked eye, FIR can penetrate your skin deeply, where they gently raise the surface temperature and activate major bodily functions.
Many people do not make the distinction between far infrared rays and ultraviolet rays.
Far infrared rays are completely safe and cannot cause harmful effects, while ultraviolet rays can cause sunburns and skin cancer.
The FIR radiation heats your nerves, muscles, blood vessels, bones, and joints.
This heating causes at least 5 powerful benefits, such as pain relief, stress reduction, restful sleep, toxin elimination, effortless weight loss, and an improved immune system.
We will discuss these benefits later in the article.
Far Infrared Lamps
Over 100 chronic conditions in millions of people have been treated with the help of FIR lamps.
They have been called "miracle lamps" in China because of their incredible success.
FIR lamps emit the most effective, therapeutic FIR radiation by using a silica blend.
The key part is the curing plate, a coated formation of minerals vital for your body.
By heating the plate up to a certain temperature, it emits a wide spectrum (6-25 micron) of electromagnetic waves with an absorption depth of up to five inches.
This energy helps to promote circulation and metabolism, and boost your immune system.
The heated minerals then emit their vibration to the area to which you are applying FIR therapy.
Injured areas often lack minerals.
By applying FIR energy to these areas, you accelerate the healing process.
The mineral plate contains a formula of trace elements in many binding forms.
The real formula has been kept a secret since its invention.
The minerals are bonded to an iron plate that is between 0.3 and 0.6 mm thick.
This plate is attached to a larger plate (0.5 to 1.5 mm thick), which delivers protection for the mineral layer.
In addition, it delivers stable therapy by evenly distributing heat.
Are these Lamps Safe to Use?
FIR lamps, heat bulbs, and radiators are mainly hazardous to your eyes and skin.
Prolonged exposure to your skin can cause severe burns because of the emission of high-intensity radiant heat.
Your eyes are also very sensitive to high-intensity and short-wave FIR radiation.
Long-term exposure to FIR radiation can permanently damage your eyes.
For that reason, if you are exposing your eyes long-term to FIR radiation, make sure to put on goggles with special infrared-absorbing glass.
These lamps are also susceptible to shattering because they produce high-intensity heat and a large amount of pressure.
And, make sure to protect the environment and the people in it – by employing proper enclosures, screens, lenses, and shields.
You should also avoid leaving scratches and finger marks on the bulbs as these weaken them, which increases the risk of shattering.
Looking to get cozy with an infrared lamp? Here are some extra safety tips:
You should expose your body to heat lamps for 20 to 30 minutes at most.
You should avoid placing the lamp closer than 18" from the surface it is directed toward.
You should not use FIR lamps near infants, or sleeping or unconscious individuals.
You should not use FIR lamps if you have sensitive skin or poor blood circulation.
You should not place the bulb directly over an exposed person unless there is a protective screen between the user and the lamp.
You should connect the lamp to a porcelain socket if it is on for an extended period.
You should keep FIR lamps away from flammable materials.
Far Infrared Saunas
Sweat lodges and so-called "hot air baths" were very popular in the ancient world. Eastern Europeans, Native Americans, and Chinese people used them to relieve stress and increase detoxification.
Before the discovery of focused light therapy, the concept of saunas included placing a fire directly under an enclosed seating area.
Heated rocks and other substances carried heat and smoke up to the lodge.
About one century ago, Dr. John Harvey Kellogg came up with the invention of "light near-infrared lamp saunas."
If not for him, there would not be such a major advancement in sauna therapy.
Today, modern saunas are used as a holistic approach all around the world.
Infrared saunas are different from a typical sauna in using heat and light to help to relax and detoxify your body.
Also known as far-infrared or near-infrared saunas, these emit infrared light waves that produce heat in your body, which triggers sweating and the release of stored toxins.
Infrared sauna treatment is currently labeled as safe, powerful, and inexpensive, but more research is needed to determine its benefits and long-term effects.
Thanks to these small yet potent devices, many people are able to cope with physical pain and to eventually overcome it.
As a result, they feel more relaxed.
To this day, infrared has been proven to be most effective in causing increased detoxification, pain reduction, joint and muscle support, anti-aging effects, and cardiovascular healing.
It is also reported to have a parasympathetic healing effect.
In simple terms, these saunas enable your body to deal with stress better.
Therefore, these devices could someday be used to treat all forms of disease – from insomnia and depression, to hormonal imbalances and autoimmune disorders.
What makes these saunas special is the fact that their light directly penetrates your skin without warming the surrounding air.
The light quickly raises your body temperature without affecting the air around you, which is why you can use infrared saunas indoors and inside your home.
Infrared saunas operate at lower temperatures than conventional saunas.
Many people who cannot withstand higher temperatures might find FIR saunas more appropriate.
Thanks to the advancement of FIR technology over the past few years, infrared sauna devices no longer need bands to emit radiation to the human body.
Now, they can deliver light waves directly.
This sauna technology is recognized as a safe, effective, and widely-applicable method to heal many inflammatory disorders.
The therapeutic beneficial effects of an infrared sauna are based on the electromagnetic radiation spectrum: An infrared radiation band covers a wavelength range of 750 nanometers to 100 micrometers, a frequency range of 400 terahertz to 3 terahertz, and a photon-energy range of 12.4 milli-electron volts to 1.7 electron volts.
In simple terms, infrared saunas produce positive, natural radiation effects in your body when the thermoreceptors in your skin detect the heat. FIR light waves can alter cells, cell membranes, cell fluids, and DNA/proteins, particularly water molecules.
Altered mitochondrial and membranal activity occur at the cellular level, which positively affects your metabolism.
The molecular bonds absorb FIR photons, altering the way water functions within cells.
FIR also produces a "mesostructure" effect – it alters protein activity within bodily tissues in a way vital to overall biological activity.
If you are looking to buy your own infrared sauna device, light treatment starts to work within 15 to 20 minutes, and it can be done in your home.
Infrared sauna treatment causes reactions in your body, including:
Increased heart rate
Increased sweating
The sensation of relaxation caused by the body's parasympathetic nervous system (which is akin to the sensation you get from moderate exercise)
Who Can Benefit from Infrared Saunas?
Infrared saunas produce the effects of relaxation and pain management, according to substantial research.
Compared to conventional saunas, infrared saunas are a relatively new technology.
They have come into the spotlight due to their capacity to manage numerous health issues – with few to no adverse effects.
Infrared saunas have this beneficial effect on people with:
Chronic fatigue
Chronic muscle and joint pain
Rheumatoid arthritis
High blood pressure
Cardiovascular disease
Congestive heart failure
Diabetes
Poor digestion
Rheumatoid arthritis
Depression
Anger management issues
Infrared saunas also come with the practical benefit of simple and comfortable use, even for people with pain issues, sensitive skin, and/or a sensitive stomach.
Are these Saunas Safe to Use?
Many people prefer spa treatments, but you should know that devices used at spas are not much different than infrared saunas. Infrared saunas look like a tanning bed, and involve parts that look like fluorescent lights covered by cylindrical carbon shells.
These emit light waves invisible to the naked eye. Infrared saunas require a much lower temperature to be effective than a conventional sauna.
Be prepared for a lot of sweating, which will not be painful in the least.
What's more, most people find it rather relaxing. However, some people experience mild lightheadedness after the first session – it is like you are coming back home from a day at the beach.
Getting plenty of water and rest is also recommended.
People with high pain levels reported an improvement after the first session. Also, they reported no major side-effects.
Quite the reverse, infrared saunas seem to be safe for the great majority of people, even for those who have had problems with other types of heat treatment.
As FIR wavelengths are too long to be visible to the naked eye, infrared saunas cannot damage sensitive eye tissues, which is another reason why FIR light is called "gentle radiant heat."
Despite penetrating up to 1.5 inches under the skin, FIR will not cause pain or a burning effect.
Nonetheless, it is still recommended that you check with your doctor before doing a treatment with infrared saunas, especially if you take any medication, have a history of cardiovascular problems, or have sensitive skin.
This is due to the potency of these devices. They change your heart- and perspiration-rates.
It is thus safe to consult your healthcare practitioner before and during treatments, so they can monitor your progress and reactions.
Health Benefits of Far Infrared Radiation
A number of scientific studies suggest that far infrared radiation is successful when it comes to treating a wide array of medical conditions.
FIR Promotes Body Detoxification
In contrast to conventional heat or steam saunas, far infrared is reported to be seven times more effective in detoxifying from your body heavy metals (such as aluminum or mercury), cholesterol, nicotine, alcohol, sulfuric acid, ammonia, and other environmental hazards (1).
The human body stores different kinds of biotoxins, because of its incapacity to expel them instantly; this tendency increases the risk of triggering illnesses.
When potentially fatal metal toxins (such as chlorine, mercury, and lead) or toxic gases (such as carbon dioxide and sulfur dioxide) reach large molecules of water, they become encapsulated by clusters of water and remain trapped in your body.
This results in the accumulation of these toxins, which leads to blockage of blood circulation and ultimately impairment of cellular energy.
However, by applying a FIR wave of 7 to 14 microns to these large molecules of water, the water starts to vibrate.
This diminishes the ion bonds of the atoms that hold the water molecules together.
The water eventually evaporates, and the encapsulated gases and toxins can be released.
FIR Increases Blood Flow
FIR increases oxygen supply and blood circulation to damaged tissues, thereby helping to decrease chronic muscle and joint pain, promote comfort and relaxation, relieve stress, and induce sleep.
According to the data collected in the journal Photonics & Lasers in Medicine, FIR therapy increased skin blood flow in rats.
This data from the experiment suggest that FIR exposure could affect microcirculation, independent from its thermal effects.
As a result, FIR emitters are reported to stimulate full thickness wound healing in rats (2).
FIR Reduces Blood Pressure Levels
FIR therapy may normalize your blood pressure levels, but there is limited moderate evidence of this (3).
However, German researchers conducted a one-hour session of FIR therapy where they agreed upon FIR's capacity to reduce blood pressure levels significantly – as a result of a persistent dilation of peripheral blood vessels.
They also observed an improvement in blood viscosity.
After a one-hour FIR therapy, the results are a significant decrease in blood pressure, and an improvement in other cardiac parameters, such as heart rate, stroke volume, cardiac output, and ejection fraction.
Far Infrared Therapy Prevents Sunburns
FIR affects the body's surface and about an inch below it. FIR therapy promotes tissue repair in the dermis and hypodermis, but the surface skin cells are not directly impacted. The skin cells underneath the surface are typically more affected by FIR therapy.
According to the Archives of Dermatological Research, FIR therapy suppresses cell injury and sunburn cell formation caused by ultraviolet rays (4).
Far Infrared Thermal Therapy and Electromagnetic Fields
In some recent studies, it was found that exposure to certain kinds of electromagnetic fields (such as those from high-tension power lines, cell phones, or computer terminals) can be dangerous to your health.
The tests conducted on FIR heating systems by Japanese researchers suggest that they are low in the EMF radiation that is hazardous to your health.
FIR Heals Arteriovenous Fistula
Arteriovenous fistula is a medical condition causing blood to flow directly from an artery into a vein.
This redirects the blood to bypass certain capillaries, thereby inducing a reduced blood supply to them.
This is typically common in the leg, but this illness can develop anywhere in the body.
In a 2014 study carried out in Taiwan by the Department of Nursing, FIR therapy has been reported to be successful in treating arteriovenous fistula in hemodialysis patients.
In addition, FIR therapy proved to induce better blood flow to and from arteriovenous fistula, as well as to reduce the risk of the malfunctioning of arteriovenous fistula (5).
FIR May Help Chronic Fatigue Syndrome
A study published in 2005 by the Journal of Psychosomatic Research suggests that repeated thermal therapy is effective when it comes to treating chronic fatigue syndrome (CFS).
Subjects were exposed to thermal therapy once a day, including in a far-infrared ray dry sauna. The therapy lasted for a total of 35 sessions. The symptoms such as pain, fatigue, sleep disturbance, and low-grade fever were drastically improved after 15 to 25 sessions of thermal therapy.
Therefore, repeated thermal therapy might be an effective way to treat CFS (6).
FIR Reduces Pain and Stiffness
Far infrared therapy bolsters your immune system by heating up your body slightly, which raises the number of white blood cells and killer t-cells.
It also may provide a promising way of healing – reducing muscle soreness and muscle spasms, and inducing relief for rheumatoid arthritis.
In 2009, Clinical Rheumatology conducted a study with the aim of demonstrating beneficial effects of infrared sauna in patients with rheumatoid arthritis and ankylosing spondylitis.
The results suggest good tolerance of the FIR and short-term improvement of stiffness and pain, as well as a tendency toward long-term benefits (7).
FIR Inhibits Side-Effects of Diabetes
Those suffering from diabetes often experience pain, chronic fatigue syndrome, depression, congestive heart failure, and other heart conditions.
A 2010 study published in the Journal of Complementary and Alternative Medicine in 2010 suggests that patients with type II diabetes may find far-infrared sauna therapy beneficial, even more than other lifestyle interventions.
Patients were given a 20-minute treatment three times per week, over a three-month period. The results suggest drastic improvements in overall wellbeing, less fatigue, lower stress, and better social functioning.
Far infrared sauna therapy seems to increase the pain threshold and add to overall welfare. This means far infrared might be a natural remedy for diabetes symptoms (8).
FIR Promotes Good Health and Wellbeing
Thermal heating has been applied to treat patients with chronic pain for many years.
From the results of a number of studies, this method of healing is effective in decreasing chronic pain, with no need for medication.
In a 2005 study carried out at Nishi Kyusyu University in Japan, infrared sauna heat therapy is reported to boost mood and overall welfare, when combined with other holistic approaches (such as cognitive-behavioral therapy and exercise rehabilitation).
46 patients were split into two groups, one of which underwent infrared sauna treatment.
Two years after treatment, about 80% of the patients in the sauna group returned to work, compared with the control group where only 50% of the patients returned to work (9).
FIR Relieves Back Pain Symptoms
In 2015, a group of doctors led by Dr. Gaze researched the beneficial effects of far infrared therapy on chronic back pain.
The research involved 50 patients suffering from lower back pain, who would spend some time sitting on a FIR mat on a daily basis.
Based on the findings, it is reported that FIR therapy improves the physical and mental health of the patients (including reduced lower back pain).
In addition, no side-effects were reported (10).
FIR Treats Some Forms of Cancer
FIR therapy is believed to treat some forms of cancer.
Researchers from Medical Oncology in London carried out a study to demonstrate this powerful benefit of FIR.
In their 2008 study, they attempted to confirm how far infrared treatment suppresses the proliferation of some cancer cells because of the change in body temperature.
Thus, FIR therapy prevents the growth of at least some cancer cells (including lung, breast, and tongue cancer) (11).
FIR Improves Motor Function
At the Department of Radiology in Taiwan, a 2015 study was carried out with the aim to prove how FIR treatment is beneficial to nerve function.
Aside from enhancing nerve regeneration and improving motor function, FIR treatment is also effective and noninvasive.
Finally, the findings suggest that FIR therapy may be used as a novel treatment for various peripheral nerve injuries and diseases (12).
FIR Treats Allergic Rhinitis
Allergic rhinitis is a diagnosis associated with a group of symptoms affecting the nose.
Also known as hay fever, this nasal inflammation occurs in cases when your immune system overreacts to allergens in the air.
It is one of the most common chronic conditions.
As it is a nasal inflammation, it typically increases vascular permeability.
And as the conventional treatment methods (such as medications, immunotherapy, or avoidance of the allergen) proved ineffective, medicine had to turn to other potential methods that could treat the condition.
The Engineering in Medicine and Biology Society carried out a study in 2007 suggesting that FIR therapy might improve the symptoms of nasal stuffiness, nasal itching, sneezing, eye itching, and rhinorrhea.
The results were clear enough to propose FIR therapy as an important, novel treatment of allergic rhinitis (13).
FIR Stimulates Effortless Weight Loss
A single session in a FIR sauna may lead to burning as many calories as you would rowing or jogging for 30 minutes.
Far infrared basically stimulates the breakdown of fat and cellulite.
This is so because both far infrared, and water molecules and organic substances, have the same resonant frequency.
A study published in the Journal of Alternative & Complementary Medicine  investigated this potential link between FIR therapy and weight loss.
Dr. Richard Beever and his team wanted to determine if infrared saunas had a beneficial effect on cardiovascular health in those with type II diabetes. They concluded that infrared is not only beneficial for lowering blood pressure, but is also effective for weight loss (14).
FIR Supports Your Immune System
FIR therapy has been reported to inhibit the common cold and flu from developing.
Far infrared rays do this by emitting deep heat, which raises your body's temperature and bolsters your immune system (15).
Precautions
Judging by numerous studies carried out across the globe, far infrared rays have the reputation of being a successful healing method with an astounding range of potential therapeutic benefits and effects.
However, you should know that the above-mentioned data is only presented to provide references and encourage further research.
If you suffer from any of the diseases on the list below, check with your primary-care physician about using FIR prior to doing so.
Prescription Drugs. If you are taking any prescription drugs, make sure to check with your physician or pharmacist for potential variations in the drug's effect due to its interaction with FIR energy.
Certain Ailments. According to some medical experts, it is highly recommended to avoid FIR due to its tendency to raise the basal body temperature of patients suffering from adrenal suppression, multiple sclerosis, or systemic lupus erythematosus.
Joint Problems. If you have had a joint injury recently, you should avoid heating it for the first 48 hours (or until the swelling is gone). Swollen and chronically hot joints may respond badly to active heating of any kind.
Menstruation. Menstrual flow may be temporarily increased by heating the lower back during the menstrual period. However, it is up to the woman to choose whether or not she wants to cause this short-term effect.
Hemorrhage. Hemophiliacs and those predisposed to hemorrhage should not expose themselves to far infrared or any type of heating that would cause vasodilatation, because it may increase bleeding.
Pregnancy. During pregnancy or after the first signs thereof, it is recommended that you stop exposing yourself to far infrared rays. However, traditional, low-level intensity saunas are not linked to any birth defect.
Silicone. Silicone has the capacity to absorb far infrared energy. This means that silicone prostheses or silicone implants may be warmed by FIR. The melting point of silicone is over 200º C. Although FIR heat systems should not have adverse effects on silicone, it is still recommended that you check with your surgeon and inform him of the product manufacturer.
Surgical Implants. Metal rods, artificial joints, pins, or any other surgical implant generally reflect FIR, meaning they will not be heated by any FIR heating system. Nonetheless, you should check with your surgeon before receiving such therapy.
Pain. If using a FIR heating system or technology causes you pain, it is clearly an indicator that it does not feel right for your body, and therefore should be discontinued.
Worsened Condition. If using a FIR heating system or technology worsens any condition you suffer from, it should be discontinued.
Far Infrared Therapy: Does it Work?
The human body absorbs far infrared energy very easily, which is why more and more healthcare professionals around the world have started incorporating far infrared therapy into their detoxification programs.
The body's natural ability to heal itself is often compromised because of high levels of stress and toxicity.
Some people do not have enough energy to heal or detoxify their bodies because they have already reached critical stress and/or toxic levels.
Luckily, your body already generates infrared energy that is present within your tissues, and is linked to a number of healing responses.
The results of far infrared thermal treatment should leave you feeling relaxed and energized.
Because of its positive effects, far infrared thermal systems have been used by healthcare and medical professionals in Japan to treat a multitude of conditions for many years now (16).
Conclusion
Far infrared radiation is actually sunlight.
Far infrared rays consist of almost 80% of solar energy.
Far infrared radiation provides all of the beneficial effects of the sun while avoiding its hazardous properties (such as ultraviolet radiation).
On the authority of significant research, scientists have concluded that far infrared radiation can create some powerful, beneficial effects, such as treating many diseases (including cancer and diabetes), and medical conditions (such as detoxification).
Early results are promising, but further research is required to call far infrared radiation definitively an effective treatment method for all the above-listed conditions.
FDA Compliance
The information on this website has not been evaluated by the Food & Drug Administration or any other medical body. We do not aim to diagnose, treat, cure or prevent any illness or disease. Information is shared for educational purposes only. You must consult your doctor before acting on any content on this website, especially if you are pregnant, nursing, taking medication, or have a medical condition.
HOW WOULD YOU RATE THIS ARTICLE?