10 Best Gifts/Toys for 3 Year Old Girls in 2017 Reviewed
Have you ever walked into the toy store or shopped online, ready to purchase the perfect gift for that lovable, active, and eager-to-learn toddler, only to find yourself stumped by all the options?
Well, we've all been in that spot. Right now, there are dozens, if not hundreds, of toys for 3-year-old girls that are marketed as being the best one, being absolutely perfect.
More are being created all the time, so the options just keep growing every time you look.
Since searching for the best product in an ocean of toys can be a stressful, daunting task, we have decided to make it easier on you by narrowing everything down.
The following list contains the top ten toys found through examining the current market trend, the popularity of the toys, and especially serious reviews from consumers.
This top ten list shows toys that serve a variety of things your 3 year old will love.
From interactive learning, pretend-play, to song and dance, your toddler is bound to find something enjoyable in every product on the list.
These toys are the perfect gift for the upcoming holiday season, and should serve your child well into the next year.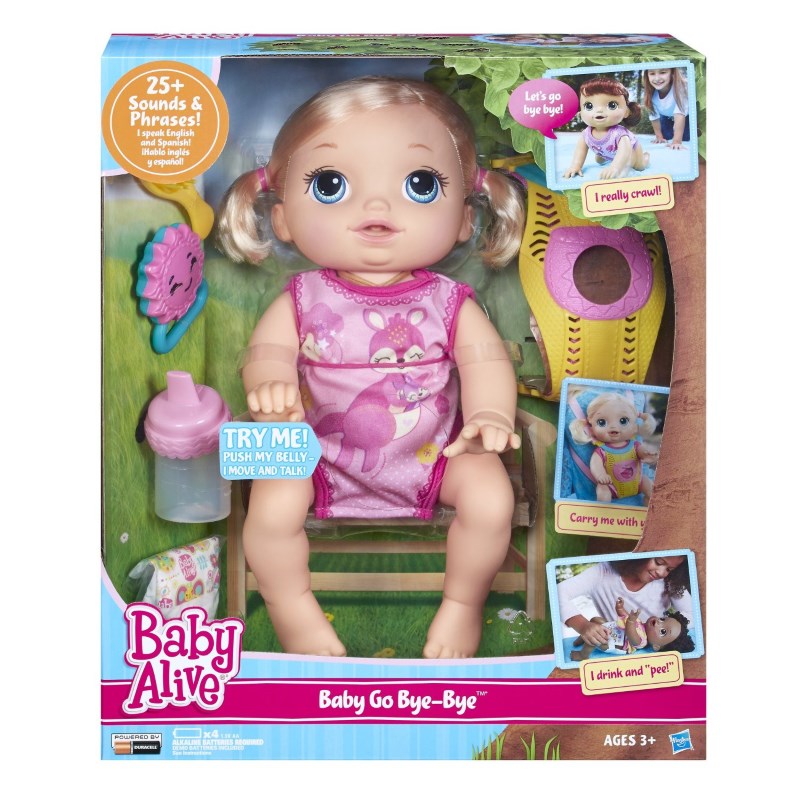 At the top of the list of the best toys for 3-year-old girls are this incredible Baby Go Bye-Bye doll.
It can crawl and speak.
Shake her rattle, and she'll come right over.
Talk to her, and she'll babble in over 30 phrases, both English and Spanish.
She'll even need a diaper change after drinking a bottle of water.
This doll, which comes in different looks from blonde, brunette, and African-American, is perfect for the toddler who enjoys nurturing play.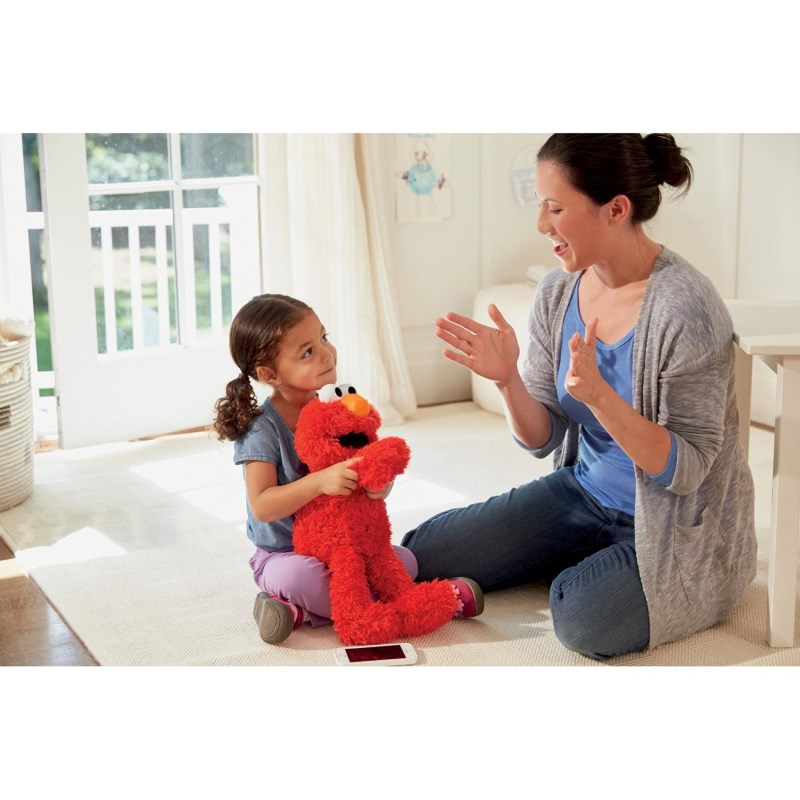 This list focuses on the best toys for 3-year-olds, but there are also toys for 2 years old girl as well.
This Love2Learn Elmo is one of them.
You customize Elmo through the app on your Apple or Android devices, and select your child's name, level, and subject.
Elmo teaches your child many things from using the potty to encouraging clean up through fun songs and phrases.
Clap his hands together to learn about shapes, animals, and more.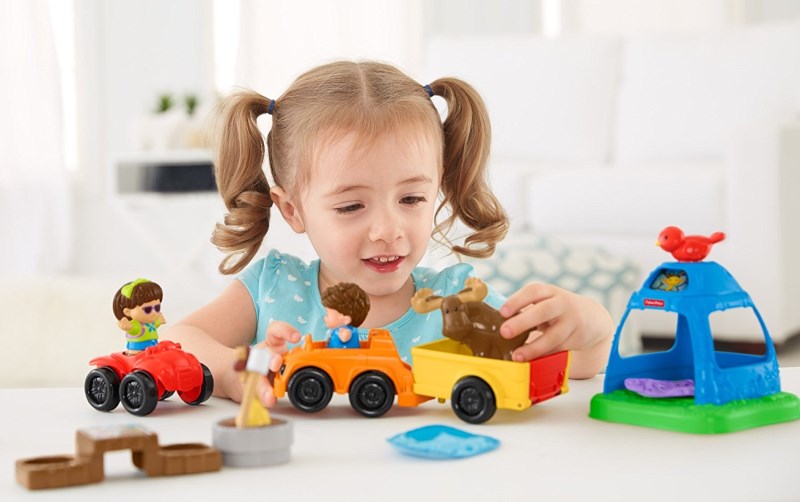 Let your imaginative child experience the thrill of camping and learn the outdoors with Little People Jack and Mia.
Set up camp with a tent, two sleeping bags, a cooler, and even a picnic table.
On the tent sits a bird that your little one can spin to learn more about nature.
Pressing on the campfire sticks teaches your child about lighting a fire, while pulling them back up gives them a sense of responsibility of putting out that fire.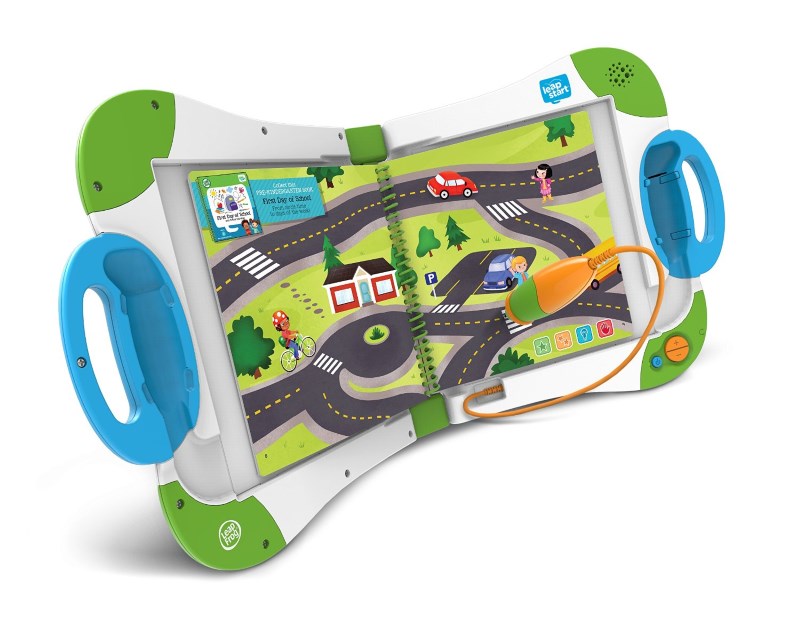 This is a great learning system from LeapFrog that can work well with preschool age and even pre-K kids.
It's compatible with 16 books, all sold separately, and teaches your child fundamental skills from ABCs, writing, counting, and colors all in a fun and engaging way.
The preschool and pre-K set up can help excite your child about learning in school.
Your child will learn at her own pace, and this comes with a built-in handle to carry it anywhere.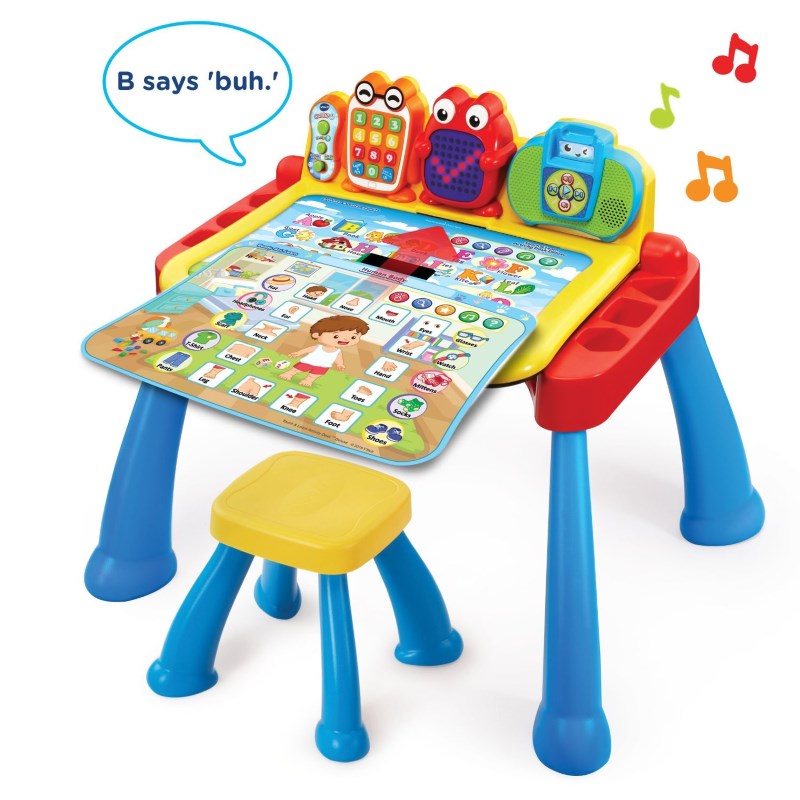 This desk is excellent to help your toddler learn in a way that keeps her entertained.
It has 5 interactive pages, and over 20 activities to expand your child's counting skills, understanding of colors, and a lot more.
It can also broaden your child's vocabulary thanks to it having over 100 words.
The toy telephone acts as imaginative play as well, and the three-in-one desk can convert to a chalkboard or easel to focus on your child's more creative side.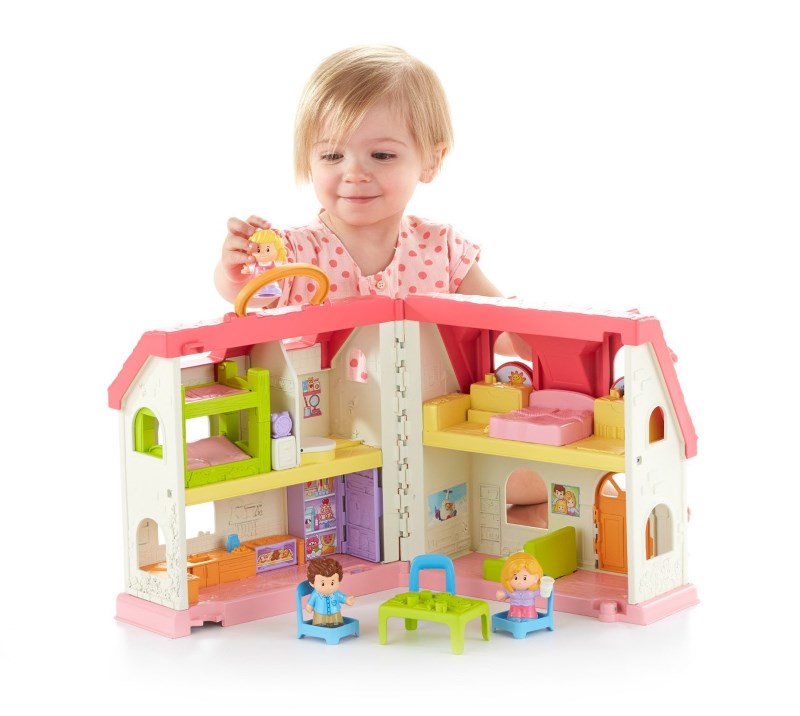 Another gem from the Little People, this follows Emma and her Mom and Dad at home.
The playhouse is a great way to introduce your little girl to pretend home play, and she can interact with many things.
Press the alarm to flip Emma out of bed, and lift the toilet lid to flush it.
Open the oven and refrigerator to see the light and hear phrases and sounds.
Lastly, dance along to three fun songs from the music player.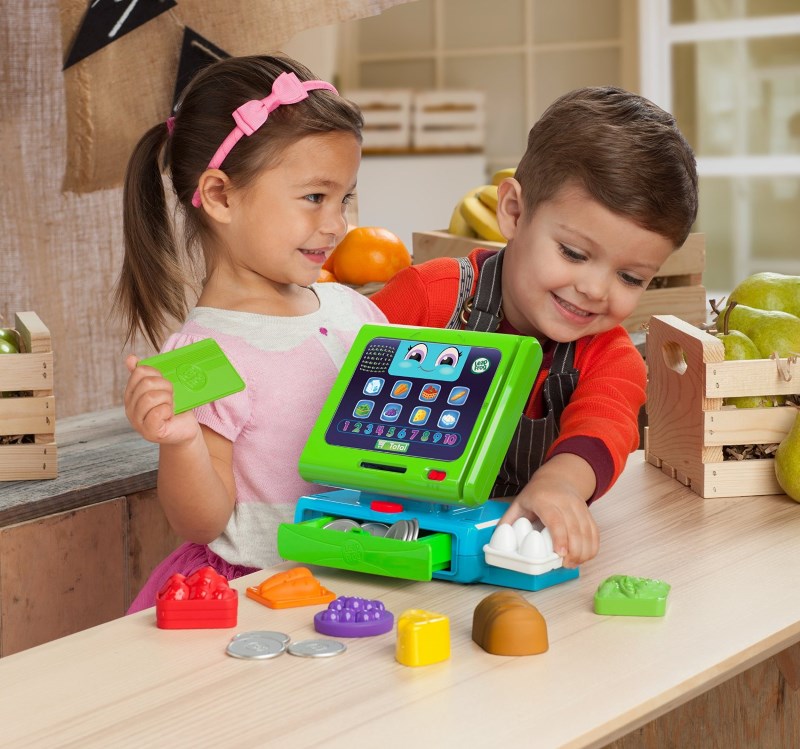 A cash register speaks for itself in how it can help your little one learn.
Not only will she get to experience pretend play, but she will gain important counting skills.
It's a 20-piece set that not only counts, but can also talk and sing.
There are 8 food items, and pressing each corresponding buttons reveals the names as well as the colors of them.
If she presses the number buttons, 1-10, she can count along with a fun song.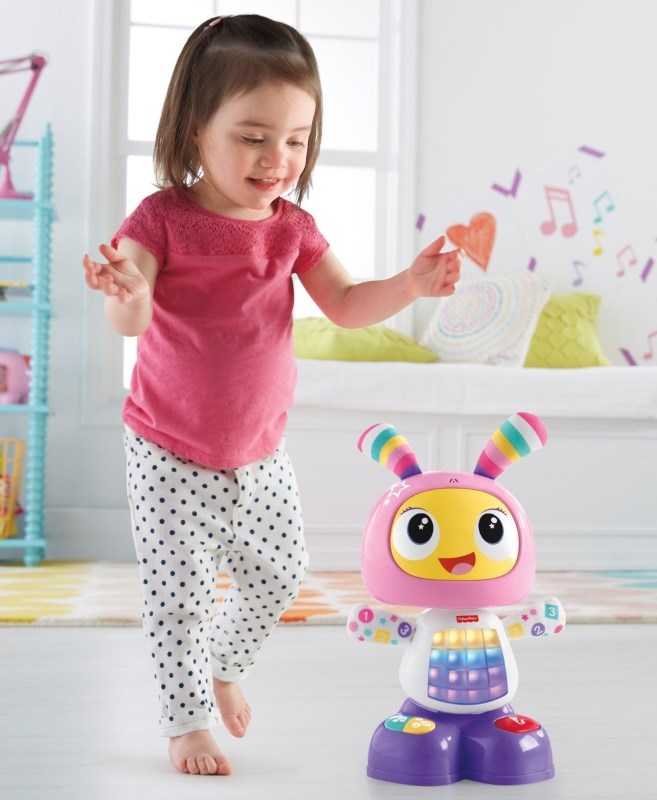 Does your toddler love to laugh and dance?
Then BeatBelle will certainly keep them having fun.
It has 3 separate modes – Dance n' Move, Learning & Games, and Customized Sing-Along – and will follow your child for years as it grows with her.
Dance n' Move gets your toddler up on her feet, while Learning & Games helps with counting, ABCs, and more.
Customized Sing-Along allows you or your child to record a phrase that can be remixed into a song.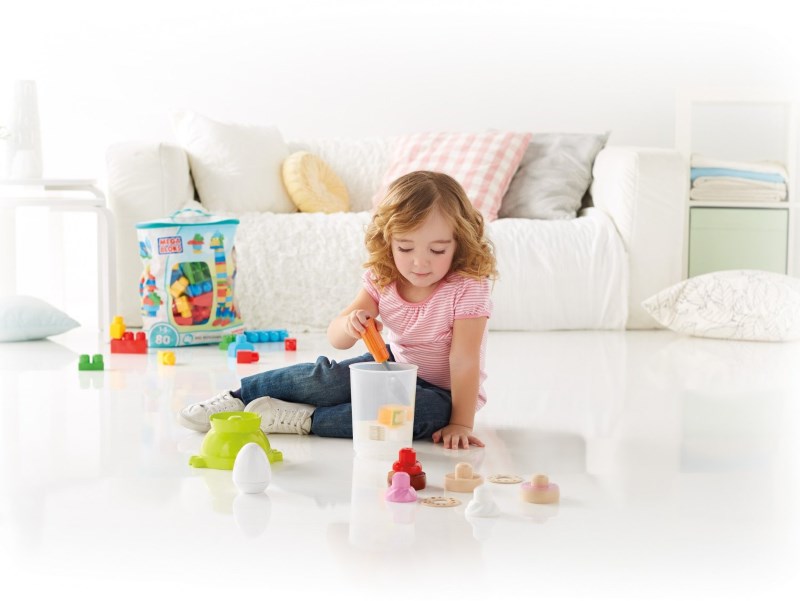 Let your child enhance their imagination and pretend play with this fun, cute little baking set.
The cookie jar transforms into a mixing bowl, and your little one can stir in blocks that have special ingredients on them.
She can even make her own unique creations with the stackable pieces that come with icing and sprinkles.
It's the perfect toy that will teach your toddler about self-expression, hone their motor skills, and fine tune their ability to create new things.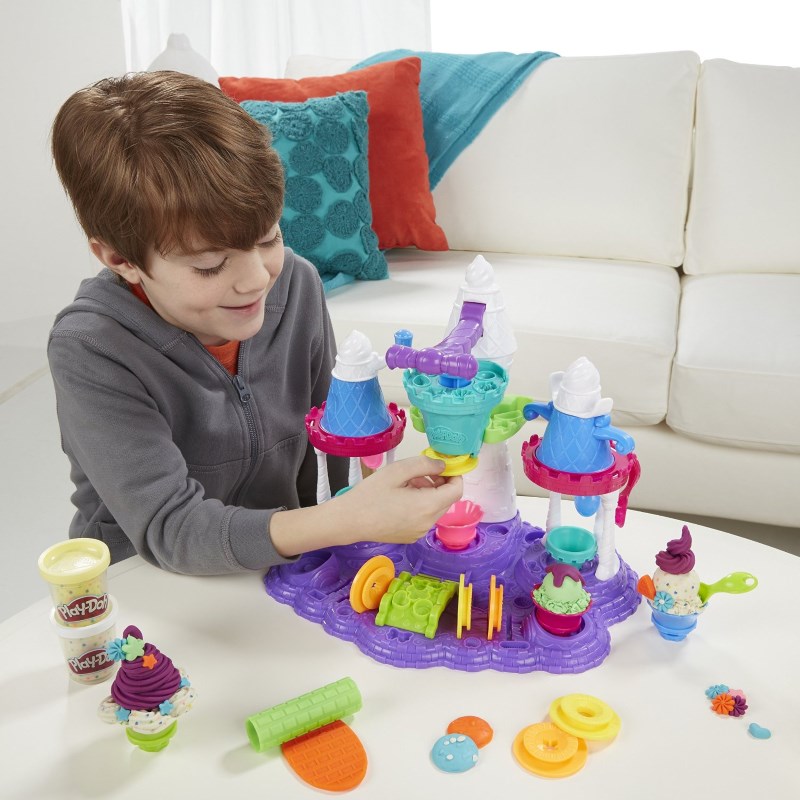 At the final, but certainly not least, spot of the best 3-year-old girl toys is the unending power of Play-Doh.
This colorful, almost whimsical ice cream castle will surely excite the creativity within your child.
It has 6 ice cream discs, and your little one can choose different shapes and swirl styles to press out with an easy-to-press handle.
Once the dishes are filled, she can move onto the topping station that has whipped cream and fun sprinkles.
FDA Compliance
The information on this website has not been evaluated by the Food & Drug Administration or any other medical body. We do not aim to diagnose, treat, cure or prevent any illness or disease. Information is shared for educational purposes only. You must consult your doctor before acting on any content on this website, especially if you are pregnant, nursing, taking medication, or have a medical condition.
HOW WOULD YOU RATE THIS ARTICLE?