Top 5 Best Recumbent Bikes of 2018 Reviewed
Why You Need a Recumbent Bike?
A few years ago, I was addicted to an upright stationary bike workout.
It offered great results, along with numerous health benefits.
I had not been thinking about changing anything about my workout until I started to feel pressure in my back.
I did not know what the cause was. Was it overtraining, bad form, or something else?
This made me ask questions and seek answers on the internet.
According to several sources, stationary bicycles are hard on your back due to exerting too much pressure on your bottom while cycling.
Apart from having problems with my back, I was pretty much satisfied with stationary bikes.
For this reason, I was on the prowl for an alternative, and so I found the recumbent bike which enabled me to exercise in comfort.
Basically, recumbent bikes are a great exercise machine.
In what way, you may find out by staying tuned!
Top 5 Best Recumbent Bikes Reviews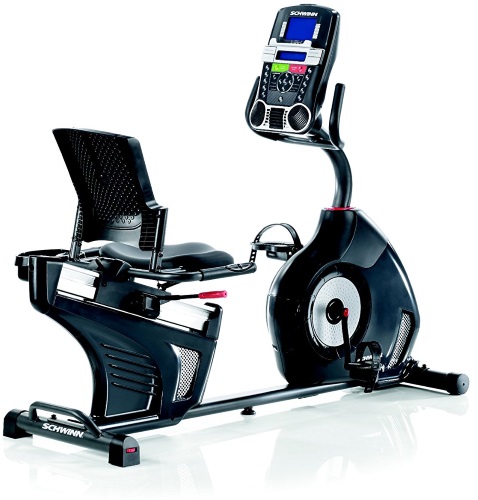 The Schwinn Recumbent Bike is designed by the Schwinn company, a top-notch brand for cycling devices that includes both outdoor and indoor bikes.
This model was launched in 2013 and has set itself apart as one of the best exercise bicycles to date.
It is one of the best recumbent bicycles on the market for its ability to help anyone meet their goals, regardless of their fitness level.
Although not a top-of-the-range model, the Schwinn Recumbent Bike offers a wide array of features that you would normally only find in expensive commercial exercise bicycles.
The Schwinn Recumbent Bike includes 29 preset exercise programs and 12 profiles for up to 4 users.
It is equally impressive that the model comes with 25 resistance levels to enable manual adjustment of your workout intensity from light to heavy.
This model is also equipped with a blue backlit LCD screen that incorporates DualTrack technology, which allows you to track up to 13 different metrics during a workout including time, distance traveled, RPM, calories burned, intensity, speed, and heart rate.
It also compares these parameters to your preset goals, so you can track your programs.
And it has a USB-transfer feature to allow you to transfer information via a USB.
One of the deciding factors for many is its adjustable seat; this model includes this feature.
It supports the lower back to relieve pressure from your butt.
It also comes with a 3-speed fan to prevent overheating during exercise.
The rest of the features are a built-in speaker, and a holder for your phone or tablet so you can read, listen to music, or watch movies while exercising.
The Schwinn Recumbent Bike does not use batteries; it is plugged into the wall.
This will ensure that the screen will not fade and become unreadable.
This is a full-featured recumbent bicycle, for its price.
It provides a low-impact workout that is easy on your knees and joints and supports the back, which is why most people find this model comfortable and helpful when it comes to achieving their personal fitness goals.
This bicycle can be used by people of all fitness levels, from beginners to advanced.
The resistance levels range from very easy to almost impossible, to meet the needs of those looking for a very demanding and challenging workout.
This recumbent bike is impressive, especially for the price.
It is a healthy and economical way to improve your fitness in your home.
Pros
Solid construction and quiet operation
29 exercise programs, and 12 profiles and 4 user-defined ones
Comfortable seat, 3-speed fan, built-in speaker, and tablet holder
Easy to assemble
Auto shut-off
Cons
Needs power cord
Screen is too bright
Weak fan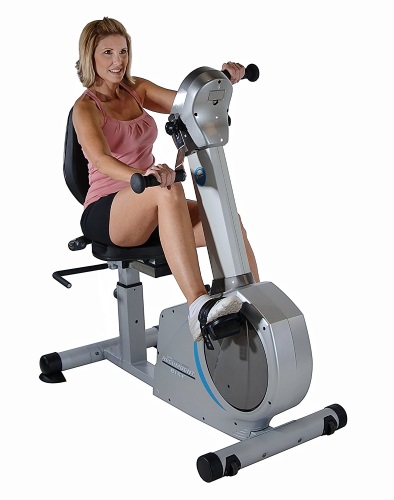 The solid steel Stamina Elite Bike exercises the legs, core, and arms without delivering a harsh impact to joints.
It is designed for all fitness levels and supports an efficient full-body workout when used at 70% to 85% of the user's maximum heart rate.
Overall, the Stamina Elite Bike is intended for those aiming to increase their metabolism, build a bit more strength, and tone their muscles.
Its low-impact motion is also recommended for certain physical therapy patients.
The most outstanding feature of this bike in comparison with other products is its ability to deliver a total-body workout.
It comes with both upper hand pedals and lower foot pedals to allow you to use your arms and legs to increase your burned calories.
It has 8 levels of resistance to create a challenging workout for both beginners and advanced athletes.
You can easily change between 8 resistance levels without any interruption while listening to music, reading a book, or watching TV.
This recumbent bike also offers the feedback of heart rate zone through pulse sensors.
Also, it includes a large LCD screen to help you track your speed, distance, time, calories burned, and heart rate.
And convenience is one of its main features.
The machine may not feel familiar at first, but it will gradually prove comfortable and easy to use.
It delivers a padded seat and seatback, which offers comfort in the long run.
Thanks to this feature, it helps the user maintain a good position and enjoy its ergonomic design.
Besides, the machine accommodates people up to 250 pounds.
The Stamina Elite Bike is a high-end, top-quality recumbent bicycle that incorporates modern fitness technology and innovative workout ideas to make users' training time more balanced and efficient, instead of just working the leg muscles like typical stationary bicycles.
This means that more calories get burned, which is another reason why people trying to lose weight in the convenience of their home should opt for this model.
It also helps users to tone their complete body with one relatively simple exercise and a single machine – not bad for a recumbent bicycle that can fit almost anywhere.
Pros
Delivers a full-body workout
Sturdy frame, padded seat, and backrest with contoured design for maximum comfort
Two sets of handlebars: Stationary and mobile
Easy to assemble, and very little maintenance required
Smooth and quiet operation
8 levels of mechanical magnetic resistance
Cons
No workout programs
Only 250 pounds max weight capacity
A limited warranty on 1 year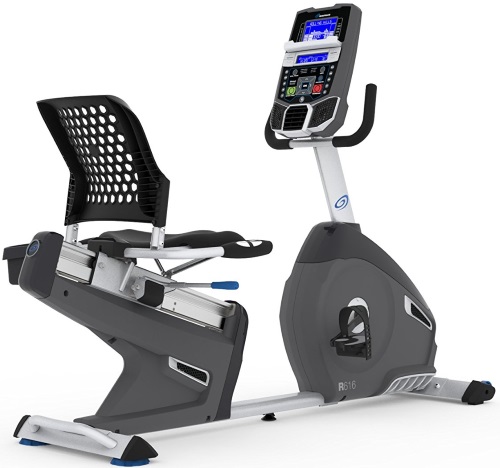 The Nautilus Recumbent Bike is a feature-packed recumbent bike that represents excellent value for money.
Released in late 2014, this high-end bicycle is one of the most popular models from USA-based company Nautilus.
It should provide everything anyone from the total beginner to the advanced athlete could want – including comfort and efficiency.
A wide array of resistance levels, workout programs, and useful features make this machine a lot more fun and enjoyable to work out on.
Easy assembly, built-in transport wheels, and a great warranty add to the appeal of the Nautilus Recumbent Bike.
The Nautilus Recumbent Bike is a mid-priced recumbent exercise bicycle with a good-looking console and a very solid look overall.
It includes a large number of features and accessories – with 29 workout programs, 25 resistance levels as well as speakers, a media shelf, and more.
It certainly comes with what you need for an efficient and comfortable low impact ride that is easy on the joints and back.
What's more, it also includes heart rate monitoring with the option to use a chest strap and to download exercise data.
This bike has everything.
The Nautilus Recumbent Bike is very solid and delivers a comfortable exercise that supports your back and is easy on your joints.
This model enables you to get a high-quality, low-impact workout at the intensity you want.
Twenty-nine workout programs that come along with this model will keep you from getting bored.
Even if you are suffering from an injury or are in the process of recovery, you can adjust the intensity level for yourself and adapt it to your needs and goals.
If you want to keep an eye on your performance, you can connect your Nautilus account to myfitnesspal.com and upload your results using Bluetooth.
Pros
Strong, stable frame
Quick, lightweight, and easy to assemble
Smooth and quiet operation
High level of warranty coverage
Backlit LCD display
Cons
Speakers are not that powerful and can sound flat
No cushioning on the seat
The power cord is short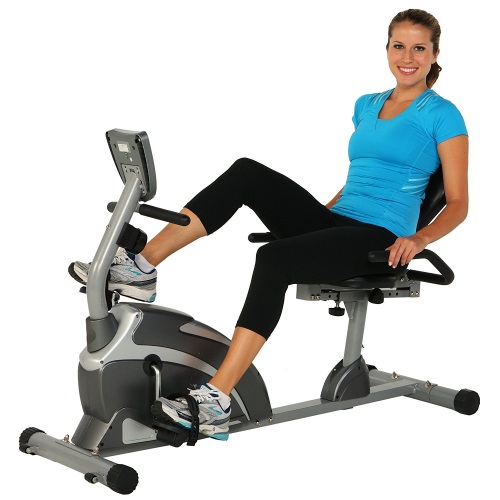 The Exerpeutic Recumbent Bike is a low-priced model that delivers a smooth and quiet workout.
Magnetic resistance and multiple intensity levels will cater to users of all levels.
If you are looking for a reasonably-priced recumbent bicycle to give you a challenging, heart-pumping workout without overstressing your joints and back, the Exerpeutic Recumbent Bike is an excellent choice.
Excellent for lower body conditioning and cardio, this model is sturdy and stable during use.
The only potential downside is that it does not come with inbuilt programs.
However, rest assured that this will in no way impact your workouts and their efficiency.
If you are okay without a programming function, you will find this model suitable for your goals, even when compared with other far more expensive recumbent bicycles.
The Exerpeutic Recumbent bike features a large LCD display that helps you keep track of your progress.
It measures your time, distance, heart rate, speed, and calories burned.
If you are on a journey to build up your strength and endurance, lose weight, or ensure your heart rate has not changed, you will find these metrics very useful.
It also includes a handgrip heart rate sensor to help you keep track of your heart rate.
As an entry-level model, this bicycle comes with 8 levels of magnetic resistance.
This means you will be able to start on a low difficulty and gradually increase the resistance.
The bike also comes with foot straps to ensure safe pedaling without being worried that your feet will slip out.
Finally, the Exerpeutic Recumbent Bike allows you to listen to music or watch TV, thanks to its smooth and quiet operation.
If you want a comfortable and effective way to work out that will deliver results, then this recumbent bike may be ideal for you, taking into account its amazingly affordable price and solid build.
This model will provide a smooth ride, even when pedaling at top speed using the highest level of resistance.
Pros
Easy to transport, lightweight
Large LCD display
Adjustable seat
Strong leg stabilizers
Cons
No holder for phone or tablet
The seat can be hard to adjust
Inaccurate data at times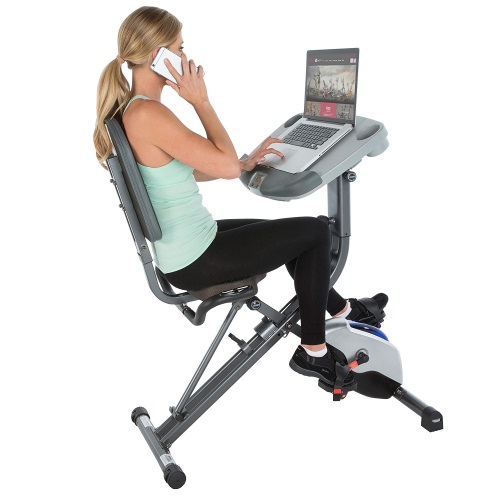 The Exerpeutic Semi-Recumbent Bike is a great option for those trying to get fit while at work, especially if the work involves only the use of a computer or a mobile device.
This bike is also useful while you watch TV or play video games – whatever you want to do.
It has a desk that can fit most media devices, including a laptop.
You can be pedaling at the intensity you want while using those devices.
This bike has been reported to be a great timesaver to get fit and stay fit.
Finally, this bike can help you add one more fitness activity to avoid falling into a sedentary lifestyle.
This bike is strong and compact, due to its coated steel frame that can handle up to 140 kg.
It also comes with a magnetic tension control system that offers 8 resistance levels for beginner to advanced workouts.
Its LCD display will help you monitor your distance, time, and speed of activity, along with calories burned and heart rate levels measured by the hand pulse sensors.
This bike also creates a smooth motion and a low noise thanks to its balanced flywheel and V-belt drive.
And this model is safe to use and comes with large pedals and safety straps to prevent foot slippage while working out.
There are also adjustable screws provided at the end of the cycle base to enable exercising on uneven surfaces.
Finally, this model comes with comfortable seating in the form of a foam-cushioned seat and backrest.
The special AIRSOFT seat cushion remains cool over numerous hours of use and improves comfort.
The 2-foot-wide surface provided is big enough for a laptop.
It also has two cup holders and a drawer for pens, keys, and more.
If you are on the prowl for a basic, foldable model that you can use for working on your laptop and exercising at the same time, this bike is ideal for you.
The construction is sturdy, so the machine will last you a long time.
This bike is easily movable, compact, affordable, and comes with features that are cost-effective.
Overall a good buy for the money.
Pros
Sturdy construction with a weight capacity of up to 300 pounds
Foldable, movable, and a space-saver
Cushioned AirSoft large seat for maximum comfort
Easy to assemble and easy to use
Little to no maintenance required
Cons
Only adequate for light to moderate workouts
No option to keep record of workouts
No preset workouts


What are Recumbent Bikes?
Stationary recumbent bikes are the gentlest of all exercise bicycles.
Most of these machines have chair-like, comfortably-cushioned seats to support your lumbar area, unlike upright stationary bikes that can be rough on your body.
Recumbent bikes are capable of reducing pressure on your back as you lean back to the cycle.
What's more, this type of bicycle is less jarring to joints in your hips, ankles, and knees.
This is partly thanks to the body positioning while cycling. Namely, when seated upright, less downward pressure is exerted.
Recumbent bikes are perfect for those with back pain or limited mobility.
Apart from being used in newbie circles, these comfortable cardio devices are also popular with riders in top form.
After all, thanks to their design, these bikes prevent the literal pain in the rear which is common for some people using upright exercise bikes.
In addition, exercising on a recumbent bike is less likely to induce muscle soreness the following day.
Even though you will burn fewer calories with recumbent bikes, they can still be an excellent tool for weight loss.
They are also beneficial for muscle toning, rehabilitation, and cardiovascular workouts.
Keep reading for an in-depth analysis of the benefits of recumbent bikes.
Benefits of Recumbent Bikes
Recumbent bikes are designed to enable you to sit closer to the ground with your legs out in front of you, rather than sitting up with your legs below you.
Exercising on a stationary recumbent bicycle, or riding a recumbent bike on the road, have similar health effects as riding a regular bike.
They provide cardiovascular exercise, increase your strength, and help you control your weight.
Recumbent bikes also have the additional benefits of increased safety and comfort while putting less pressure on your hips and knees.
Provide Cardiovascular Exercise
Cardiovascular or aerobic exercise includes large muscle groups, such as the gluteal muscles of the buttocks and the quadriceps, and the hamstring muscles of the thighs.
Exercising on a recumbent bike is a form of cardiovascular exercise that might help you with strengthening your heart and lungs and increasing your body's capacity to use oxygen.
Regular cardiovascular training can help decrease your heart rate and blood pressure, thereby inducing easier breathing according to WebMD (1).
Nonetheless, I advise you to consult your doctor prior to starting any cardiovascular exercise program, including recumbent cycling.
Increase Strength and Manage Weight
Cycling uses the large muscles in your legs, buttocks, and thighs to build more lean body mass.
Recumbent bikes can be used for rehabilitation and strength workouts to help the elderly recover sit-to-stand and step-up movements, according to a 2007 article published in Clinical Biomechanics (2).
Cycling is beneficial for losing and maintaining weight because it can burn a good number of calories.
Provide Safety and Comfort
Recumbent bikes are safer than upright bikes due to a larger seat, lower height, and back support.
Recumbent bikes provide advantages for cardiovascular and muscle training in patient groups with impaired mobility, according to an article in Clinical Biomechanics (2).
The backrest, larger seat, and semi-reclining position deliver more comfort than a traditional small bicycle seat with an upright posture.
Put Less Stress on Hips and Knees
People with arthritis may find this type of bicycle beneficial because these put less pressure on the knee and hip.
According to an article on WebMD, recumbent bicycles extend the angle of the knee joint so that the knee and hip are not flexing so much with each rotation.
This means that a recumbent bike induces less knee and hip pain than a traditional bike (3).
How Recumbent Bikes Work
Unlike upright bicycles, recumbent bicycles have comfortable bucket seats and a backrest.
Stationary recumbent bikes are very common in gyms, but road recumbent bikes are still fairly uncommon, despite having been around since the mid-1800s.
These bikes allow people of all fitness levels to work out the muscles of the buttocks and legs without being hard on the wrists and back.
Even though less common, recumbent bicycles that combine leg and hand propulsion can also help train the muscles of your upper body.
Advantages of Recumbent Bikes
Since the position of the recumbent bike provides extra support and comfort, it delivers a way for the de-conditioned individual to increase leg muscle strength.
Many people, especially the obese and the elderly, report that upright bike seats are rather uncomfortable.
The bucket-style seat of the recumbent bike is capable of accommodating larger bodies and providing more support.
Most recumbent bikes feature a backrest that can be beneficial for riders who suffer from spine injuries or back pain.
Shoulder joints and wrists also don't sustain any pressure, since handlebars are usually positioned at shoulder height.
Upper Legs
All bikes work the muscles of the thighs, specifically the quadriceps and the hamstrings.
According to a 2007 article issued by Clinical Biomechanics, the two most-trained upper-leg muscles during a recumbent workout are the rectus femoris, one of the four quadriceps muscles, and the biceps femoris, one of the three hamstring muscles (4).
Gastrocnemius
In the article published in 2007 by Clinical Biomechanics, it is reported that the gastrocnemius, the largest calf muscle, is worked during a recumbent workout.
This muscle is essential for walking.
This is why it is recommended to patients undergoing rehabilitation of the lower legs to do recumbent cycling because it will strengthen their gastrocnemius (4).
Gluteal Muscles
Recumbent cycling works the muscles of the buttocks, including the gluteus minimus and gluteus maximus.
The gluteus maximus is responsible for delivering the power behind the pedal stroke as your hips rotate while pedaling.
When you increase the resistance on an indoor stationary recumbent or climb hills on a road recumbent, you increase the load on these large buttock muscles.
Upper Body and Core
Bicycles are a good way to train your body, but they are not as effective when it comes to strengthening your upper body.
Hand-powered recumbent bicycles do work the posterior deltoids (the triceps – the backs of the shoulders), the back of the upper arms, and the trapezius (a triangular upper back muscle), according to a 2012 study by Clinical Biomechanics (5).
This type of bike is mostly used by those with limited use of their legs and is a good alternative to wheelchair racers that can be too hard on the shoulders.
Traditional leg-powered recumbent bicycles utilize the abs, especially if you place the seat slightly forward – closer to the pedals.
Hand bicycles are more effective when it comes to training the core, particularly if you are capable of using it without back support.
Considerations
The recumbent bicycle may deliver a less-effective cardiovascular exercise than an upright bike, particularly for the very fit.
Climbing hills on a recumbent bicycle can be slow and may call for a very low gear, especially if your gluteal muscles are not very developed.
To minimize the risk of injury and maximize the benefits, keep reading to learn how to use recumbent bikes properly.
How to Use Recumbent Bikes?
A recumbent bicycle, no matter how good a model it is, can only give you the most benefits if used properly.
This guide is helpful to almost every bike rider, especially those who are new to this method of exercising.
Do Not Forget Dynamic Stretches
A wide range of muscles in your lower body is activated as you ride your bicycle.
So, if you do not properly and carefully prepare prior to jumping on for a ride, you increase the chances of hurting the muscles involved in the process.
How to prepare? Simply take a few minutes to do motion dynamic stretches.
Some of those helpful stretches are leg swings, knee highs, walking lunges, side bends, and more.
Throughout the stretching process, make sure to move smoothly, and then slightly increase your range of motion in the next repetition.
Make a Seat Adjustment if Necessary
Before starting a recumbent workout, make sure that the bike is already steadily set up.
To do this, sit on the bike, place your feet on the pedals and start spinning on the cranks.
Pay attention to your knees' extension throughout the process.
They should be slightly bent as you put your leg on the crank's back side.
If not, slightly push your seat backward or forward to achieve proper form and posture.
Spend a Few Minutes Warming Up Slightly
After sitting on your bike, you should still dedicate a few minutes to warming up your body.
This is also an opportunity to raise your pace, which will result in increased body temperature and relaxed muscles and tissues in use.
Pay Attention to Your Exercise Duration
To achieve the best results possible with your recumbent bicycle, you need to keep your workout long and frequent enough.
According to professionals, the adequate cycling duration for weight loss is between 60 and 90 minutes of cardio, and for health benefits is 30 minutes of cardio, which should be done constantly 5 times per week.
This means that losing weight calls for a longer workout, compared just to acquiring health benefits.
Adjust Resistance if Necessary
As you ride your recumbent bicycle, remember to increase your pedaling speed.
These bikes also allow for a resistance adjustment. Make use of this as you get better at it.
Why is it necessary?
As you increase the resistance, it becomes harder to control the pedals, challenging your leg muscles to become stronger and more muscular.
Increased resistance means progression.
Make Use of Alternative Training
Alternative workouts simply mean alternating intense activity with lighter.
Incorporating this kind of training will help you boost your caloric outflow.
Alternatively, you can choose to increase and decrease your speed or adjust the resistance, or even make use of them both.
Make Sure that You Have Proper Posture
Proper posture is essential to obtain results while cycling.
You can put your hands in front of you, but make sure not to lean forward too much.
Hold your back in a straight posture.
Make sure to push hard with your legs while pedaling or grasping the handlebars too.
If you lean forward constantly, you are creating the opportunity for muscle imbalance.
These are important tips to gain results while cycling on a recumbent bike.
Applying them will result in a safe, comfortable, and beneficial ride.
What to Look for in Recumbent Bikes?
Athletes are always looking for ways to create a more comfortable training session, and because of this, recumbent bikes are becoming more and more popular.
But the first question you might want to ask yourself is:
Do you really need a recumbent bike?
Since recumbent bicycles are made to support the weight of your upper body, they relieve a fair amount of stress that would normally be put on your ankles and knees during a treadmill workout, or even on a spinning bike workout.
Taking this into consideration, recumbent bikes are ideal for people who require rehabilitation exercising, people who suffer from various movement-impairing conditions or back problems, or elderly people.
Indoor recumbent bicycles are designed in such a way to put minimum stress on your body.
Therefore, they are not designed for burning large amounts of calories.
On the other hand, they can be used as entry-level exercise machines for overweight and obese users.
In this case, with a recumbent bike, you will get the sufficient amount of strength and endurance so as to be able to do a more advanced workout on a treadmill, spin bike, or any other machine designed for higher intensity training.
Also, you will lose some weight in the process, but this amount is not as consistent as what you can lose on an elliptical trainer, treadmill, or indoor cycling bike.
If the answer to my question is, "Yes, I do need a recumbent bike," then this is some information I have collected to help you choose the best one for you.
You can pay anywhere from $200 to $2,000 for a new recumbent bike.
Pricier machines generally come with sturdier construction and more features, but some bargain-priced machines can also offer a cost-effective workout.
Running is essential for cardiorespiratory fitness, but exercise bikes might be helpful in strengthening your legs, glutes, and hips more than running because you can adjust the resistance to work your muscles in line with your goals and abilities.
These machines come in a huge variety of styles, comfort levels, weights, and prices.
There is something for everybody. The question is, which one is right for you?
Hopefully, this information will help you determine which compromises you should make in choosing a recumbent bike.
There are a few things you need to consider:
Your price range
Your available space
Your riding style
Your level of fitness
The consideration when buying a recumbent bike is the price.
Recumbent bikes are a bit pricier than upright bikes because they are not mass-produced and commercially available at the level of the "Walmart" variety of bikes.
They also include a high-end office chair, which adds to the price.
The bikes in the lowest price range are easy to use and quite serviceable but are often heavy.
The bikes in the average price range are around $1000.
If you are going to use your bike once a week or more, then bikes in this price range are right for you.
On the other hand, if you are a casual rider, or on a limited budget, you might want to start with the lower-priced models.
Pricier bikes can be pretty expensive, up to a few thousand dollars, but with them, you will get a lightweight model with space-age components, suspension, more speed, and exotic materials.
A very common but unfortunate mistake that most recumbent bike buyers make is to get carried away by the models displayed at the store and invest in a product only because it looks nice or it comes with a number of features.
Space is usually the last thing that people think of when buying a recumbent bike.
But there is no purpose in buying something that will not even fit through the door.
Also, even though they are more comfortable due to their ability to accommodate all body shapes and sizes, bigger recumbent bikes are not exactly known for being space-savers.
For this reason, it is not a bad idea to look for foldable bicycles if you are short on space.
Admittedly, these are usually more flimsy and tend to have a shorter lifespan than larger models, but can be more practical for people who are short on space.
On top of that, its ability to fold means you can store it easily just about anywhere.
Still, you should bear in mind that these foldable recumbent bikes are quite uncommon, meaning you will probably be better off just with a smaller model.
As expected, these bicycles come in several price ranges and models.
In fact, you can easily find an extremely cheap model, even though these vary greatly in quality, more than more expensive models.
For instance, cheaper models are extremely basic, and may only include a small LCD screen to track your progress.
The weight capacity is limited to around to 250 pounds, and the pedals tend to be quite fragile.
On the other hand, more expensive models come with a wide array of features designed to make your workout more enjoyable.
Even if you look for basic models, you should know that these extra features can motivate you during your lazier days, and may even encourage you to do your recumbent workout even when you do not feel like doing it.
Also, bear in mind that if you plan on using the machine on a daily basis or for lengthier workouts, you should probably invest more money and buy a more expensive model to limit wear and tear.
Also, pay special attention to the product warranty offered by the manufacturer to make sure it lives up to the money you are investing in the bicycle.
Is comfort important to you?
Needless to say, one of the most important reasons why people choose to buy a recumbent bike over an upright or spinning one is because of the comfort factor.
Of course, if you do not plan on using it regularly, you can easily go for another stationary bicycle instead.
Comfort can also be a great advantage to elderly or overweight people because this machine is easy on your body in an ergonomic position and keeps your feet level to the ground.
This takes the weight off your knees, producing less injurious and smoother movements.
Recumbent bikes are also easier to mount and dismount, which is once again essential for the elderly, or people with mild disabilities.
On the other hand, if you are in top shape or are a highly energetic athlete, you might want to look for exercise equipment that provides a more vigorous workout, such as a spin bike.
Indeed, in spite of being undeniably comfortable, recumbent machines may be a bit boring for some people.
Sitting in the same position during lengthier workouts may be a daunting experience, no matter how thickly padded the seats are.
Think about the features you need
Recumbent bikes also come with another advantage compared to upright or spin bikes, and it is that they are usually packed with additional features.
For instance, some of the models come with bells and whistles such as magazine racks or desks for your laptop, enabling you to have fun, surf the internet, or work while you train.
This certainly makes time go by more quickly.
If you are an advanced athlete that wants to track their progress, you might also need a high-quality LCD screen that displays data such as calories burned, the number of pedal strokes, distance covered, speed, and the like.
Along with regular features like preset programs, varying resistance levels, a padded seat, textured handlebars, and a water bottle holder, more pricey models also include rare features such as interactive programs that allow you to connect or race with other users.
Some recumbent bikes are even equipped with built-in speakers and USB drives.
What to Avoid in Recumbent Bikes?
Recumbent bikes may not be as desirable as upright exercise bikes because the latter can more closely simulate a road bicycle for an advanced workout.
With a recumbent bicycle, you cannot lift your body off the seat to pedal with greater exertion and force, simulating sprinting or hill climbing.
Recumbent bikes have an adjustable resistance but are unable to perform these variations.
Moreover, recumbents can be bulkier than upright models, though they do not take up much more floor space.
Finally, recumbent bikes tend to be costlier than upright bikes.
This is because they usually come with additional features to maximize comfort while reducing the risk of injury.
Therefore, people with a limited budget might find it easier to invest in a regular upright bicycle instead.
Precautions
A recumbent bicycle can deliver a great workout that will burn calories, strengthen your muscles, and improve your posture.
However, here are some safety tips prior to beginning your workout to maximize results and minimize the risk of injury.
Before you begin your workout, you might want to adjust the equipment to be sure it is a good fit.
Sit down in the seat and place your feet on the pedals.
Start pedaling slowly, observing your legs as they slowly extend.
Once you have pushed the pedal completely, your knee should be slightly bent.
Slide the seat backward and forward to find the adequate distance between the pedals and the seat.
Prior to any of your recumbent workouts, you should warm up thoroughly by stretching out or going on a brisk jog or walk.
This will not only improve your results, but it will also prevent muscle strain and injury.
Pay special attention to warming up the lower-body muscles and joints, as these will undergo the most stress during your workout.
When you start pedaling, make sure it is slow-paced, where you will increase speed as your body warms up and connective tissue loosens.
Keeping proper form during your workout is important for avoiding injury and getting the most out of your time spent on the machine.
Make sure that your back is straight and pressed tightly against the back of the chair throughout the entire workout.
Even if you opt for grasping the handles, do not lean forward.
It is your legs that you should use primarily throughout the workout, and leaning forward can create an imbalance.
You can vary your workout by changing your resistance, duration, and speed.
To challenge yourself and build leg muscles, adjust the resistance gradually throughout your workout, increasing it over a long period.
To keep things interesting, push yourself to go farther, and vary the length of your workouts throughout the week.
To burn more calories throughout the workout, work out at different intervals.
Just as it is vital to warm up before your workout, you should also gradually decrease resistance and speed as your workout winds to a close, creating enough room for your muscles to cool down.
Always keep a water bottle within reach while on your bicycle to keep fully hydrated.
Moreover, prior to embarking on a new workout journey, talk to your doctor, especially if you are going for a recumbent workout but suffer from a back injury.
Conclusion
Although some recumbent bikes may cost an arm and a leg, the benefits you will gain from owning or using one will make it worthwhile.
But before purchasing one, keep in mind that they come in different shapes and sizes.
A recumbent bicycle is different from an upright bike in that it allows you to ride in a more comfortable design that puts minimal pressure on your back, butt, and joints.
This provides you with an ergonomic design that delivers the most comfortable riding position.
Not only will you enjoy a comfortable ride, but you can also lose weight, build and tone your muscles, and maintain a healthy and fit body.
I hope the above tips will help you choose the best bike for you.
FDA Compliance
The information on this website has not been evaluated by the Food & Drug Administration or any other medical body. We do not aim to diagnose, treat, cure or prevent any illness or disease. Information is shared for educational purposes only. You must consult your doctor before acting on any content on this website, especially if you are pregnant, nursing, taking medication, or have a medical condition.
HOW WOULD YOU RATE THIS ARTICLE?