Top 5 Best Rowing Machines of 2018 Reviewed
Why You Need a Rowing Machine
Purchasing a rowing machine could be one of the best decisions you have ever made – or a complete waste of money.
Prior to making any move to purchase one, ask yourself if you are going to use it.
To get well-built and into shape, you will need to work out on a rowing machine four times a week.
This means you will have to use it on almost a daily basis, and if you do not enjoy it, you should not buy it.
On the other hand, if you have used the machine in the gym and enjoyed your rowing session, then it is a good purchase.
However, keep in mind that gyms usually include the best commercial models on the market.
If your budget is limited, you should know that a rowing machine bought for your home will not feel as smooth, or be as easy to use, as in the gym.
Because of the above-mentioned dilemma, it is important to ask yourself a few questions before buying a rowing machine.
Do you enjoy rowing?
How much money can you afford to spend?
Do you have enough floor space?
How often do you think you will use it?
If you are certain that you will use it regularly and are motivated to get into shape, then a rowing machine is an excellent and safe way to reach your goals.
If your technique is good, the risk of injury is small.
The next thing you will need to decide is the amount of money you are willing to spend on a rower.
There are different price ranges, meaning that there is quite a difference in quality and features, as well.
Even if you buy a cheaper model, this will mean you saved some money, but it does not necessarily guarantee that the machine will deliver the workout you need, or that it will be safe to use.
Once you have figured out how much money you will spend, make sure that the model you have chosen will fit in your room, support your weight, be long enough for your legs, and be quiet enough not to annoy the neighbors.
The last aspect you need to pay attention to is the type of rowing machine.
There are a few types classified based on the braking mechanism used to deliver the resistance.
These are:
Air rowing machines
Water rowing machines
Hydraulic rowing machines
Magnetic rowing machines
But I am going to discuss these types of rowing machines later in the article.
First things first: what is a rowing machine, where does it come from, and what are the benefits of a rowing workout?
Stay with me to find out useful details about this great piece of fitness equipment.
Top 5 Best Rowing Machines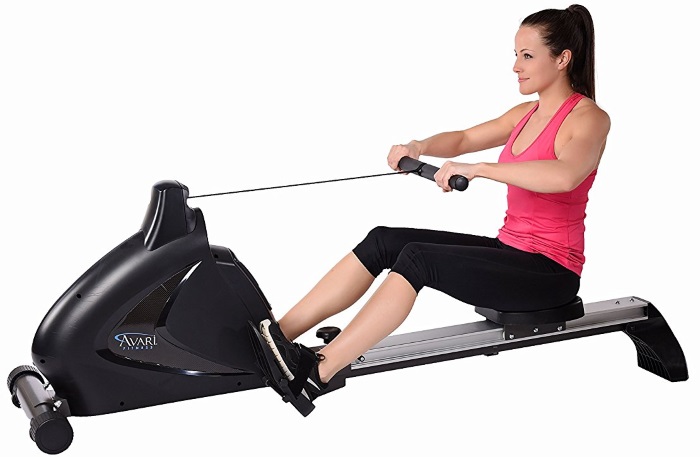 The Stamina Avari Rower is a popular rower that is easy, not only on your joints but also on your budget.
It provides a great upper- and lower-body workout, with a smooth rowing motion that is almost a 100% simulation of real rowing.
With the Stamina Avari Rower, you are purchasing a high-quality device from a leading fitness manufacturer.
The machine comes with plenty of features, including the performance monitor that offers 12 programmed workouts.
The Stamina Avari Rower is simple to use and easy to assemble, due to its user-friendly design, and is easy to store due to its foldable frame.
With a 3-year warranty on the frame and a 90-day warranty on parts, the Stamina Avari Rower is built with a sturdy aluminum rail that delivers a smooth rowing action.
This model has a low center of gravity that delivers stability to the machine during even the most intense workouts.
It typically takes less than one hour to assemble the Stamina Avari Rower, meaning you can have the machine up and running quickly.
Its design also enables quick and easy folding, which is ideal for those without a lot of space for storage of your home gym equipment.
Other features of the Stamina Avari Rower include large footplates, a large molded seat, a foam padded rowing handle, a chest strap heart monitor, an in-touch fitness monitor, and an extruded aluminum rowing beam.
The Stamina Avari Rower will deliver a quiet rowing action to provide you with the best rowing experience possible.
Its strong magnetic resistance allows for an effective full-body workout.
This model also gives you a FREE heart rate monitor, just to make sure you do not work out too hard.
What's more, it is difficult to find anything bad to say about this rower, because it also comes with an LCD monitor and 12 programmed workouts.
Pros
Smooth, quiet rowing motion
Made with durable materials
Many built-in fitness programs
Strong resistance for magnetic power
An included heart rate monitor
Backlit display can be used in a dark room
Easy to assemble
Cons
Uncomfortable seat
Limited warranty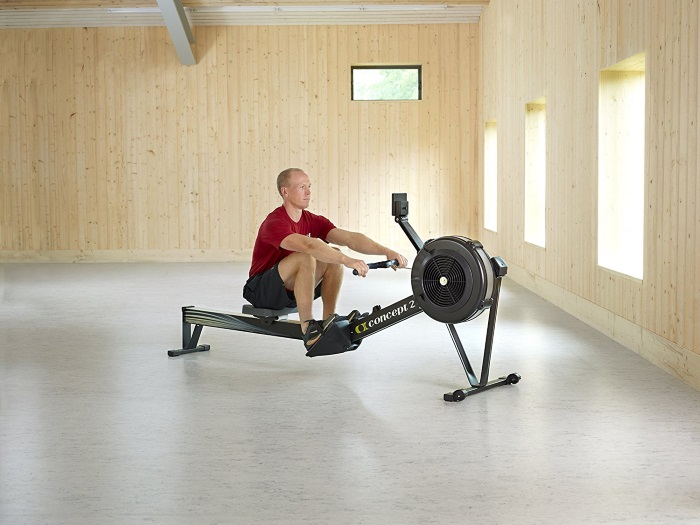 According to many, the Concept2 Model D is one of the best rowers listed on Amazon.
The old saying that goes "you get what you pay for" is not just a cliché.
This model, which is in a higher price range, outshines many other rowing machines available on the market.
This Concept2 Model D is virtually indestructible and is prepared for tough conditions in boathouses, health clubs, and various training facilities all across the globe.
This machine will deliver you a full-body workout in the comfort of your own home.
Complete newbies and pros alike swear by this rower and have even formed a cult-like following.
As I went through a hundred reviews from various sources, most of them gave this rower a five-star review.
What's more, I used to own this model, and I can only agree with the reviews.
This model has everything to deliver a smooth and powerful full-body workout.
Its flywheel design ensures a quiet rowing session, while its construction is built to last for years and be simple for easy storage.
Its ergonomic design allows for comfort, while its general structure is designed to stimulate a natural hand and arm position while rowing.
Featuring a 14-inch seat and nickel-plated chain, it is perfect for an intense cardio workout.
The Concept2 Model D's construction is designed to distribute force evenly between all muscle groups, and its mechanics allow for a balanced and well-coordinated workout.
In addition, the high-tech PM5 monitor keeps you constantly updated with all the data you need regarding your workout progress by measuring speed, heart rate, distance, and strokes per minute.
The Concept2 Model D is an air resistance rower, meaning the motion will be smooth and will simulate closely actual rowing on water.
It is also capable of adjusting to your effort, meaning the higher a workout's intensity, the higher the resistance.
In other words, no matter how hard you row, it will match your strength.
The construction is very sturdy and will not wear down even after years of regular use.
These models are used in gymnasiums and are therefore built to last.
On top of that, they are also the first choice for the majority of rowing clubs and competitive rowers – which says it all.
The seat is very comfortable even for longer sessions, resulting in a great rowing position.
Also, this model includes the Slide accessory to give you the feeling of rowing on water.
You place the machine on the slides and as you pull back, your machine slides forward, just like being on the water.
Pretty neat!
Pros
Sturdy construction that requires little to no maintenance
Fluid rowing motion for users of any size and age
The included high-tech PM5 to track your progress
Easy assembly and storage
Comfortable handlebars and footplates
Great warranty
Cons
Requires a lot of floor space
Fan is too noisy at times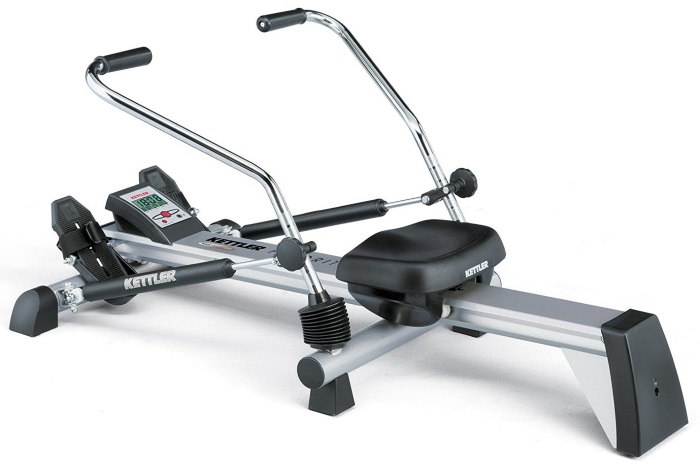 The Kettler Favorit Rower is designed to provide a full-body workout while maximizing toning and weight and fat loss on the thighs, hips, and arms.
This model comes fully equipped with a wide array of features including an LCD digital display, wide comfortable seat, and durable rails.
The LCD also measures your pulse and has an additional heart rate monitor that is linked to the computer in order to track your progress from session to session.
The Kettler Favorit Rower comes from the German manufacturer that is renowned for its finest products, and that provides both a lifetime warranty on the machine's frame and a three-year-warranty for its parts.
This model is an excellent option for improving your muscular and cardiovascular health.
The LCD display measures six parameters simultaneously: time, distance, strokes, energy consumed, pulse rate, and frequency.
There are two hydraulic pistons to deliver resistance.
The resistance levels are adjustable and can be set on each oar to provide a vast and challenging range of resistance and workout levels.
The footplates offer a natural action and a full longitudinal rowing motion.
When it comes to the weight limit, the Kettler Favorit Rower can hold up to 285 pounds.
The Favorit Rower is a great mid-range rower, specially designed for a total-body, in-home workout.
This model is manufactured in Germany, and the German design ensures a high-quality, well-designed durable product that comes with a lifetime warranty on the frame.
It is fully equipped with numerous features that you do not usually find in this price range.
The model also includes a multifunctional performance monitor with a built-in pulse rate monitor to optimize your workouts and track your progress.
This model comes with ergonomically-friendly features, with two adjustable resistance rowing handlebars.
Pros
Solid construction quality
50 levels of adjustable resistance
Quiet, lightweight, and comfortable
Versatile multifunctional monitor
German engineering & great warranty
Cons
Difficult to assemble
The system of measurement is the metric system
Difficult to relocate – no wheels
No backlight in the LCD display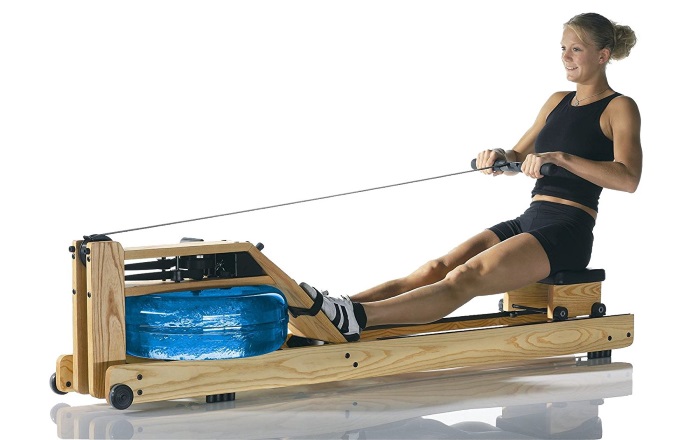 The AshWood WaterRower is above-ordinary for a few reasons.
The first thing you will notice is that it is hand-crafted from top-notch solid ash wood, making it more elegant than most rowing machines.
Also, you should keep in mind that the choice of material and type of wood is not only an aesthetic option for home décor; it also guarantees vibration and sound to be evenly distributed and absorbed.
This ensures that the user enjoys a quieter and smoother rowing experience.
This model provides dynamic resistance, comfortably allowing you to choose the desired level of intensity for your workout.
Its dual rail models and ergonomic seat promise stability, safety, and smooth operation throughout training.
On top of that, the AshWood WaterRower features an S4 Performance Monitor as a user-friendly companion throughout your workout progress, and to deliver accurate and detailed data on speed, distance, strokes, calories burned, and more.
The weight limit is 350 pounds.
This next-level machine will not only last a lifetime but will also add to the aesthetics of the environment in which you include it.
Unlike most other not too aesthetically-pleasing models, this stylish AshWood WaterRower is an inspiring and fresh rowing machine that combines elegance with durability.
Elegance aside, this model is also capable of delivering an intense workout that will have you sweating within a few minutes.
It offers dynamic resistance and adjustable levels of intensity so you can pick the intensity yourself.
However, its best feature may be that it is hand-crafted in Ash Wood, a material ideal for a smooth and quiet workout.
Its construction assures a safe, smooth, and powerful training session, all in one.
Pros
Solid Ash Wood frame
Water flywheel and dual rail
Easy assembly and easy "flip over" storage
Comfortable seat and handles, and smooth and realistic rowing motion
Adjustable resistance by adding/subtracting water from the water tank
S4 monitor can be linked to other workout data for further analysis
Cons
Performance monitor includes only basic features
Footplates can be flimsy at times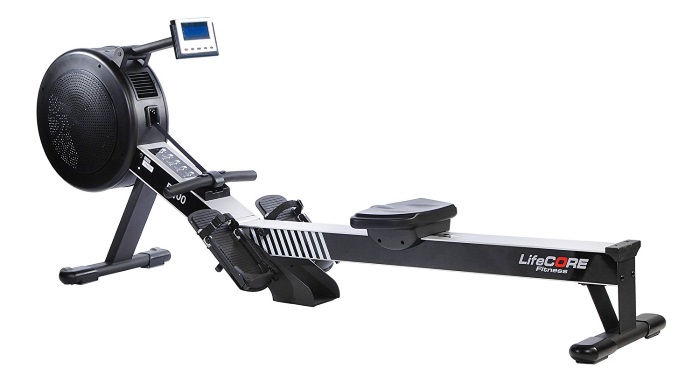 The LifeCore R100 is a commercial-grade, high-quality rowing machine with a few very exciting features that make it a winner for both home use and the fitness club.
What makes this rowing machine special is its resistance system that combines magnetic and air resistance for a quiet and extra-smooth and -controlled full-body workout.
In addition, the LifeCore R100 comes with a high-tech LCD computer display that not only controls plenty of resistance levels and programmed workouts but also delivers most of the data you need to track your workout progress, including heart rate data via an included chest strap.
These features come with very sturdy construction and a great lifetime warranty.
This model's construction consists of the aluminum frame and solid steel to give you a rock-solid feel.
The weight limit goes up to 600 pounds.
The seat is very comfortable, even after a 30-minute rowing session, and it slides quietly and smoothly up and down the track.
The range of resistance will be wide enough for anyone – you can either row fast and resistance-free, or you can ramp up the levels to induce that short, hard burn in your muscles.
The magnetic resistance mechanism allows you to adjust the machine to your heart rate without a need to stop and do it manually.
The ergonomics of the machine are excellent and will suit all sizes and ages.
Thanks to its user-friendly design, you will enjoy a comfortable experience; its tilting footplates ensure the most efficient and injury-free technique.
This quiet, smooth, and challenging model will give you all the data you would want, as well as an amazing warranty.
What's more, it comes with a smart combo that gives you one of the smoothest rowing experiences you can find.
Its air and magnetic combination resistance get your muscle toned and fat burned.
The resistance combination keeps resistance controlled at any desired intensity.
This means you can easily go for a HIIT (high-intensity interval training) workout on your own.
Pros
Air/magnetic combination of resistance with 16 levels
Commercial-grade durability
Smooth, quiet, and natural rowing motion, with 15 pre-set programs
Comfortable, oversized seat
Backlit monitor with 4 heart-rate-control programs
Easy to assemble, and easy to store
Cons


What is a Rowing Machine?
A rowing machine, also known as an indoor rower, is a machine used to replicate the action of watercraft rowing with the aim of training for rowing, or just of exercise.
Modern rowing machines are also known as ergometers (colloquially ergo or erg); an ergometer is a device measuring the amount of work performed.
The rowing machine is designed to measure the amount of energy the machine is using through the user's effort on the equipment.
History
In the 4th century BC, an Athenian admiral named Chabrias introduced the first rowing machine as a supplementary military training device.
Early rowing machines originate from the mid-1800s.
Around the 1900s, a new concept emerged in the form of rowing machines with linear pneumatic resistance.
However, these machines were not as accurate as the modern models, nor did they measure power output.
The first air-resistance rowing machines were introduced around 1980 by Repco.
The Concept2 rowing machine was introduced in 1980 by the Dreissigacker brothers.
The first, the Model A, used air resistance produced by fins attached to a bicycle wheel.
The Model B came with the first digital performance monitor, which turned out to be revolutionary.
The machine's ability to calibrate accurately, in combination with easy transportability, induced the emergence of competitive indoor rowing and revolutionized selection and training procedures for watercraft rowing.
The later Models C (1993) and D (2003) became some of the best-selling fitness equipment of all time.
Benefits of a Rowing Machine
Great for weight loss, building and toning muscles, and increasing stamina, this piece of home equipment is a fitness game-changer.
Rowing machines hit several major muscle groups and will help you develop both your lower and your upper body.
Most importantly, rowing exercise gets your heart pumping and lungs working, delivering a serious aerobic workout.
Check out my top 10 benefits of using a rowing machine to see if this device is the best way for you to get physical.
Deliver Effective Aerobic Exercise
Regardless of your age, a fitness plan that incorporates cardio training (or aerobic exercise) contributes to your overall health on a large scale.
The benefits of consistent rowing include fat loss, an improved immune system, and increased stamina.
Endorphins that are released throughout your cardio workout can also help boost your mood and sleep quality.
Due to these machines' capacity to hit many major muscle groups and increase heart rate and oxygen intake, rowing machines can also deliver a serious cardio workout.
The adjustable resistance on most rowing machines allows you to aim for your target heart rate, as well as to slow back down to your resting rate.
Stimulate Weight Loss
A regular use of a rowing machine will help you burn extra calories, build and tone muscles, and provide you with increased energy.
A rowing machine workout burns an average of 600 calories an hour.
Compared to many other pieces of fitness equipment available on the market, rowing machines are more efficient than most of them.
For instance, a workout on a stationary bike without using arms takes 78 minutes to equal a 60-minute workout on a rowing machine.
Using a rowing machine consistently, combined with a healthy and balanced diet, is a pathway to achieving your fitness goals.
Work Upper-Body Muscles
Rowing machines deliver a stellar upper-body workout.
These devices stimulate the rhomboids in the shoulders, lats in the lower back, and trapezii in the upper back.
The benefits of a stronger back and shoulders include pain reduction in the back, as well as improved posture.
Rowing machines will not exercise only your back, but will also deliver a nice workout for your pecs, biceps, and abs to help you build a stronger core.
You will also develop stronger hands and wrists because the device requires a strong grip on the "oars."
This benefit is a big plus for those who enjoy activities such as climbing or yoga.
Work Lower-Body Muscles
Maybe one of the best benefits of rowing machines is the workout they deliver to the lower-body muscle groups.
In fact, rowing practitioners consider rowing primarily a lower-body workout.
A rowing workout typically involves main leg muscles such as the quads in the upper front of the thighs.
However, the glutes and calves also feel the burn.
As these muscles are bigger compared to the upper-body muscles, it means they will actually burn calories at a faster rate.
What's more, strong lower-body muscles help you look amazing.
In addition to increased muscle strength and tone, resistance training on a rowing machine is a great way to maintain balance and flexibility.
Low-Impact Cardio Workout
For overweight or obese people or those with existing joint problems, high-impact workouts usually carry more risks than benefits.
But the motion of rowing is low-impact, natural, and very easy on the joints.
Like stationary bikes, rowing machines come with a minimal risk of injury and are also a great way to strengthen and condition the knees for the post-surgery period.
Even though there is a risk for back strain, this can be prevented by using correct rowing form.
When rowing with a good posture, your legs are more active, while the pressure is taken off your back.
Increase Endurance
Even though a rowing workout may feel exhausting at first, the long-term benefits of regular rowing exercise come in the form of increased endurance and more energy.
Since rowing exercise includes the cardiovascular system and all your major muscle groups, it goes a step further than many other types of workout equipment.
With consistent use, you will increase your stamina and boost your metabolism.
This gives you more energy, and more energy means more drive for the things you love.
Rowing Machines are Convenient
In modern times, you do not have to live on the water with a boat to reap the physical benefits of rowing.
Now, you can buy an affordable rower and use it in the comfort and convenience of your own home.
Also, at times, it is more challenging to start working out than to complete a difficult workout routine.
This is why uncomplicated and accessible workouts such as rowing are more appealing to many people.
This fitness buddy will keep your company 24/7, be at your service 24/7, and deliver top-notch results.
Rowing Machines are Affordable
There are plenty of rowing machine models on the market, and while some of them are pricey, you still can find many basic models that will not break the bank.
Buying an expensive machine does not necessarily mean quality.
In fact, there are a number of models with extensive features available for under $200.
You may have access to a rowing machine at the gym, but if you are using the device on a regular basis and as your main form of exercise, you can save money in the long run.
Easy to Use
If you are a complete beginner when it comes to working out at the gym, all those complicated workouts may have your head spinning, and you just do not know where to start from.
But have no worries. Rowing machine workouts are relatively simple to learn and are perfect for all ages and abilities.
It is important to keep the proper form while using the device.
This will help you maximize your workout benefits, as well as minimize the risk of injury.
The proper form includes keeping your back straight, your core engaged and rowing in a fluid and smooth motion.
You will get the hang of it in no time.
Rowing Machines are Fun
It is much harder to motivate yourself when you are reluctant to do something – be it for fear, or lack of motivation, or some other reason.
Since rowing is a full-body workout, it is easier to stay engaged while doing it.
What's more, as there is an option to adjust resistance, you can increase it as you climb up the rowing ladder.
Crank up the speakers and row to the rhythm of your favorite tracks, switch on your favorite TV show, or recruit a workout buddy for extra encouragement.
Once you become a professional, it will be a treat to hop on your rowing machine and start exercising.
How Rowing Machines Work
The mechanism behind rowing machines is not complicated.
There are a few things you should know to get to know this device better. It starts with the type of resistance a rower uses.
All rowing machines include an energy dumper, or braking mechanism, connected to a handle and/or chain.
A foot stretcher (where you place your feet) is attached to the same mounting as the energy damper.
Most models include a rail which either the mechanism or the seat slides upon.
Different machines have a number of different layouts and damping mechanisms, each of which has their pros and cons.
Air Resistance Rowing Machines
Fan resistance, also known as air resistance, is produced by a flywheel that houses a fan with large blades, the rotation of which creates wind resistance.
The level of resistance is determined by the exertion on the flywheel.
More fore equals more resistance; however, some models do allow adjustments to the flywheel, which has an impact on the resistance level.
Magnetic Resistance Rowing Machines
Magnetic resistance operates similarly to the flywheel on most recumbent and upright exercise bikes.
There are magnets that are placed close to the spinning flywheel to create drag.
The amount of drag, and therefore the resistance, can at times be controlled by a lever or electronic system which positions the magnets closer to or further away from the flywheel.
Water Resistance Rowing Machines
Water resistance is the most realistic type, as the drag is created by forcing the rotating blades of the flywheel to move through a tank of water.
Like fan resistance, water resistance is increased or decreased by the rower exerting more force during the stroke.
Depending on the manufacturer, WaterRower tanks are either positioned horizontally or vertically.
This means that at the beginning/end of a stroke, water in a horizontal or sloped tank is slowed for a moment, creating lag which can disrupt the user's rhythm.
Hydraulic Resistance Rowing Machines
This type of rowing machine is typically the cheapest and is usually a compact, small machine that has a hydraulic flywheel underneath the sliding rail.
It is not generally the best quality and is susceptible to malfunctioning when used consistently.
Each of these models has their pros and cons and can compete with other models in various ways.
Therefore:
If you are looking for a quiet machine, opt for a magnetic rowing machine.
The sound of the blades cutting through real water has been cited as a benefit, being both realistic and even therapeutic.
If you are looking for the dynamics of the rowing motion, an air or water rowing machine is highly likely to be your first pick.
If you are looking for a cheap model, buy a hydraulic one.
Indoor Rowing Technology: Computers & Monitors
Just like with any other piece of fitness equipment over the past few years, rowing machines' technology has advanced substantially.
Nowadays, all rowing machines come with a computer or monitor that measures time, speed, and distance.
Some of the more advanced computers measure heart rate and can communicate with the latest heart monitors.
Concept2 monitors allow you to track your progress and performance data throughout a ride in a number of different ways.
You can track a pace boat comparison, bar chart, force curve, or raw data.
The Concept2 PM4 monitor offers heart rate connectivity, and also includes a built-in mechanism that supports wireless racing between up to 8 machines with no computers or extra equipment needed.
How to Use a Rowing Machine
Rowing machines used to collect dust in the corner of your gym.
However, over the past few years, rowing has become popular thanks to CrossFit and workout studios that either include or are completely dedicated to the simple rowing machine.
Not only will a rowing workout of one hour burn up 600 calories, but it will also work all the muscles in your body, standing out as one of the most effective workouts.
However, unlike jumping on the treadmill or spinning away on a stationary bike, it takes extra knowledge to use a rowing machine.
The first thing you should do is to strap your feet into the foot stretchers.
You should fasten your feet tightly, making sure that they will not slide around.
This is the starting point for your stroke, called the catch.
Bring your knees up and reach for the handlebar at the front of the device.
You should slightly tilt your torso forward over your legs, but make sure you are also keeping your spine straight with good posture.
Tip: Imagine as if there is a steel bar in your spine.
This will help you remember that you should not bend your spine.
You should be hinging forward at your hips.
Here is where the legs come into play.
Using your leg muscles, you should be pushing off the footplate, thereby engaging your hamstrings.
Tip: Most people think that the arm muscles are what do most of the physical job while rowing.
Well, this is completely not true; the breakdown is about 60% legs, 20% core, and 20% follow-through with the shoulders and arms.
Therefore, focus on your legs when you push off from the catch.
Start to lean back into a 45-degree angle to focus on your core muscles.
Once you have reached that angle, hit your chest (lightly) by pulling the handlebar back toward you.
Keep Your Shoulders Working
This part is called the finish.
You should keep your shoulder blades together, and focus on how your core muscles are holding your body up into that slight angle.
Rowing is a repeated movement.
Once you complete the first 5 steps mentioned above, you then reverse the movement back up to the catch.
Extend your arms out, pull your torso forward, bend your knees, and bring your legs up to the top of the machine.
Tip: Try not to shift around on the seat because this may result in twisting in the wrong way – imagine as if your butt was glued to the seat.
What to Look for in Rowing Machines
Unlike some exercise machines that only work for certain muscle groups, a rowing machine can be a stellar investment due to its capability to engage the entire body while simultaneously burning a few hundred calories.
For this and other reasons, rowing machines are perfect for weight loss and muscle toning.
On top of that, one of the major benefits of these devices is that they put minimal pressure on the joints, making them suitable for men and women of all ages.
However, before you rush out and purchase one of these rowers for your home, there are some points you should take into consideration, which are as follows:
One of the biggest factors to take into consideration is the type of resistance.
This point is essential because it determines the feel and quality of your workout.
There are basically four different types of resistance – air, magnetic, water, and hydraulic rowing machines.
Even the cheapest of models usually includes an LCD display of some type, but it is worth mentioning that some displays will be quite small and will only show a few key indicators, whereas others will be a lot larger and easier to read, and will show lots of important parameters so that you can track and analyze every detail of your workout.
Also, some of the better rowing machine models will also have backlit displays, making them easier to read.
Workout Programs/Performance Data
In case you are not a total fitness newbie and would like to make an in-depth analysis of your workout, you might want to buy a rowing machine that includes some kind of data export feature, or the ability to connect to a fitness app, for instance.
Also, you might want to buy a rowing machine that includes a variety of workout programs so that you can modify your workouts to continue to challenge yourself.
If you are younger and mobile, then the seat height shouldn't really be too much of a problem.
However, if you do have certain mobility issues, or have unstable knees, you might want to look for a model that is slightly higher off the ground.
Many of the rowing machines tend to be close to the floor, which makes it harder for people with mobility problems to get on and off.
You might also want to check the design of the seat, as some will be more padded than others.
Many of the cheaper rowing models are smaller in size, lighter in weight, compact, and can often be folded away.
On the other hand, top-end machines tend to be bigger, take up a lot more room, and cannot always be folded away while not in use.
Also, bear in mind that you need to add a little bit extra onto the quoted product dimensions.
This is because the actual space you will need while working out will always be slightly more than the quoted dimensions.
Weight Limit/Build Quality
If your body weight is under 250 lbs., then you should be able to use most rowing machines without any problem.
However, if you are overweight or obese, or just very large and muscular, you may exceed the weight limit for some small- to medium-sized rowing machines.
Therefore, it is always a good idea to check the weight limit prior to purchasing.
Unfortunately, there is always a chance that your rowing machine will break down eventually after regular use.
For this reason, you should check your warranty conditions, because these vary from one machine to another.
What to Avoid in Rowing Machines
If you are anything like me, you tend to learn from trial and error.
However, this article should help provide you with some information about mistakes to avoid when buying a rowing machine.
Space is really important.
After all, you do not want to be banging your elbows or knees against the wall, right?
Also, keep in mind that hydraulic rowing machines are usually smaller and that there are some models that can be folded and hence can be stored basically anywhere.
The Importance of Resistance
Prior to buying a rower, make sure to do research on the different types of resistance.
This is essential because it will affect your workouts.
There are 4 types of resistance in modern rowing machines; make sure to get to know them all, so you can decide for yourself which one is the most suitable for you.
Looking back, I realize that height is crucial when choosing a rowing machine.
It is important that your body fits comfortably, that the seat is right for you, and that the seat rail is long enough for your legs to stretch all the way with no problem.
One of the deciding factors when buying a rowing machine is the amount of noise that a machine makes.
Now I know that hydraulic and magnetic rowing machines are usually quieter choices.
What also surprises me is the fact that many people even like the swooshing sound the former makes.
Air rowing machines tend to be a bit noisy, but remain popular due to their flowing and smooth action.
One of the mistakes I made was not doing thorough research on the price range of various rowing machines.
You should not assume that spending more money is a guarantee for the best machines.
Take your time to get to know each model and which one works the best for you, and you may be surprised at how affordable that model can be.
Precautions
Rowing machines put the burn on your thighs, butt, and biceps without the need to set foot in the water.
If you use the machine improperly, however, you may be in for a little more burn than you bargained for.
Even though some safety tips apply universally, you should always consult the machine's instruction manual, or speak with your gym's staff for safety instructions specific to each rowing machine.
Before sitting down for your first workout on the machine, keep in mind that misuse of the equipment can be harmful both to you and to the machine.
Make sure that the machine is securely weighted, and placed on a level and stable surface – preferably resting on the carpet – before you hop on.
Otherwise, you will find yourself on a not-so-stationary machine.
Keep it in the locked position when monorails and flywheels are attached, and never use the attachments that are not intended for use by the machine's manufacturer.
Bad form increases the risk of injury and soreness, which is why much of your safety relies on proper use.
Always tightly strap in your feet and keep your back straight, not arched, as overextending your back can lead to a slipped disk.
Likewise, do not lean too far back, which might lead to back strain.
Point your toes straight ahead to prevent ligament strain.
Never turn or twist the handlebars, and always keep both hands on their respective handlebars.
Focus on a consistent, controlled motion throughout your workout.
A thorough and healthy warm-up prepares your muscles for training and promotes a full range of motion which reduces the risk of injury.
Perform a 5- to 10-minute workout warm-up that dynamically stretches your quads, calves, and hams, such as some easy rowing on the machine or a quick jog.
Cool down with another 5 to 10 minutes of static lower-body stretches and light rowing to get your body back to its normal operating state.
Start small with light, short rowing sessions, and gradually increase your intensity and volume over the following weeks.
If you are one of those people who sweats a lot, invest in a pair of gloves or chalk up your hands – these tips will help you avoid the dangerous temptation to go one-handed as you wipe away sweat.
Wear comfortable, form-fitting clothes, and make sure that the space around the machine is clear.
Follow any instructions for maintenance provided by the manufacturer, and always lock the machine's frame before relocating it.
Conclusion
A rowing machine workout will allow you to target the majority of your muscle groups and give them as difficult and challenging a workout as you feel like giving.
Quality rowing machine models will also allow you to track your progress and see how your splits are improving.
As previously explained, a rowing machine workout provides more than just a cardio workout.
It can definitely help you lose weight and build and tone your muscles.
The rowing machine works more of your body, in comparison to a treadmill.
It will really hit your hamstrings, quads, glutes, shoulders, core, arms, and back in an effective and low-impact way that is easy on the joints.
Bigger muscles need more energy to work, which leads to burning more fat and thus healthy weight loss.
Once you decide to buy a rowing machine, you are most likely to be at a loss as to which type to purchase.
No matter how far into your hunt you are, I hope this complete review has helped you get to know and understand the world of rowing machines a little more clearly.
The best rowing machine is the one that fits your body and your budget.
Your muscles, heart, and mind will thank you!
FDA Compliance
The information on this website has not been evaluated by the Food & Drug Administration or any other medical body. We do not aim to diagnose, treat, cure or prevent any illness or disease. Information is shared for educational purposes only. You must consult your doctor before acting on any content on this website, especially if you are pregnant, nursing, taking medication, or have a medical condition.
HOW WOULD YOU RATE THIS ARTICLE?