17 Simple Healthy Breakfast Ideas
Why Breakfast
Does breakfast really do the body good?
The short answer is yes, but only if you're feeding your body the right foods.
Whether you find yourself in the office or the gym early in the morning, eating breakfast is essential for great health in your body and your mind.
Your first meal of the day builds energy and provides your body the fuel it needs to stay charged for the rest of your morning.
Not to mention the fact that it fills your body with all the right nutrients to keep you feeling healthy and happy.
Of course, breakfast is only what you make of it.
Eating a giant bowl of chocolate cereal or highly refined, low nutrient-filled bagels isn't going to have that healthy impact you're looking for.
Instead, make sure you get a healthy breakfast filled with a fair mix of fiber, protein, and calcium, and you'll be setting yourself up for a great day ahead.
In this article we'll be sharing why breakfast is important, the many benefits of eating breakfast every single day, and 17 deliciously easy, healthy breakfast recipes that'll have you excited to get out of bed in the morning.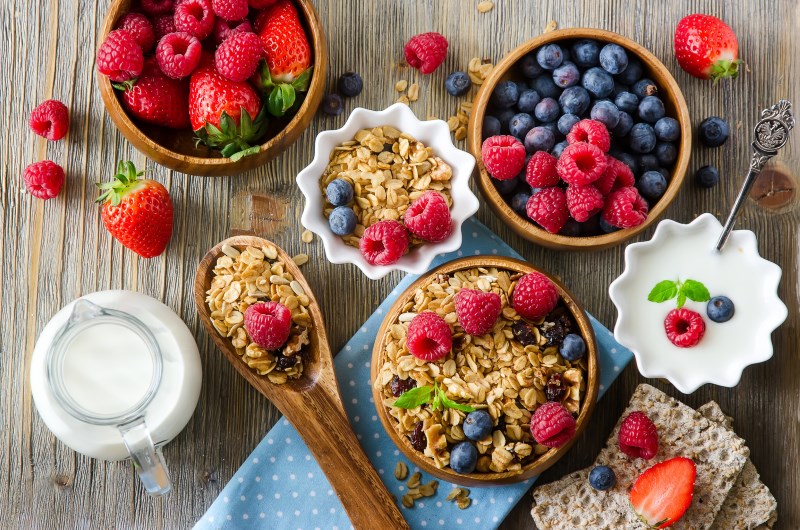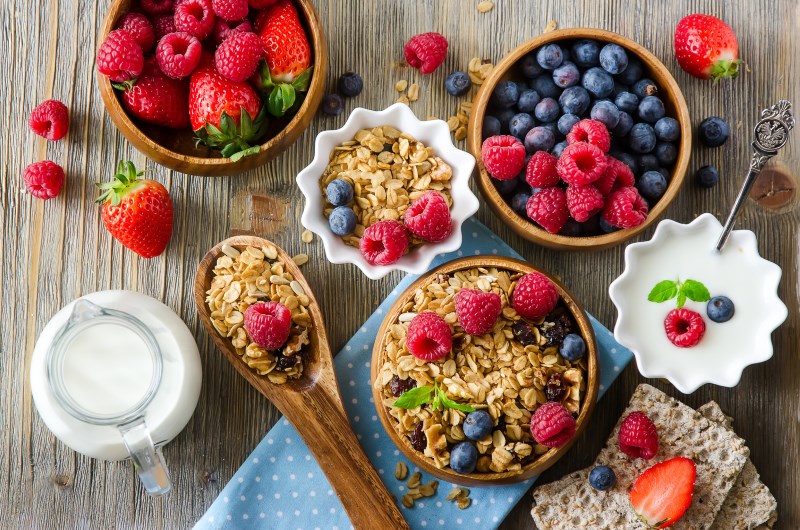 The Benefits of Eating Breakfast
Your body is unique and it's the only one you get in this life; so why not take care of it to the best of your ability?
Skipping breakfast is as if you're purposely hurting your body.
According to a 2011 survey by NPD, 10% of Americans skip breakfast daily. (1)
It isn't exactly a habit you'll want to mimic.
Still not sold on the idea of breaking the fast?
Here are 3 amazing examples of why you should be eating a healthy breakfast every single morning.
Good for Your Physical Health
NPD's study found that more than 31 million Americans skip out on breakfast each day, with males being the more likely culprits.
Skipping breakfast can have a huge impact on your physical health.
According to a study by the American Journal of Clinical Nutrition, the risk of type 2 diabetes rises when breakfast is regularly skipped.
Similarly, this study shows that a healthy diet may help reduce the risk of cardiovascular diseases, especially in men from 45 to 80.
Give your body the energy it needs and combat future health problems such as heart disease and type 2 diabetes by devouring a healthy breakfast each morning. (2)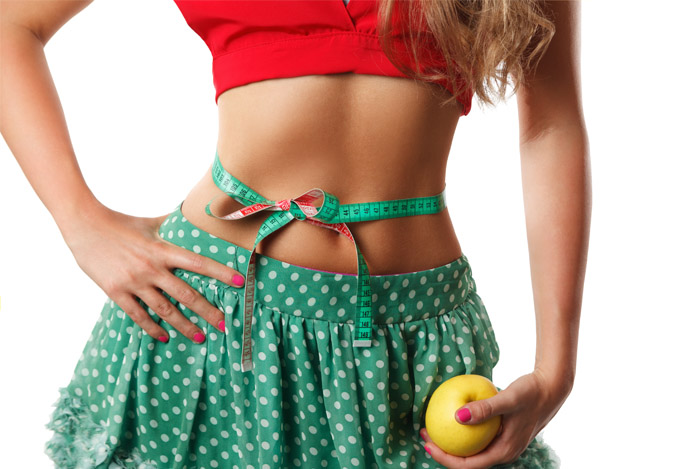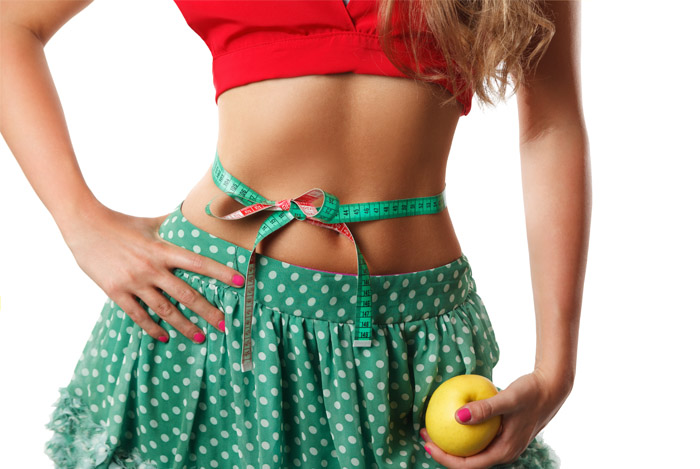 Helps Maintain and Lose Weight
Whether you're a gym goer or just looking to maintain a healthy body shape, breakfast is going to be your new best friend.
Not only does breakfast literally "break the fast" of sleep and get your metabolism running again, but studies show that those who choose healthy options for breakfast, often eat healthier meals for the rest of the day.
Some studies even suggest that those who partake in a healthy breakfast are more likely to lose weight than those who skip the first meal of the day.
Obesity is a growing concern; a healthy breakfast can start your meal routine off on the right track.
According to a 2011-12 study, the numbers of overweight or obese adults in America reached an all-time high of 68.6%, with equally dismal percentages in childhood obesity (3).
This trend can be curbed, especially in children, by instituting healthy meals including breakfast on a daily basis.
Good for Your Mental Health
Eating breakfast may actually make you smarter!
Choose breakfasts filled with omega-3, iron, whole grains, antioxidants, and foods rich in fiber to ensure a great source of energy and brain-boosting powers (5).
Not only are these foods great for maintaining your physical body health, they also improve your memory and support cognitive functions.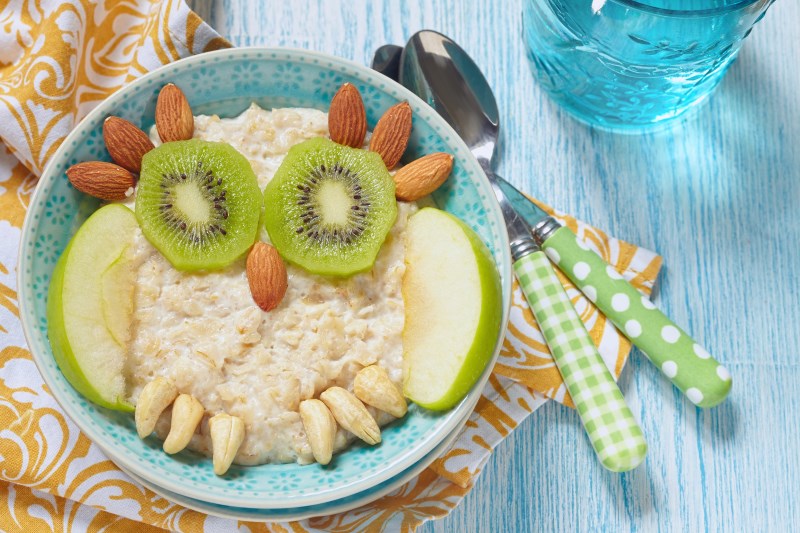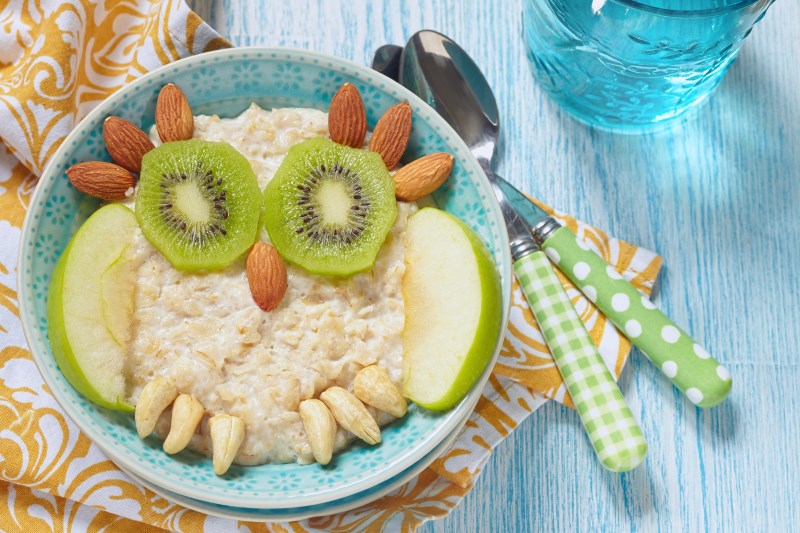 Why Do People Skip Breakfast?
So why do people skip breakfast if it's so good for them?
If it's widely known that breakfast really is your most important meal, why do so many people forgo this nutritious start to their day?
NPD's breakfast study cited the most common reasons as:
Having too little time to make breakfast in the morning.
Not being hungry enough for breakfast in the morning.
Running late or being too busy to make a healthy breakfast.
Other reasons include a weak stomach in the morning, no healthy foods readily available at home, and being too tired.
Want to make sure you're giving your body the best breakfast possible? Keep reading to see how you can make breakfast a regular part of your day.
Breakfast Preparation Tips
Now that you know how essential it is to start your day off with a meal, it's time to put your plan into motion and start benefiting emotionally, physically, and mentally from your new breakfast routine.
If you're feeling a bit iffy about how to pull off a healthy and filling meal every morning given your chaotic schedule, fear not.
We're looking at 4 ways you can make your morning breakfast a much easier habit to maintain.
From meal preparation to managing your expectations, here's how you can make a healthy breakfast a realistic and amazingly easy part of your morning.
If you are making it your goal to eat a healthy breakfast each and every day, make sure you are setting reasonable goals.
Only do what you can do according to your schedule.
For example, you are not going to have the time to prepare a luxuriously large and healthy meal in the morning if you're in a time-crunch or if you have to get your children off to school in a hurry.
Failing to reach your health goals every day may discourage you, so fight this deterrent and get excited about reaching your breakfast goals.
Making breakfast every morning doesn't have to be a chore, nor does it have to be difficult or even take too long!
Start off your new vow of a healthy morning breakfast by making a timetable.
Figure out exactly how much time you have in the morning to prepare breakfast for yourself or the entire family, as well as whether you need more time to prepare lunch for your children before sending them off to school.
Or gauge how much time you will need to get up, shower, get ready for work, all while giving yourself the time needed to make a healthy breakfast choice for your body.
Prep Your Meals Beforehand
One of the easiest ways to ensure you'll have the time to grab some grub each morning is by doing some meal prep the night before.
This can include packaging up some easy pre-made meals such as hard-boiled eggs or overnight oatmeal, and making and storing some protein pancakes.
Another option would be mixing together a veggie omelet or smoothie and storing it in the fridge for easy grab-and-go breakfasts each morning.
Now that you've gone through the process of prepping your meals to ensure you get a healthy, balanced breakfast in the morning, you're going to want to set an alarm.
After all, what's the point of going through all of that meal-prepping if you're going to sleep through your first meal of the day?
Alright, so it may be nice to sleep in, but we promise that you'll enjoy waking up to an energy-boosting breakfast more than sleeping for 15 extra minutes.
Breakfast doesn't have to be complicated with these simple steps.
Before long, you'll be a master of breakfast prep and making healthier choices for your body.
All you'll need are some fabulous early-morning recipes to get you started.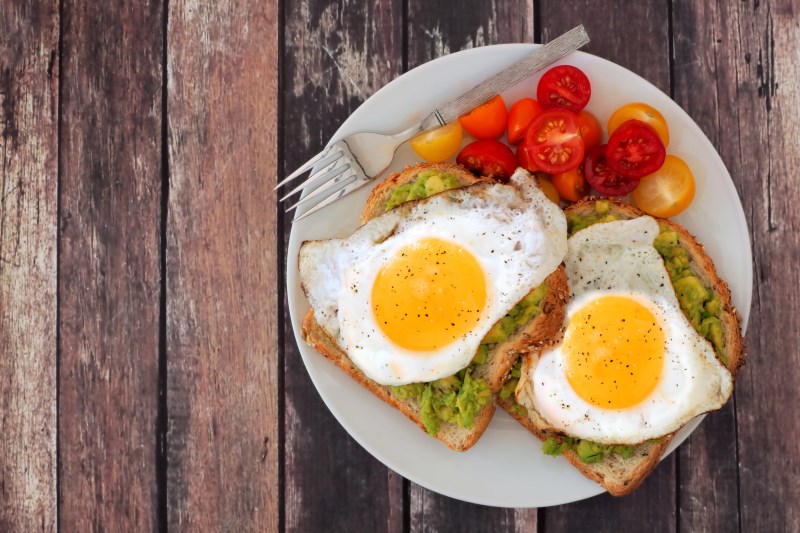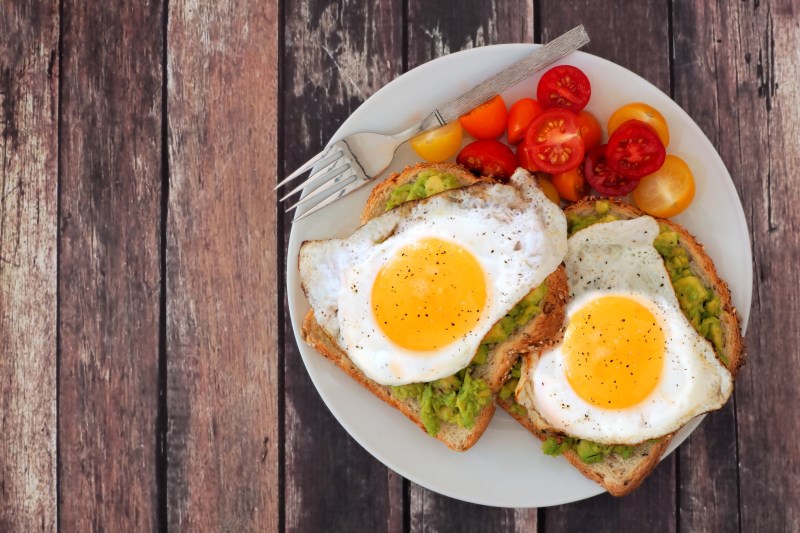 17 Healthy Breakfast Ideas
Breakfast is part of a healthy diet.
Now that you know why people skip it and how to prepare your mind and body for breakfast every morning, it's time to give up the goods – the recipes!
We're looking at 17 healthy breakfast ideas you can make every single morning.
If your time to spare on breakfast preparation varies from no time at all to a few minutes, we've got you covered.
If you're looking for a healthy and quick breakfast bite, we have all the recipes you could ever want to get your morning started.
Healthy Breakfast Ideas To-Go
Do you have to be up, showered, and out the door first thing in the morning?
That's still no reason to skip out on the most important meal of the day.
These are 5 recipes you can take on-the-go for a no-fuss-no-muss breakfast.
Breakfast Box
A breakfast box is a quick and easy way to pack a breakfast full of healthy options that can easily be taken on-the-go.
This breakfast option can be prepped the night before or within just a couple minutes of waking up.
Simply grab a plastic container and pack your box with:
2 hardboiled eggs (156 calories combined)
1 dipping cup filled with 1 TBSP organic peanut butter (100 calories)
1 sliced apple (116 calories)
Apples are also a great option for an on-the-go breakfast because they contain fiber which is helpful in aiding your bowels and digestion.
Apples also contain antioxidants which can help the body combat diabetes, heart disease, and may reduce the risk of cancer (8).
This breakfast is not only healthy, it's a mere 372 calories!
That's a healthy breakfast that you can take on-the-go and is packed with vitamins, healthy fats, amino acids, iron, and plenty of protein to keep you energized throughout the day!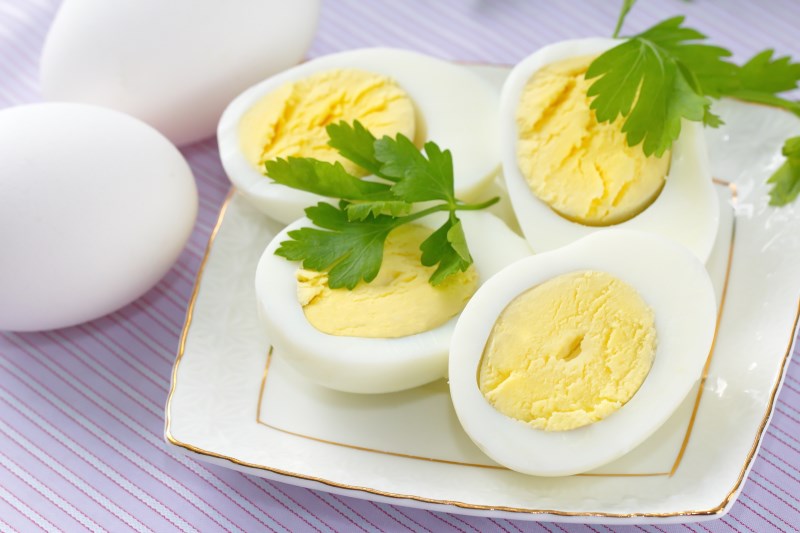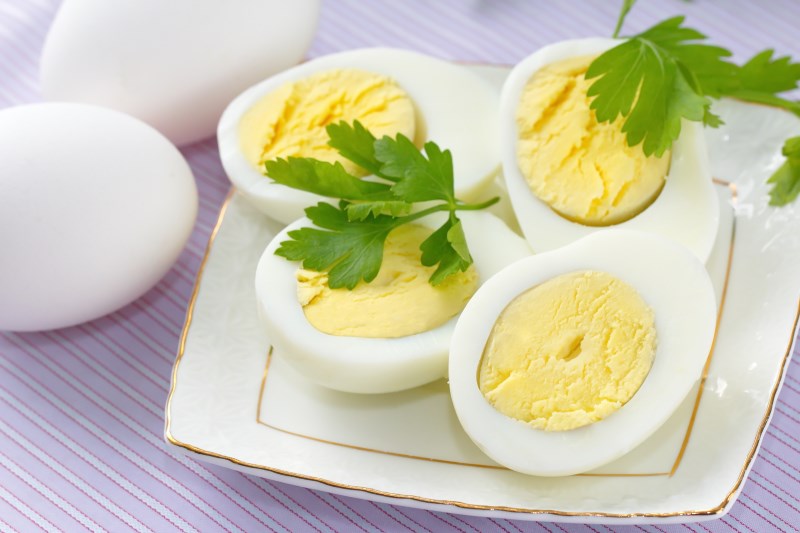 Hardboiled Eggs
Hardboiled eggs are a great option for breakfast.
Eggs contain plenty of nutrients needed to keep you going throughout the day.
One large egg contains a mere 78 calories, 6.3 grams of protein, and is full of vitamin D, A, E, K, B12, B6, copper, iron, and selenium.
Egg whites are also full of healthy cholesterol.
You can eat your hard-boiled eggs on their own, in a salad, dipped with delicious toast points, or mashed on whole-wheat bread.
Recipe:
Fill a small pot with two cups of water and bring to a boil.
Once boiling, set the eggs carefully inside the water.
Do not crack the eggs.
Boil the eggs for 12 minutes or until they begin to crack.
Let the eggs cool completely and peel the shell from around them.
*Tip: Older eggs are great to hard boil because their shells are easier to peel. Typically, eggs that are 7-10 days old will be perfect for peeling because the shell will have gotten thinner over time.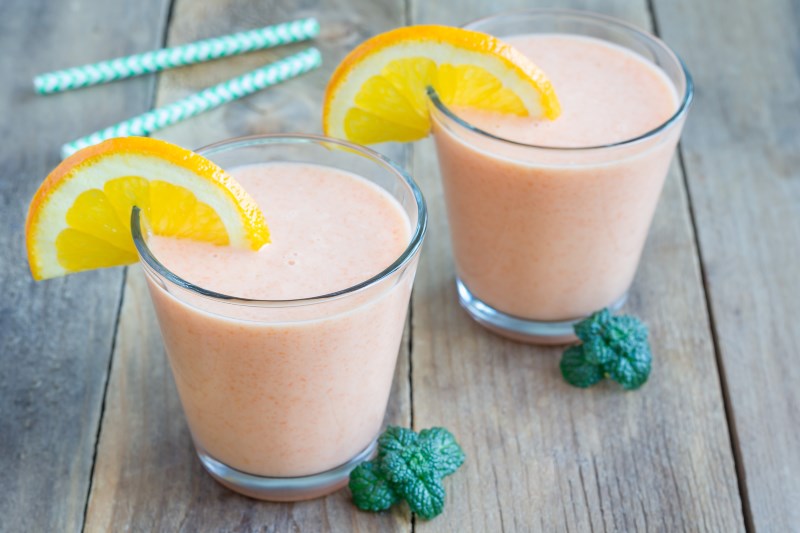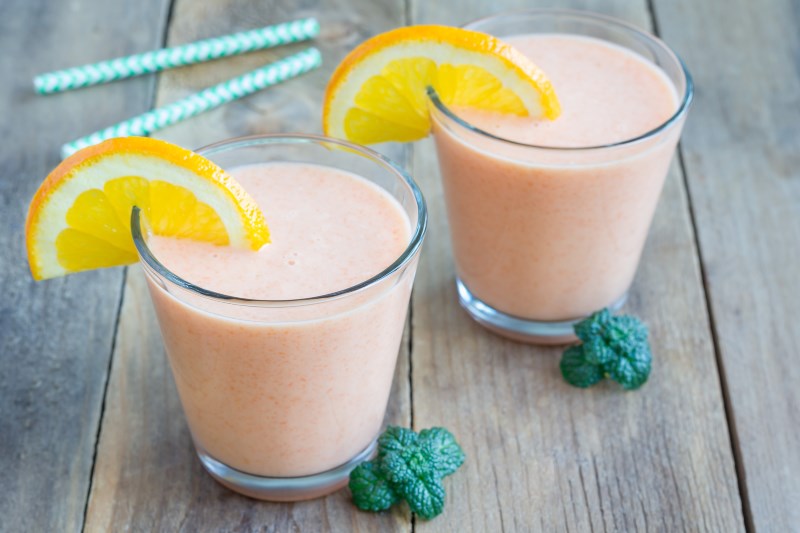 Carrot Cake Protein Shake
Protein shakes are a fun way to take breakfast on-the-go and to avoid drinking your over-sugared calories at your local coffee shop.
They're also a great way to sneak some fruits and veggies into your morning diet.
Adding protein powder to your morning smoothie is also fantastic in helping build muscle (for those who are all about that gym life!) and feeling fuller for longer periods of time.
Make your protein shake uniquely yours by adding your favorite ingredients along with a scoop of protein powder.
Here is one delicious take on a protein shake.
Recipe:
1 frozen banana
1/2 cup carrot juice
3/4 cup almond milk
1 scoop vanilla protein powder
Dash cinnamon
Handful of ice cubes
Blend your shake until smooth and enjoy the 17 grams of protein and 5 grams of fiber this particular recipe has to offer.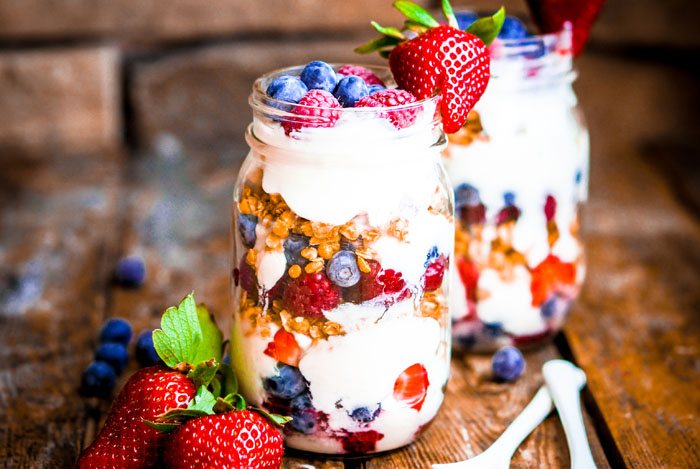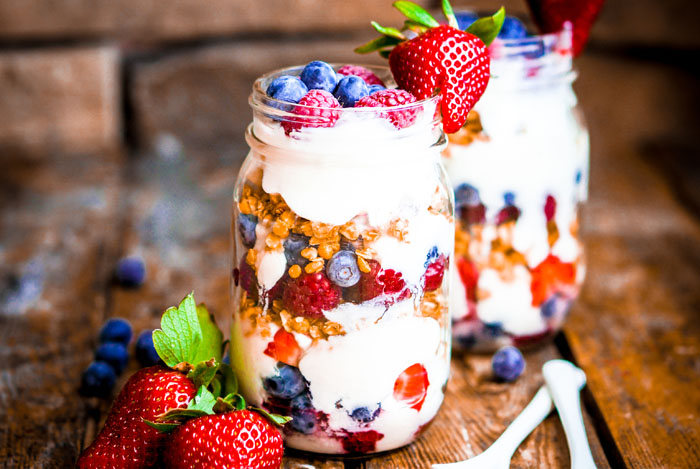 Healthy Fruit and Yogurt Parfait
A parfait is an easy to-go breakfast item that doesn't require much time or thought.
This healthy snack tastes fresh and delicious, and can be made the night before for an even easier morning breakfast.
Make sure you're using Greek yogurt, as opposed to sugary store brands when creating your parfait.
Greek yogurt has taken over as the new healthy way to do dairy.
Unlike other mixable store brands, Greek yogurt contains less sugar and carbs and has more protein, vitamin B12, calcium, probiotics, and potassium.
These are all great ingredients to have in the morning because they fuel your body. Some even use Greek yogurt as a workout recovery food because it contains healthy protein.
Recipe:
Grab a Mason jar for easy on-the-go handling and layer it with:
4 tablespoons of Greek yogurt
Berries, peaches, or fruit of your choice
4 tablespoons of Greek yogurt
More fruit
Continue to layer to your heart's delight and top with some organic granola.
Note: There are 20 grams of fat per 100 grams of granola. Some brands contain more sugar per serving than a can of Coke, so go easy on the granola. You could also make your own granola to ensure healthy ingredients are being used.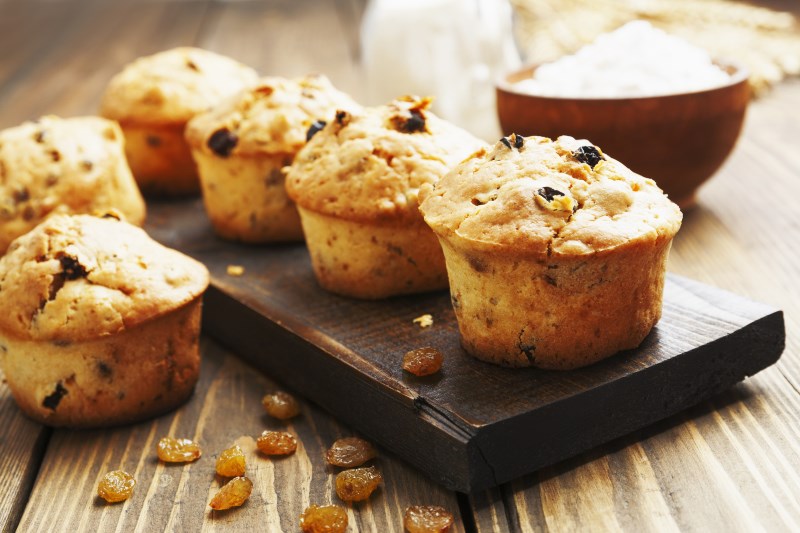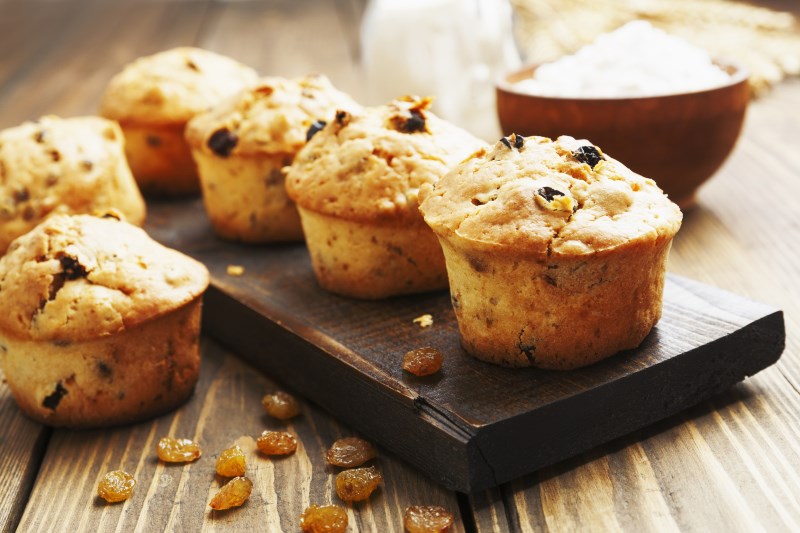 Healthy Morning Muffins
What's easier than grabbing a muffin when you're on the run in the morning?
Not only is this breakfast muffin simple to make and easy to eat, but it's also delicious and pairs perfectly with your morning cup of coffee.
You'd probably grab a muffin while you're heading to the office anyway, so why not make it healthy?
This yummy recipe is easy to make and completely customizable.
Simply add any fruit or healthy ingredients of your choice for a personalized morning muffin.
Recipe:
1/4 cup all-purpose flour
1 cup rolled oats
1/2 cup raisins
1/2 cup dark brown sugar
1/2 tsp cinnamon
1/2 tsp baking soda
1/2 tsp baking powder
1/2 tsp coarse salt
Preheat your oven to 400 degrees F. Mix dry ingredients together until well-blended and then begin to add wet ingredients.
1/3 cup skim milk
1 egg
3 TBSP extra-virgin olive oil
4 shredded carrots
1 banana
Stir until well-combined, distribute into muffin tins, and bake for 20-25 minutes or until a toothpick inserted comes out clean.
These deliciously healthy muffins are easy to make the night before and store 3 days in an airtight container. Happy breakfasting!
Breakfasts Prepped the Night Before
If you're itching to get into the breakfast game but doubt you have the time to get yourself organized in the morning, then these breakfasts are for you.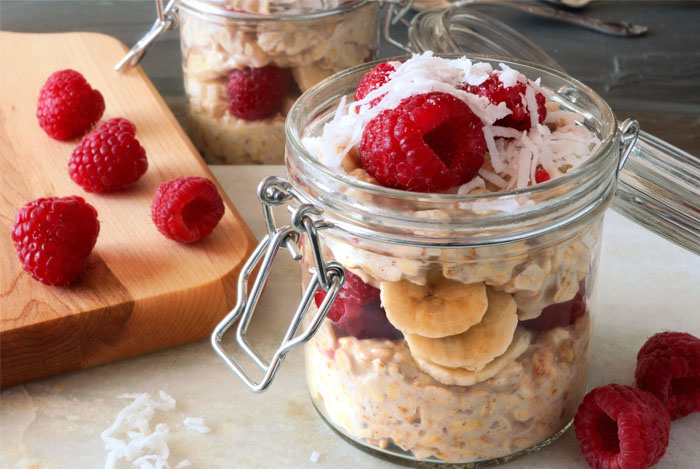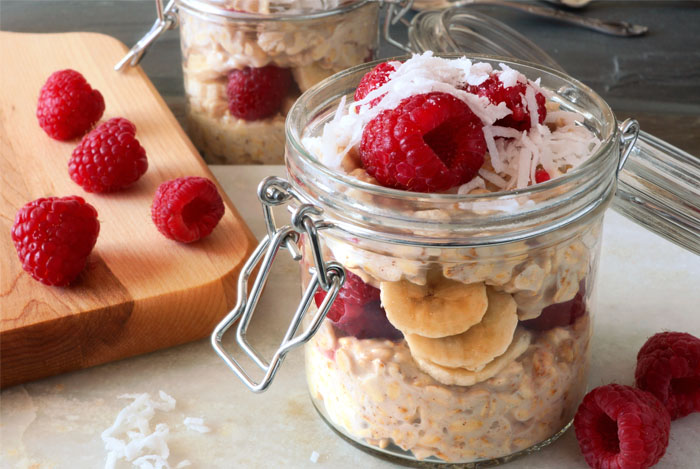 Overnight Oats
There's a reason people have been eating oatmeal since the good old days – it's packed with healthy benefits.
Oatmeal curbs bad cholesterol and is full of fiber, which helps with digestive issues, feeling fuller for longer periods, and in controlling blood sugar (9).
Keep away from instant oatmeal packets and stick to steel cut oats to get the healthiest benefits possible.
Who says you can't have dessert for breakfast?
Not only will this delicious overnight oat recipe have your mouth watering, its healthy proteins will give you the boost you need to keep going until lunch.
Recipe:
In a sealable Mason jar, add:
1/2 cup pure, sugar-free pumpkin puree
1/2 nonfat Greek yogurt or low-fat milk
1 TBSP sugar substitute such as Truvia or honey
1/4 cup steel cut oats
1/4 tsp cinnamon
Seat the jar and shake or stir until the mixture is thoroughly combined.
Refrigerate for 8 hours or overnight.
The next morning, simply pop the lid and enjoy!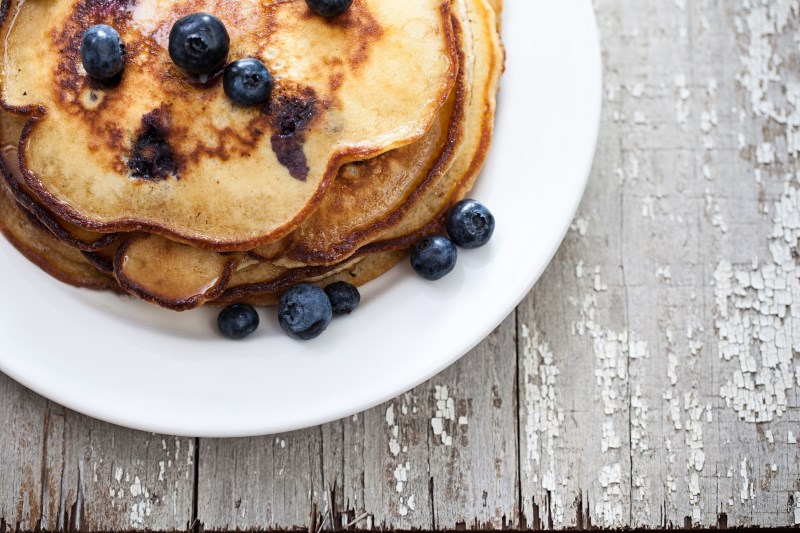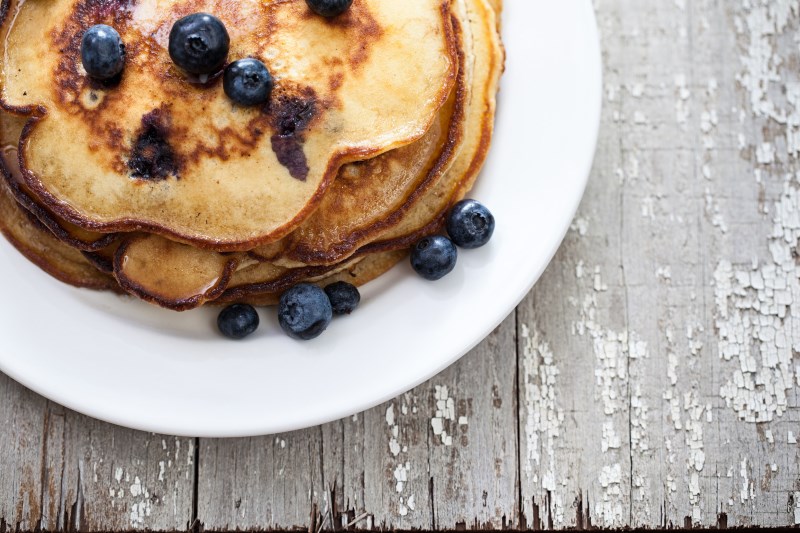 Blueberry Protein Pancakes
Protein pancakes have quickly made their way into the workout circle as a delicious form of clean eating.
Protein aids in the development of body chemicals and helps the body repair tissue.
It also helps build bone, muscle, hair, nails, and this is only a shortlist of its benefits!
Protein pancakes taste amazing, have relatively few ingredients to fuss with, and can be eaten guilt-free!
This pancake mix can easily be made the night before, with the pancakes to be prepared fresh in the morning.
Alternatively, you could even make them the night before and store in the fridge for reheating in the morning.
Recipe:
1/2 cup oats
1/2 tsp baking powder
3/4 cup of Greek yogurt
1/2 scoop of vanilla protein powder
1/2 banana
1/2 tsp vanilla
1 egg
1/4 cup blueberries (fresh or frozen)
For a quick and simple assembly, combine all the ingredients (minus the blueberries) into a blender and process until smooth.
Add blueberries to the completed mixture.
Heat a frying pan or griddle over the stove on medium heat.
Coat the pan with a low-fat nonstick spray.
Dollop the mixture into the hot pan and wait for bubbles to appear.
Once bubbles rise to the top of the pancake, flip them over.
Continue until your batter is gone. Feel free to sub out the blueberries for your favorite fruit.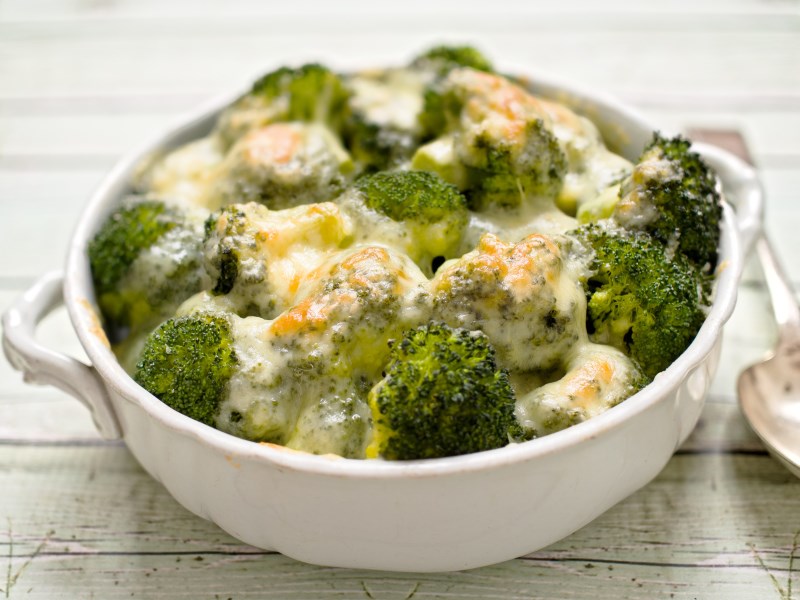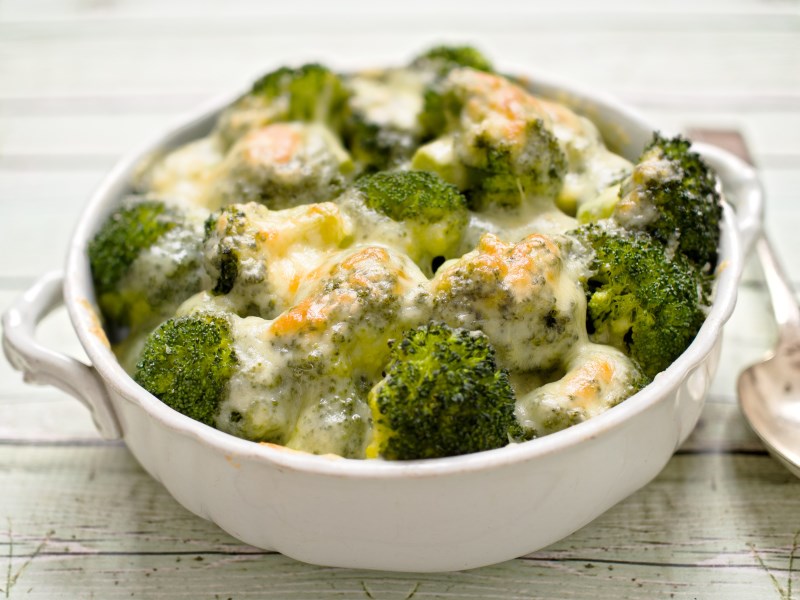 Low Carb Broccoli Breakfast Casserole
Broccoli is delicious in many forms: in a wok, roasted, mixed with pasta, sprinkled with cheese, and our favorite – mixed with eggs.
In this healthy breakfast casserole, we have an easy low-carb breakfast that's perfect for a quick morning meal.
This healthy green veggie contains folic acid, which is integral to red blood cell production.
It is also a carrier of potassium, which decreases the risk of stroke, heart problems, kidney disorders, high blood pressure, stress, and is essential for electrolyte functions and a healthy metabolism.
Vitamins C and K are also found in broccoli.
They protect the immune system, contribute to healthy skin, battle cardiovascular diseases, transport calcium, assist in blood clotting, and help the body react to injuries.
All in all, this vegetable's health benefits and yummy taste make it the perfect food to start your day with.
Recipe:
6 eggs
1 TBSP low-fat milk
1/2 cup broccoli
1/2 cup low fat cheese
Salt and pepper (to taste)
Preheat your oven to 375 degrees F and grease a casserole dish.
Cook your broccoli until it has reached your preferred tenderness.
Opt to steam your broccoli instead of boiling it in water – it will retain more of its nutritional values.
Once your broccoli is cooked, allow it to cool.
In a separate bowl, mix eggs, milk, salt and pepper, and stir until well-blended. Pour the egg mixture into the casserole dish.
Add broccoli to the casserole mixture and sprinkle with low-fat cheese.
Bake for 25 minutes until the top is beautifully browned and eggs are fluffy.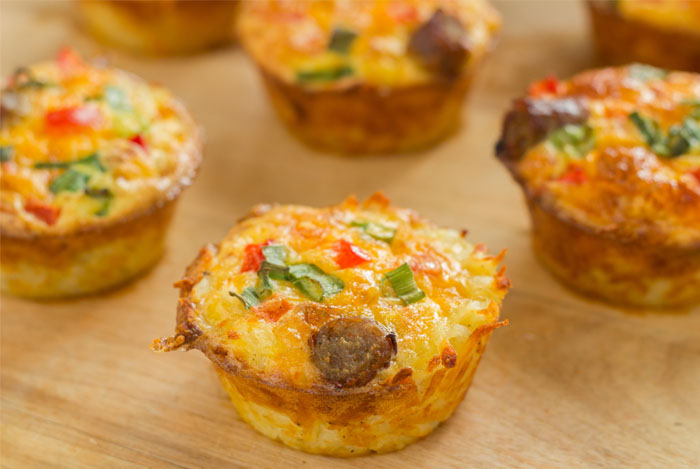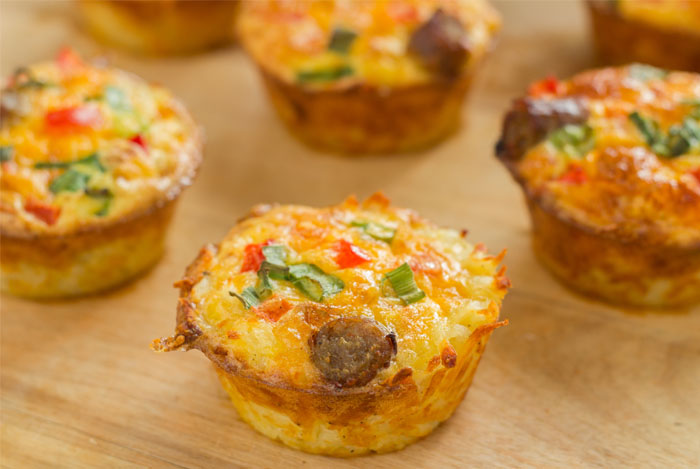 Egg Bites
The muffin cup cooking craze is far from over, and these egg bites are delicious proof that there's a reason it's still trending.
Egg bites are a quick breakfast mix that can either be made the night before to reheat or be cooked fresh first thing in the morning.
Eggs are a great source of protein, vitamin B6, B12, D, zinc, and iron.
This low-calorie breakfast item is very versatile at mealtime, and these egg bites are no exception.
The red and green peppers in this recipe contain healthy antioxidants, beta-carotene, and vitamin C.
The eggs provide healthy protein.
The baby spinach is packed full of vitamins (C, B1, K, A, E) as well as potassium, calcium, magnesium, iron, protein, and much more.
These egg bites are an amazingly healthy way to eat a delicious breakfast.
Recipe:
1 cup baby spinach
1/2 cup mushrooms
1/2 cup red pepper
1/2 cup onion
1/2 cup green pepper
1 clove garlic
2 eggs
2 egg whites
Salt and pepper (to taste)
Start your egg muffins by preheating your oven to 350 degrees F and grease a muffin tin with a low-fat cooking spray.
Chop your veggies and set them aside.
Crack two eggs into a mixing bowl.
Grab another two eggs and crack them, separating the yolk from the egg white.
Add only the whites into the mixing bowl. Beat the eggs until well-blended and then mix in your desired vegetables.
Once mixed, pour into 6 muffin cups and bake for 15 minutes.
The egg bites will appear sturdy when done.
These delicious breakfast bites will last 3-4 days when sealed and stored in the fridge.
Did we mention that your kitchen is going to smell amazing?
This recipe will fill 6 muffin cups.
Double the recipe to do a full dozen.
Easily customize the ingredients in these egg bites to better suit your taste buds.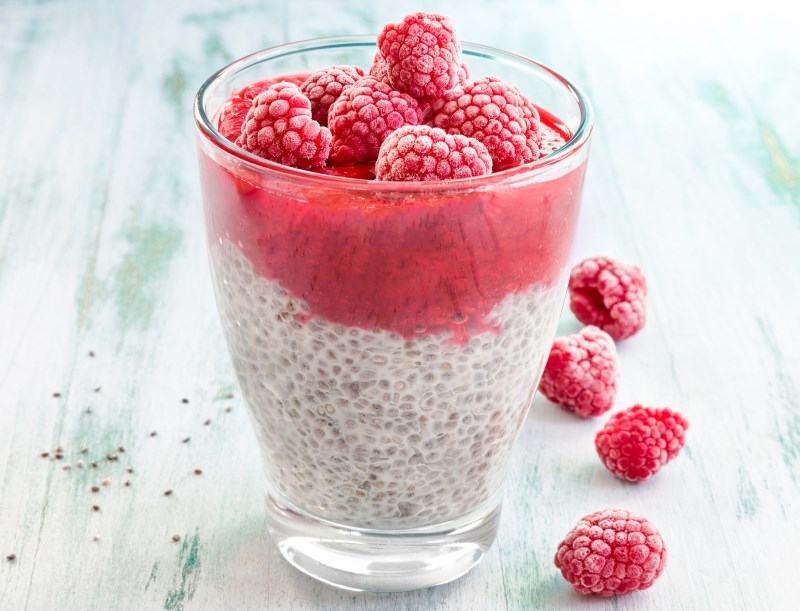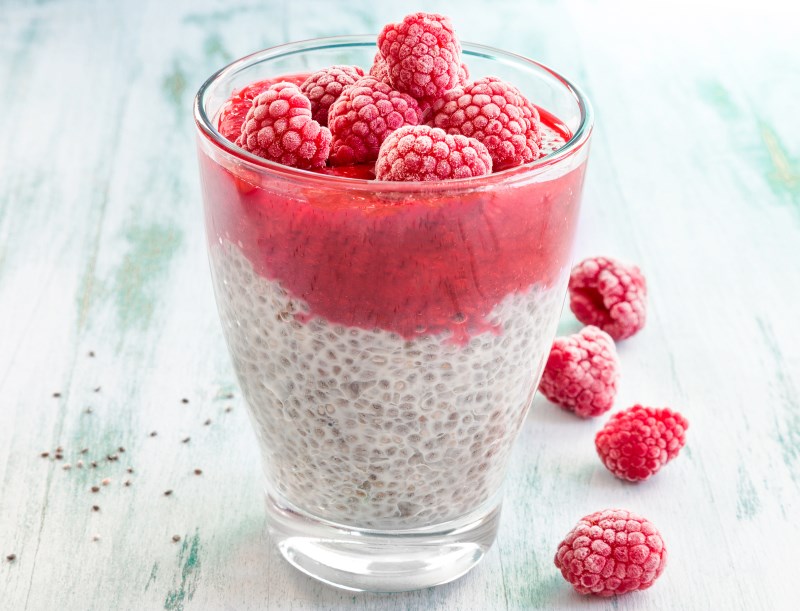 Raspberry Lemon Chia Pudding
If you're looking for a low-maintenance healthy breakfast recipe, this is it.
Raspberry lemon chia pudding is a quick and scrumptious make-ahead breakfast that is full of healthy ingredients.
Chia seeds are low in calories and contain healthy antioxidants, fiber, calcium, manganese, phosphorus, Vitamin B3, B1, B2, potassium, and protein.
The best part is that all of this can be found within about 2 tablespoons! Talk about a superfood.
The sweet and tart raspberries in this recipe are also full of vitamin C and cancer-fighting acids (12).
Recipe:
2 cups low-fat milk
4 TBSP chia seeds
1 cup raspberries
Juice of 1/2 lemon
1 TBSP agave or honey
Mix all ingredients together in a Mason jar or plastic sealable container and store in the refrigerator overnight.
By the time you're up and showered, your breakfast will be waiting for you! Top with additional fruits and serve cold.
Easy Healthy Breakfast Ideas
Breakfast should never be a meal you're dying to get over with; it should be a dish you enjoy.
For those who aren't strapped for time and are looking for a luxuriously healthy way to prepare your first meal of the day, here are 7 simple and delicious, healthy breakfast ideas to get your day started.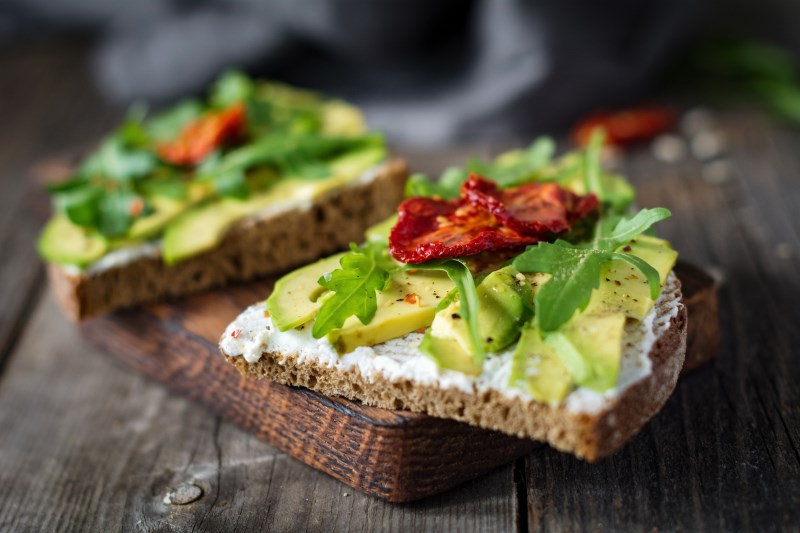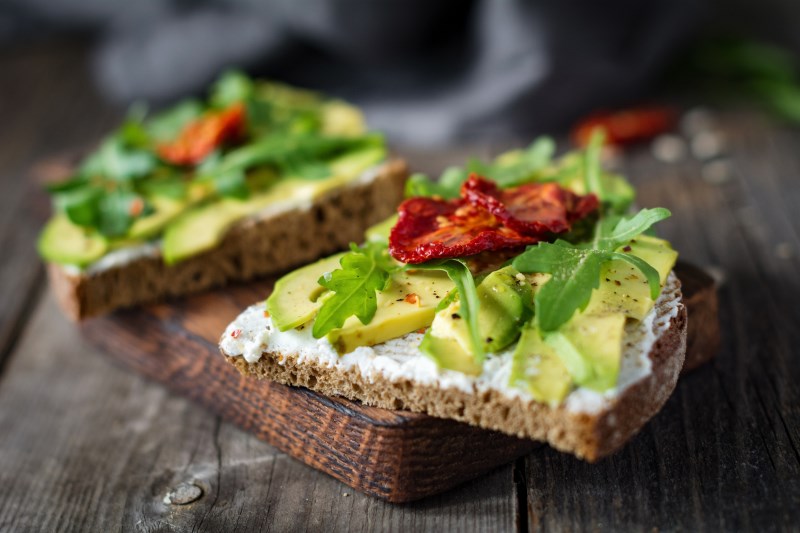 Avocado on Toast
Avocados are absolute stars in the kitchen.
Not only are they packed with more than 15 vitamins and minerals, but they also go with everything from tacos to pasta!
Avocados contain vitamin B (which aids in memory and brain function), E (good for immunity), C (helps with the immune system too), potassium (helps with the nervous system), folate (plays an integral role in DNA repair and synthesis), and lutein (helps fight degeneration associated with aging).
They are also low in sugar and full of fiber!
Recipe:
Toast
Avocado
Your favorite toppings (cherry tomatoes, strawberries, basil, egg, turkey bacon)
Pop your favorite whole wheat or rye bread into the toaster.
While waiting for it to pop, carefully slice your avocado from side to side until it pulls apart.
Use your knife to chop into the avocado.
Scrape out the insides into a bowl and mash the avocado to your desired texture.
Season with salt and pepper, if preferred.
Spread the avocado on the toasted bread and enjoy as is, or top with fruit, vegetables, or low-fat bacon!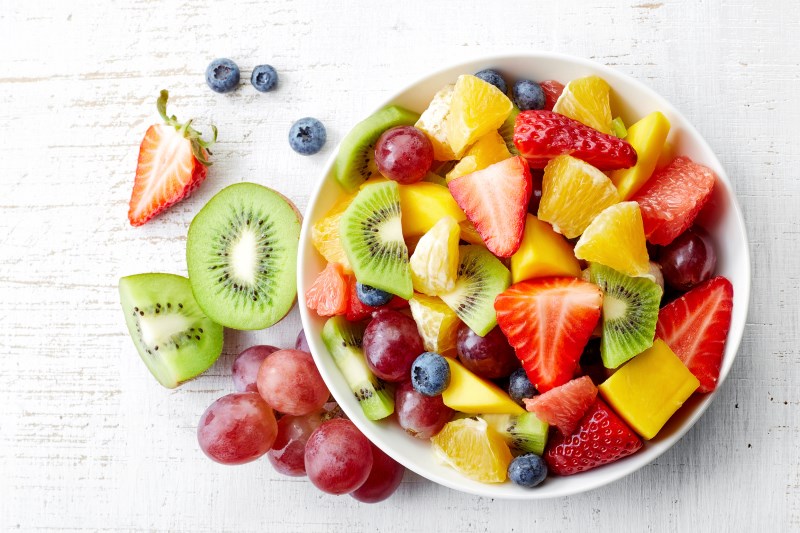 Fruit Bowl
There is nothing more refreshing for breakfast than a giant fruit salad.
Skip the sugary canned version and make your own for the freshest breakfast possible.
Mix and match your favorite healthiest fruits for a personalized salad and pair with some cinnamon-infused Greek yogurt for dipping!
Some options for mixed fruits include:
Kiwi. This tropical fruit is full of potassium, Vitamins C, K, and E, copper, manganese, and folate.
Strawberries. This sweet and tangy fruit is an excellent source of phosphorus, Vitamins B6 and C, manganese, potassium, omega-3 fatty acids, and biotin, which aids in the body's processing of protein.
Blueberries. This fruity blue favorite is full of vitamins B6, C, fiber, and helps lower the cholesterol in the body. Blueberries also decrease the risk of certain diseases, such as heart disease.
Mango. This tropic fruit may as well be considered a superfood, considering all of the health benefits it provides. Some research suggests that the abundant antioxidants found in mango may help prevent leukemia, as well as colon, prostate, and breast cancer. Mangos are also good for skin and eye health, and the digestive tract. Furthermore, they lower cholesterol and are full of fiber.
Peaches. This juicy fruit contains potassium, calcium, fiber, zinc, copper, and is fat and cholesterol free!
Watermelon. True to its name, watermelon is more than 90% water! Despite this fact, watermelon is full of healthy vitamins and minerals such as lycopene and vitamins A, C, and B6.
Oranges. Rich in calcium, copper, vitamin A, B, C, and fiber.
Pineapple. This tropical, tangy fruit is full of beta-carotene, vitamin C and B6, folate, fiber, calcium, and a host of other fantastic vitamins and minerals.
If making your fruit bowl ahead of time, drizzle your fruit with some fresh lemon juice to prevent browning and to retain brightness and flavor.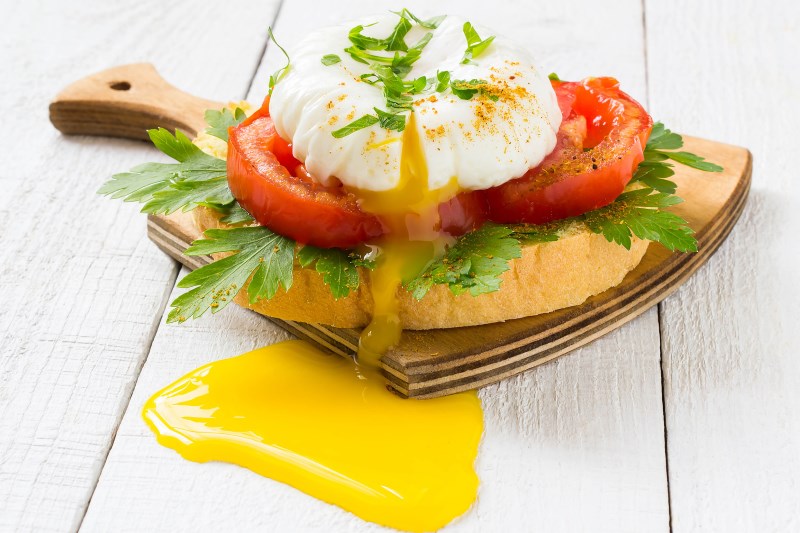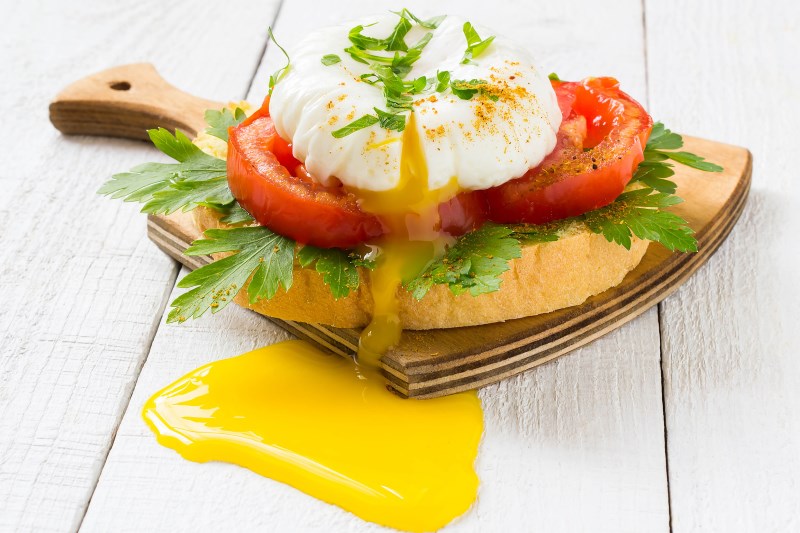 Poached Eggs and Fried Tomatoes
Something about eggs just screams breakfast time.
Poached eggs are easy to make and are a healthy way to get your protein in the morning.
Pair this breakfast classic with some pan-fried tomatoes for a fabulous breakfast and side dish.
Tomatoes are rich in vitamins and minerals such as A, B1, B6, C, K, potassium, and copper, which make them a healthy seasoned side to the protein-filled egg!
Recipe:
1 egg
1 slice of whole wheat bread
Your favorite tomatoes
Salt and pepper
Set a pot of water over medium-high heat and bring to a boil.
Crack an egg into a metal serving spoon and gently lower the spoon into the boiling water (you could also simply crack the egg right into the water, but there is less chance of breakage this way).
The egg will begin cooking immediately and try to separate.
To help retain its shape, gently sweep the egg whites around the yolk as it boils.
Boil for 5 minutes and then remove with a slotted spoon.
Transfer the egg onto a slice of toast.
In the meantime, set a frying pan over medium-high heat and slice your favorite tomatoes.
Beef tomatoes, green tomatoes, or cherry tomatoes work perfectly.
Set a teaspoon of butter or margarine into the pan until it begins to sizzle.
Set the tomatoes in the pan and fry on both sides until they're cooked to a lovely brown shade.
Season with salt and pepper.
Healthy Bacon Breakfast
Think you can't have bacon just because you're trying to eat healthily? Think again.
This healthy breakfast idea combines sweet potatoes and kale in a healthy hash that is packed with healthy vitamins, minerals, and proteins including – you guessed it – bacon!
Sweet potatoes are a great source of vitamins and minerals.
In fact, they're packed with them!
Sweet potatoes contain beta-carotene, vitamin C, B6, copper, manganese, niacin, potassium, fiber, and more.
Kale, already renowned as a superfood, is low in calories, high in protein, fiber, vitamins, omega-3 fatty acid, folate (great for brain development) and more.
Is your mouth watering yet?
Recipe:
Sweet potato
3 strips of low-fat bacon, turkey bacon, or sugar-free bacon
1 bell pepper
1 cup of kale
Eggs
Salt and pepper
Start by skinning your sweet potato, cutting it into bite-sized pieces and steaming it until it is el dente.
In a pan over medium-high heat, cook your low-fat bacon until crisp.
Clear the pan of grease and remove the bacon.
Return the pan to the heated burner and toss in a chopped bell pepper and the chopped sweet potato.
Fry until bell pepper and sweet potato are cooked and nicely browned.
Salt and pepper to taste. Next, toss your bacon (now chopped) back into the pan and add in your kale.
Once the kale has wilted, crack several eggs into the hash mix and cook until the eggs become firm. Serve warm.
This breakfast makes hearty portions and is definitely meant to be shared.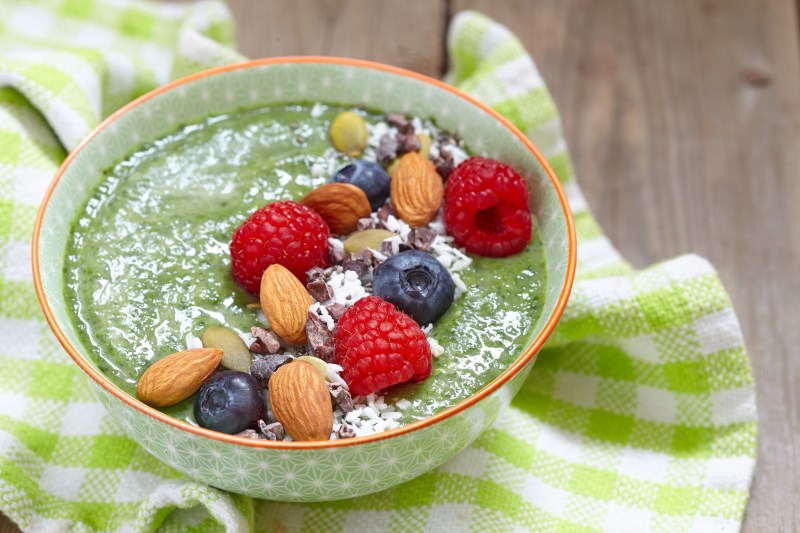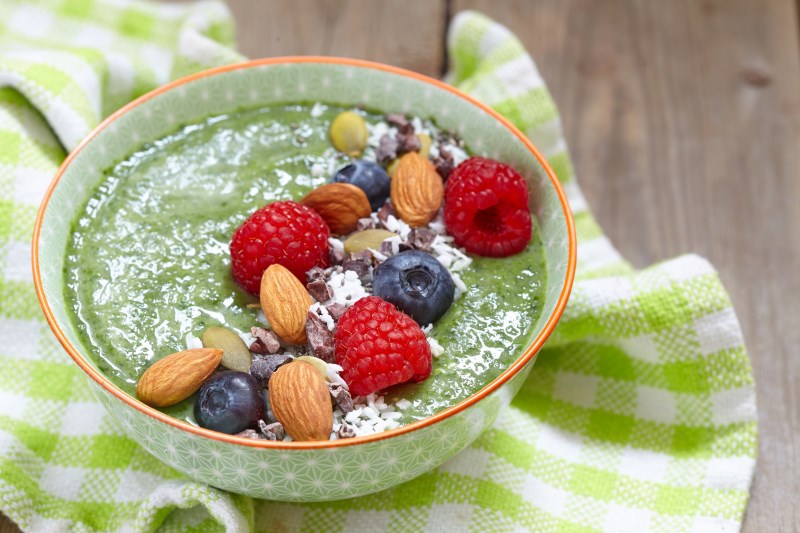 Smoothie Bowl
Smoothie bowls are making their rounds in the fitness world, and it's no wonder why.
These easy breakfast bowls are not only delicious, but they're also packed with vitamins, protein, and flavor.
There are endless combinations for a smoothie bowl, but all follow the same formula.
Addition of protein such as that in nut butter or Greek yogurt.
Liquid base such as coconut water or soy milk.
Ingredients such as strawberries, bananas, spinach, kale, and other delicious fruits and veggies.
Toppings such as granola, shredded coconut, or fresh fruit.
Simply combine your chosen ingredients into a blender and pulse until smooth.
Pour into a bowl and top with fresh fruit, nuts, granola, or a sprig of mint and enjoy your easy, healthy breakfast.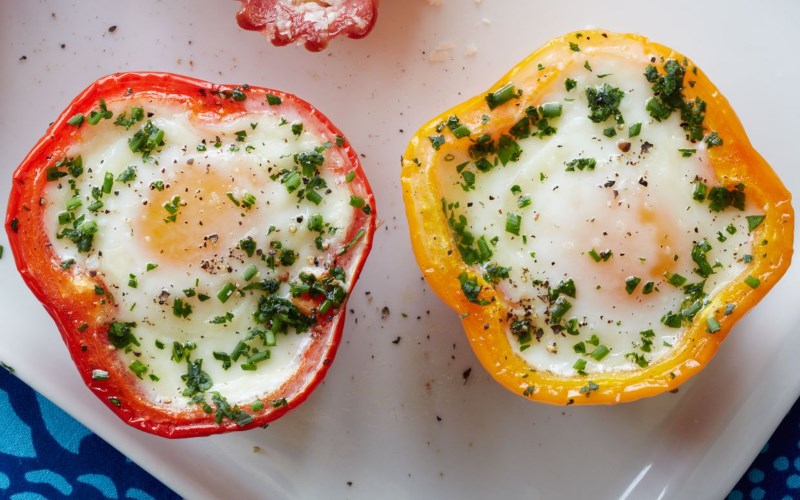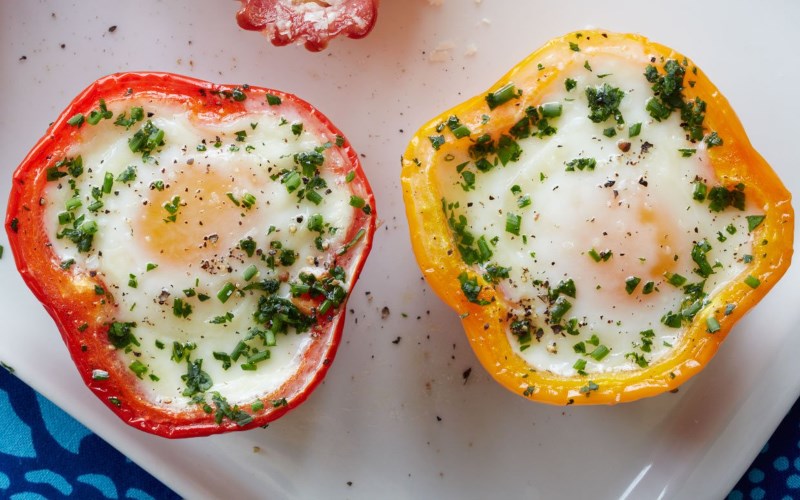 Bell Pepper Egg-in-a-Hole
If you didn't already know how amazing eggs are for your body, we're now adding red bell peppers into the mix.
This healthy breakfast idea is tasty, simple to prepare, and looks so fancy, your breakfast partner will think you spent an hour making it!
Red bell peppers are full of healthy ingredients that make them well worth your morning breakfast.
The low in calorie bell pepper is full of vitamin C, which is responsible for keeping your immune system healthy and strong, and your skin looking young and supple.
Red bell peppers are also full of Vitamins E and B6, which reduce bad cholesterol and have anti-inflammatory properties.
What better reasons do you need to try this delicious breakfast recipe?
Recipe:
1 egg
1 Red Bell Pepper
Salt and pepper
Heat a non-stick pan over medium-high heat.
While the pan is heating, start prepping your ingredients.
Chop your bell pepper horizontally until you have hollow pepper rings.
Set your ring down into the heated pan and crack an egg into the hollowed middle.
Season your egg with salt and pepper.
Once the egg begins to firm up and the yolk appears more solid, carefully flip the pepper and egg over to cook the other side.
Top the finished egg on a piece of toast or eat on its own for a tasty and refreshing breakfast.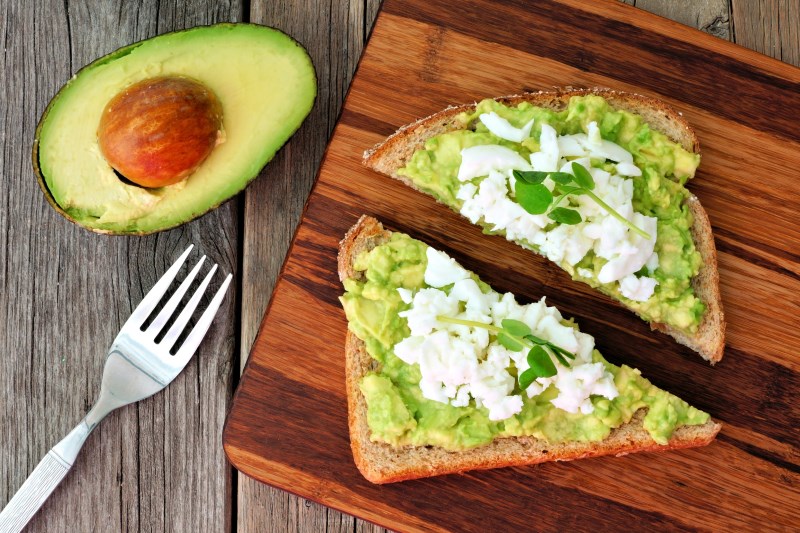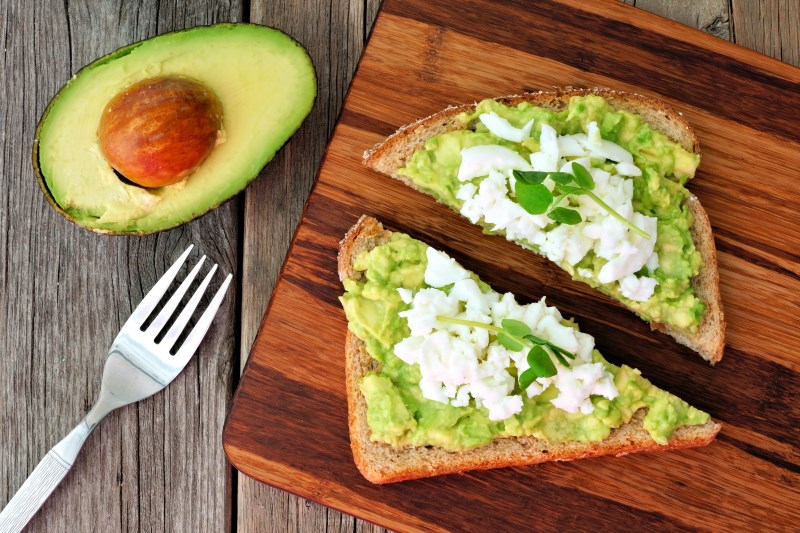 Energy-Boosting Toasts
Who says toast has to be boring?
When done right, this morning staple may just be your new favorite breakfast item.
Grab a slice of your favorite healthy bread (rye, multigrain, whole wheat) and get your favorite toppings ready.
Some great toppings for energy-boosting toasts include:
Low-fat cream cheese topped with freshly sliced peaches
Organic peanut butter with banana slices
Cottage cheese and mango
Avocado topped with tomatoes and basil
Light cream cheese topped with salmon slices
Cantaloupe and goat cheese
Pear and honey
Sliced apple and peanut butter
Conclusion
It's time to get serious about breakfast!
Make a vow to yourself: no longer will you reach for frozen waffles or sugary breakfast bars to start your day.
Nobody ever regretted eating a healthy breakfast and with these easy and healthy meal plans, there's no longer a reason to skip the most important meal of the day!
Make breakfast a part of your daily routine by understanding how it benefits you, practicing meal prep, setting reasonable goals, and changing your mindset to accept morning breakfast as a staple of your morning.
Try out our 17 healthy breakfast ideas and get on track for a healthy body and an even healthier mindset!
FDA Compliance
The information on this website has not been evaluated by the Food & Drug Administration or any other medical body. We do not aim to diagnose, treat, cure or prevent any illness or disease. Information is shared for educational purposes only. You must consult your doctor before acting on any content on this website, especially if you are pregnant, nursing, taking medication, or have a medical condition.
HOW WOULD YOU RATE THIS ARTICLE?